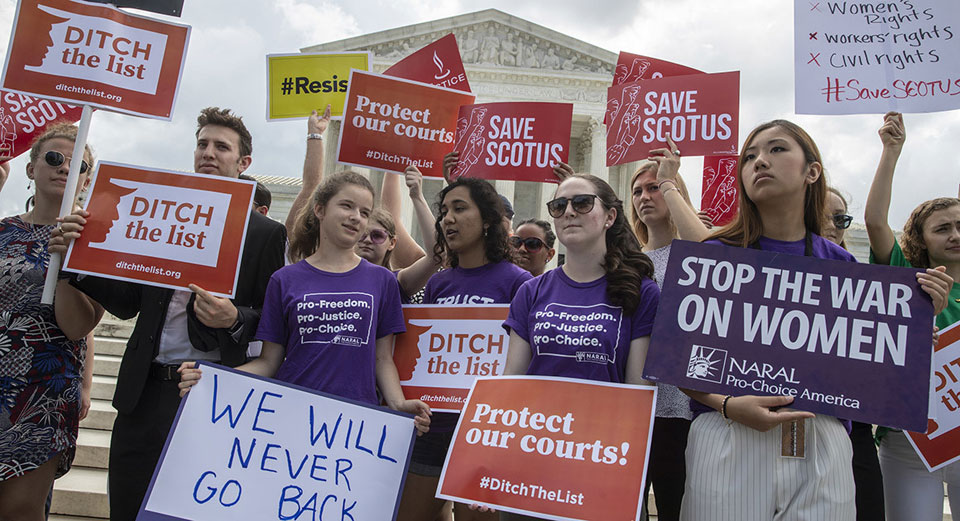 WASHINGTON—Hundreds of thousands of pro-choice marchers nationwide, including more than 1,000 massed before the U.S. Supreme Court, had a blunt message on May 21 for right-wing President Donald Trump and his party acolytes who enact ever more draconian state bans on abortion and other reproductive rights: "Stop the bans!" — or face retribution at the polls next year.
That was the theme of the chants and speeches at the sun-splashed noontime rally in D.C., as well as at least 400 other marches from Anchorage to Chicago to Honolulu to Miami to Los Angeles to New York.
A mass coalition of pro-choice organizations – including the National Abortion Rights Action League, Planned Parenthood, the ACLU, the Service Employees, and the National Domestic Workers Alliance organized the nationwide events.
Particular targets were Trump, congressional and state legislative Republicans, and GOP-passed laws in "red states" such as Georgia and Alabama to virtually outlaw abortion and enact other restrictions on a woman's right to choose.
"I want abortion to be safe and protected by law," said Elena Bosack, an undergraduate at the University of Virginia who came for the D.C. rally. Bosack, who is Catholic, said "a minority" in her church campaigns to foist an absolute abortion ban on the rest of the U.S. Her college bioethics course revealed the gap between pro-life tenets and actual practices after the baby is born, Bosack added.
In D.C., marchers drew enthusiastic support from congressional Democrats, including Rep. Eric Swalwell, D-Calif., and Sen. Kirsten Gillibrand, D-N.Y., two of the party's 23 contenders to take on Trump next year. Another, Sen. Bernie Sanders, Ind-Vt., tried to get through the crowd to talk but kept getting engaged in conversations instead.
"The right for a woman to control her own body is a fundamental constitutional right," Sanders told CNN. "And we have got to do everything we can to defend it."
"I think this is something President Trump has unleashed," Gillibrand said. "He wants to apparently have a war on women in America and if this is a war that he wants to have, he will have it and he will lose it. Because American women are not going to accept this."
Female House Democrats came dressed in white. May 21 was the centennial of the ratification of the 19th Amendment to the Constitution, giving women the right to vote. The amendment carries the message, too, one said.
"I know we will all be in full rebellion" if the states, Trump, the GOP, and the justices outlaw abortion, Rep. Jan Schakowsky, D-Ill., declared. "I know we will not go back."
In D.C., the groups picked the court as the location of their rally because Trump's two justices, Neil Gorsuch and especially Brett Kavanaugh – denounced by name after winning confirmation last year despite his teenage molestation of now-Professor Christine Blasey Ford – are considered the last two vital votes to overturn the court's 1973 Roe v Wade decision legalizing abortion.
"We will stand up and speak out because we know that keeping health care from people is a tool of oppression," said Dr. Leana Wen, an emergency room physician and Planned Parenthood's president for the last year.
"To Trump and all of your allies: Hear our voices as we say, 'We will never be silent.' We will fight now and all the way through November 2020 to make sure you don't keep your jobs – from the White House to the state legislatures."
The repeated response from the crowd after Wen's words: "Vote him out!" Other chants included "Stand up, speak out!" and "Show us what democracy looks like. This is what democracy looks like."
The battle over reproductive choice will continue on the streets, at the ballot box, and in the courts. The ACLU is already suing to stop Alabama's law as unconstitutional under Roe v Wade and its right to personal privacy for a decision that should be up to a woman and her doctor. And a trial against Virginia's abortion restrictions opened in federal court in Richmond on May 21.
Back in D.C., Louisiana native Emily G – she declined to give her last name — reinforced the partisan point by citing the difference in her home state. It too has a GOP-dominated legislature. "But if we didn't have a Democratic governor," John Bel Edwards, "we'd have a ban like Alabama's right now," she said. Her handmade sign read: "If it's not your body, it's not your choice."
Speakers widened that point. "We will never be totally equal until we have total control over our bodies," said Rep. Diana DeGette, D-Colo. And Senate Minority Leader Charles Schumer, D-N.Y., reminded the crowd that the GOP not only opposes reproductive choice, but it jams through the Senate anti-abortion judges at all levels, not just the High Court.
Other signs singled out the foes' underhanded tactics. Referring to the recent abortion bans after a fetal heartbeat can allegedly be detected – after six weeks of pregnancy – bookkeeper Mae Miklos of Annapolis, Md., retorted with her own heartbeat sign: "We should pass a 'woman's heartbeat' law. If a woman has a heartbeat, you can't tell her what to do with her goddamn body – ever!"
And Fort Myers, Fla., demonstrator Marisa Hatfield, holding a handmade sign with a Gadsden flag snake in the shape of a uterus reading "Support Women's Rights" and "Don't Tread on Me," told WGCU-TV the demonstrations protest the "war on women."
"People are not educated on women's rights. They're not educated on reproductive anatomy. They're not educated on safe sex. It's a sincere problem and unfortunately, I think that in those states that have already gone back to the middle ages; they're not going to learn," she added.
Some speakers and signs also made the point that abortion bans, stretching all the way back to the congressional Hyde Amendment 40 years ago – which bans the use of federal funds for abortions for Medicaid recipients – particularly hit women of color and other minorities. In his brief remarks, Swalwell called for repealing Hyde, too.
"You're pro-life until the baby is poor, black, gay, Mexican, female, sick, Muslim, etc." read the sign Lisa Damiano of Chicago's Northwest Side carried. "I'm not sure what exactly prompted me to come," she said. "I just know how I feel."
And an older African-American woman from D.C., who identified herself as Cassandra, briefly stopped Swalwell with a reminder of how long the battle for reproductive rights has raged. "I was here in '73," the year of the court's ruling, campaigning for choice then, she said. "And I'm mad to be back here now."