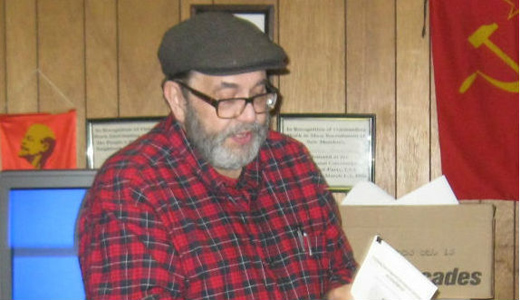 Professor Walter T. Howard, 63, a scholar, activist, teacher and organizer, passed away on May 7 in Danville, Pa. He had been a patient at the Geisinger Medical Center since April 27.
Dr. Howard, the son of a long line of coal miners, was born November 23, 1951 in Hazard, Kentucky. He earned his B.A. and M.A. degrees from the University of West Florida and his Ph.D. from Florida State University in 1987. He had taught history at Bloomsburg University for the past 24 years and was active on many boards and committees at the University and in the wider academic community.
He organized the Bloomsburg chapter of the NAACP and was the group's faculty advisor. He served on the advisory board of the Bloomsburg Task Force on Racial Equality and of the Black History Month Committee.
His academic awards included the Award for Outstanding Scholarship from the Bloomsburg University Institute for Culture and Society and the Gustavus Myers Award for Human Rights Scholarship for his book, Lynchings: Extralegal Violence in Florida during the 1930s.
Dr. Howard wrote and edited numerous other works, including We Shall Be Free: Black Communist Protests in Seven Voices and Forgotten Radicals: Communists in the Pennsylvania Anthracite, 1919-1950.
He is survived by his wife of 23 years, the former Virginia M. Krepps, three sons, one daughter, three step sons and five grandchildren.
Dr. Howard lectured often on the role of Communists in the Pennsylvania anthracite fields. He also served on the editorial board of the online publication Political Affairs (politicalaffairs.net, the theoretical journal of the Communist Party USA) and wrote articles and book reviews for PA.
He may be remembered by sending a contribution to: NAACP Husky Fund at Bloomsburg University, c/o Community Activities Office, 400 E. Second Street, Bloomsburg, PA 17815.
This review includes information from the Dean W. Kriner Funeral Home and Cremation Service, Bloomsburg, PA.
Photo: Dr. Walter Howard speaking at the Philadelphia Social Science Forum February 2014. | Ben Sears/PA