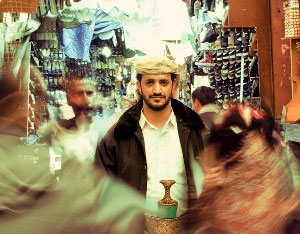 As long as the Israeli occupation of Palestinian land continues, there are films to bring us the truth. And they are getting better and growing in numbers. Filmmakers who know the importance and power of cinema are telling their stories in increasing numbers. Remember Elia Suleiman's entire body of work, especially the remarkable history lesson, "The Time That Remains," the heartbreaking "Tears of Gaza," available free on YouTube, Julian Schnabel's daring and artistic "Miral," the poignant hospital drama, "Precious Life," and the recent hit, "Budrus," just to name a few.
Now add to that list a new film by Emad Burnat, a villager from Bil'in who, despite all odds has been struggling for years to document life under the harshness of the occupation. It's actually taken him five cameras to do it. Four have been destroyed by the Israeli military. But with help from a skilled Israeli editor, Guy Davidi, they've crafted one of the most popular and powerful documents that have come from the region. "5 Broken Cameras" has taken this activist/farmer around the world to tell his story.
Burnat appeared in Traverse City with his wife and five-year-old son who was born when he received his first camera. With a hotel room on the beach, they had the freedom to swim and watch the sun go down over beautiful Grand Traverse Bay. Stark contrast to the reality captured in his film that won the Best Picture award at this year's Traverse City Film Festival.
One of the villagers killed by the Israeli military in Burnat's film, Pheel, is memorialized in a beautiful loving short called "Friend To Us All." And another highly recommended doc, "Bil'in Habibti" by Shai Pollack, was one of the first to depict the nonviolent struggle to preserve the land in this same West Bank village.
"Reluctant Revolutionary," by British filmmaker Sean McAllister, was shot in the early days of the Yemen uprising against President Ali Abdullah Saleh in 2009. With actions happening daily since then, titles have been added to the end to bring it up to date.
When the Arab Spring started McAllister was in Syria for the BBC trying to make a film. Yemen was the last place they wanted him, but he pulled a trick and arrived there and began to film the daily trials of his Yemen travel agent, Kais, who had only one customer in the entire year – McAllister and his cameraman.
McAllister, a brave working class filmmaker willing to risk his life to capture truth on camera, dove into a land and culture he knew little about. He was learning, and so was his travel agent Kais, who by the end of the film changed his position on Saleh and the protesters. It was amazing they both survived.
A disciple of social realist director Ken Loach, McAllister said it was "positive to get rid of Saleh, but they haven't gone far enough. There's a frustration among the people that things aren't changing… You risk destroying the whole infrastructure going for a full out revolution. And that's what they didn't do; they went for a transition because you risk catastrophic effects to the region.
"I didn't know much about the Middle East until I went there. My insight came from being on the wrong side of the fence. I went to live on a Kibbuz in Israel and became a sort of communist. I heard it was an egalitarian way of life. But I lived there a year and discovered that I didn't even see a Palestinian the entire time."
This is probably the only film at the festival that can be purchased online for $2.41. But it's well worth that and more. While there, also take a look at Settlers, a provocative study of a Palestinian resident and a Jewish settler.
McAllister states his future plan is "to make a drama about the massive cuts being imposed on the poor in England." This is a filmmaker to watch.
A lot of film has come out of the Arab Spring ranging from citizen journalists to professional filmmakers. Stefano Savona edited a film very similar to one released last year entitled "Tahrir 2011: The Good, the Bad and the Politician." It was reviewed in my report of the 2011 Toronto International Film Festival. Both films are thrilling firsthand accounts that bring to life the real events, people and locations that most of us can only read about or see on TV. And you know how trustworthy corporate media is.
Stefano's artful film is titled "Tahrir: Liberation Square" and covers much of the same ground and also grips the viewer in the excitement of social protest. It follows the most dedicated activists forming in Tahrir Square who face the threat of violent opposition.
One amazing shot follows a young Muslim woman carrying broken rocks held in her dress, from the back of the massive protest to the front of the battle where she delivers the load of ammunition to awaiting protesters. Cameras appear to be attached to the subjects as they scurry in and out of the most massive and effective protest movements in history. It's about as close as you can get to being there and learning about the true feelings and actions of the real heroes of social change.
Another reason to attend your local film festivals. For more information about the 2012 Traverse City Film Festival go to www.traversecityfilmfest.org.
Photo: From Reluctant Revolutionary