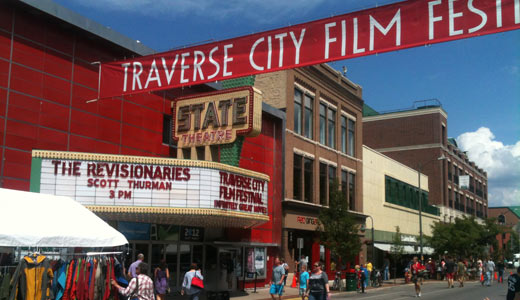 The Traverse City Film Festival just completed its 8th season with an amazing array of over 200 films screened at seven theaters in this beautiful lakeside resort town. It's unofficially called the Michael Moore Film Festival because the venerated writer/documentarian personally handpicks most of the titles, and appears at many of the screenings, racing from one venue to another introducing his personal favorites, and leading stimulating discussions with filmmakers and special guests.
This year famed actress/activist Susan Sarandon brought some of her films including Thelma and Louise and her newest Robot and Frank, and shared in a discussion with Moore as part of the free daily panel discussions. This public-oriented film event, quickly gaining prominence as one of the friendliest and most progressive festivals in the country, offers film classes for $5, free films nightly on a giant inflatable screen framed by the beautiful Grand Traverse Bay in northern Michigan, free shuttle bus service and a free Cinema Salon after selected screenings where the Q&A carries out into an outdoor park under a tent. Ticket prices are kept to a low $10, thanks to the many volunteers, local sponsors and Moore's sensitivities to the political and social landscape.
Special guest and master German filmmaker Wim Wenders also joined Moore in a special panel discussion that delved into his personal life as a German youth growing up in the aftermath of Nazi Germany. A couple of his classics, Buena Vista Social Club and Wings of Desire were shown along with some of his rarely seen shorts. Invisible Crimes and War in Peace addressed in a creative filmic style the tragedies resulting from the recent war in the Congo. Person to Person showed the failings of corporate media and promoted the concept of micro-financing.
Many short films were shown in the festival including a beautiful tribute to the 1963 Cuban Literacy Brigade, entitled Maestra by Catherine Murphy, and My Neighborhood, documenting a rare alliance in the struggle to preserve Palestinian communities in Jerusalem, by Julia Bacha and Rebekah Wingert.
This year's festival featured films about the Occupy Wall Street movement, films about the city of Detroit and several films about the Arab Spring and relevant events in the Middle East. These films and others will be covered in upcoming columns on the festival.
Many international award-winning favorites were shown, including the poignant Monsieur Lahzar about an Algerian-Canadian substitute teacher hired to replace a young teacher who committed suicide in her classroom; the French human comedy hit; Intouchables, that tells the tale of a poor African immigrant hired by a wealthy paraplegic to be his aide; another French award-winner by the famed Dardennes brothers; The Kid With a Bike, that follows the tragic life of an abandoned young boy who befriends a loving hairdresser; the Oscar nominated A Better Life, focusing on a Mexican gardener, a single father struggling to raise his young son amid the anti-immigrant fervor in Los Angeles; and London River, French-Algerian filmmaker Rachid Bouchareb's touching story of immigration set in London during the terrorist subway bombing.
These and many more exciting films were considered for special awards that were announced at a festive public street party where many of the actors and filmmakers attended. The top prize this year for Best Picture went to 5 Broken Cameras, a personal and haunting look at life in a West Bank village as Palestinians attempt to use nonviolence against the violence being inflicted on them over the course of years by the Israeli army. Farmer and first-time filmmaker Emad Burnat was in attendance with his wife and son
in a setting far different than his village in the Occupied West Bank. The prestigious Kubrick Award went to the epic 15-hour love poem about the history of cinema, Story of Film: An Odyssey by writer/film scholar Mark Cousins. More on this film in an upcoming article.
The audience awarded prizes to Don't Stop Believin': Everyman's Journey, an unforgettable story of a homeless Filipino boy who becomes the lead singer of the world famous rock group; Ethel, a moving doc about Robert Kennedy's daughter, and Big Boys Gone Bananas* an anti-corporate doc about Dole's attempt to stop a film about their company's abuses.
Other awards included the Special Founders Prize for Margaret by director Kenneth Lonergan (You Can Count on Me), about a young teen who witnessed and possibly caused a bus accident that kills a woman; the Jury Prize for Best Foreign Film for The World Before Her, a study contrasting choices for women in India; a Special Jury Prize for Foreign Film for The Flat, that investigates Jewish family history in Nazi Germany; a Jury Prize for Best American Film to Bidder 70, a documentary about a young activist attempting to save thousands of acres of pristine land in Utah; and a Special Jury Prize for American Film to Detropia a loving testament to the victims of the economic holocaust facing Detroit and soon to appear in cities across America. Both the movie and the holocaust.
For more information about the 2012 Traverse City Film Festival, click here.