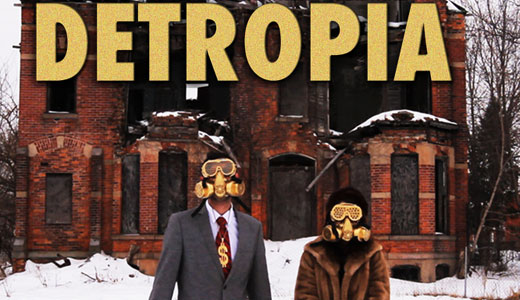 DETROIT – There's been a rash of films lately about Detroit. Maybe that's because many consider it to be ground zero for the U.S. economic decline. World artists travel to Detroit to see 'the ruins' – an apocolyptic sight with major blocks of enormous empty buildings. But until now, there hasn't been a movie that really captured the soul of the city and the real people who live here.
Most seem to overlook the fact that metropolitan Detroit is the most racially segregated big city in the country, that African Americans comprise over 90 percent of the population, and that there were possibly good reasons for the infamous 1967 Detroit 'Riot,' ('Rebellion' to many) that's blamed for the 'white flight to the suburbs.'
There are those who hope that the white folks and businesses that fled come back and take over the city again, ignoring that racism might have been one of the main causes of the problem in the first place.
This view is prominent in a short film shown at the Traverse City Film Festival, entitled "After the Factory," that promotes this 'white savior' mentality. Young white professionals and artists are featured in a film about a city that's mostly Black, and compares Detroit's flight of industry to the economic woes of Lodz, Poland. At times it's hard to tell if the Poles speaking in the film are in Poland or Detroit, and although two well-known activists, Grace Boggs, who is Asian American, and Yusef Shakur, who is African American, are included in the mix, they are disproportionally represented.
The French came recently and made "Detroit Wild City," a philosophical treatise based on the 'ruins' concept, with impressionistic images of vast emptiness. Very few people were featured in the film, and certainly not many Black residents.
And then there's "Detroit: Ruin of a City." Well…I think the title says it all. A much better and extremely creative film, meanwhile, that incorporates more Detroit voices, is "Rollin: The Decline of the Auto Industry and Rise of the Drug Economy in Detroit," which focuses on one of the main problems: devastation from the influx of drugs and its resultant crimes.
But recently, two new rewarding films about Detroit have been released and were shown at the Traverse City Film Festival. "Burn: One Year on the Front Lines of the Battle to Save Detroit" honors the resilient and heroic Detroit firefighters who battle sometimes as many as three fires a day in a town that is literally burning itself down. This heartbreaking film, which won a top prize at the Tribeca Film Festival in New York, was shown at a special screening for the many volunteers and supporters of this community-oriented film festival. Back in the shop for final editing, the film will be available soon for public viewing.
The best film to date about beloved Motown, "Detropia," (Detroit + upotia) captures the richness and rawness of the people in a city that refuses to die. This is a loving tribute to the real people who live here and who fight to keep the city alive. The film starts out following a young woman documenting with her phone camera decaying landmarks while teaching the rich history associated with them. Later on, Local 22 President George McGregor drives us through Detroit past the gutted out Cadillac plant where he worked most of his life, and then takes us through a day at his union office dealing with the realities of another manufacturing plant, American Axle, leaving the city and taking jobs with it.
But what really convinced me that directors Heidi Ewing (Jesus Camp) and Rachel Grady were going for the real thing was their choice of interviewing Tommy Stephens, owner of the venerable Raven Lounge, the oldest Blues and R&B club in Michigan. It's frequented mostly by Detroiters and defiantly exists on Chene Street where houses are disappearing around it daily. Tommy makes one of the most profound observations in the movie when he remarks at the Detroit Auto Show that the Chinese equivalent to the American Volt electric car costs half as much and gets way more mileage per battery charge. He was counting on growing numbers of workers at the Volt factory coming down the street to help his business survive.
The film is visually stunning and profoundly enriched by a blend of music ranging from operatic styles to hip-hop. Directors Ewing and Grady, obviously sensitive to racism and its ramifications, point rather to the shrinking industrial base and the loss of jobs as a major factor in the decline of the city.
In the last 10 years, Detroit has lost nearly half of its manufacturing jobs. During the same decade, 50,000 American factories closed. Six million workers have lost their jobs. But they make it clear – this isn't only a Detroit problem. So, watch for this alarming film, and possibly the financial crisis, to come to your city soon! For you Detroiters, it will be shown FREE, Thurs Sept 13th at 7pm at WSU Community Arts Auditorium with filmmakers and local subjects in attendance.
Two popular music films celebrating Detroit as a world music center were also featured this year. "Searching for Sugar Man" tells the amazing story of a 60s singer/guitarist who failed to make it in the music biz and went into other work to survive. Years later it was discovered that his album had become a hit in South Africa and Sixto Rodriguez was as big a name there as The Beatles. It's claimed that his lyrics even helped inspire activists to fight the oppressive apartheid system and eventually bring it down. Most people there thought he was dead, but to everyone's surprise…here he is!
And the hugely popular "Louder Than Love" celebrates Detroit as a rock and roll center and focusses on the grand history of the Grande Ballroom, home for many classic performances by the rock stars of the time.
Detroit is a story close to my heart, having been born here 68 years ago just a few blocks from where the Raven now stands, and now living…still just a few blocks from the Raven. I've seen it all, spending most of my time as a jazz musician and activist in the African American community. I love this city and lament the loss of some great landmarks and businesses.
But ultimately it's the people that make a city. Many have left, forced out by foreclosures and loss of jobs, but there are still many good people here; many great activists and endless joys left in this embattled city. Once we address racism in all its modern forms and identify allies in the class struggle, we'll be better equipped to fight together against a system that puts profits before people.
For more information about the 2012 Traverse City Film Festival go to www.traversecityfilmfest.org
Photo: Detropia film official site
Corrected 7/1/14: Grace Boggs is Asian American. She was previously mis-identified. Also, corrected spelling: Yusef Shakur.