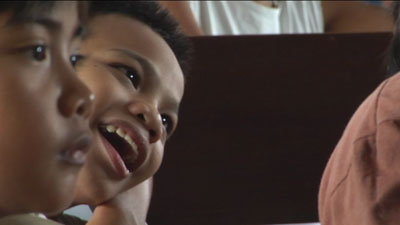 This year's Toronto International Film Festival offered another amazing array of films. With over 350 titles to choose from, the chance of viewing a variety of great films was not difficult. Interestingly, and similar to the Traverse City Festival, the most challenging and rewarding film was the longest one. The lengthy four-and-a-half-hour Vapor Trail (Clark) in Traverse City was beat out in length by the 15-hour Story of Cinema (An Odyssey), a monumental study of film history that was shown in separate episodes throughout the TIFF. Providing not only a clear demonstration of the development of filmmaking through the decades, the marathon doc also presents a highly personalized but intriguing sampling of famous and neglected films over the years. Key interviews with filmmakers who changed the world of cinema, philosophical and political analyses, fast paced editing and a voiceover with a charming Irish brogue by the filmmaker and critic, Mark Cousins himself, makes this one of the most engrossing and developed studies of film for political activists to date.
Disappointingly, TIFF is failing in the area of presenting challenging and progressive fare from Cuba. Their singular choice this year was a horror film, Jaun of the Dead, reminiscent of the 1985 animated Cuban classic Vampires in Havana, which challenged American imperialism. With the same spirit of Cuban self-criticism, this one however appears to be challenging Fidel and the Revolution, implying the zombies are of the "pro-government" type. Not surprisingly it's the first post-Revolution film not funded by the government. Subtitled, "50 years after the Revolution, a new one is about to start," we can only guess what they mean by that.
Horror mixed with political satire struck twice at TIFF in a misleading-titled, God Bless America, directed by comedian Bobcat Goldthwaite. A Bonnie and Clyde type rampage against the American cultural wasteland of American Idol, Survivor, insult and hate TV, this film goes where no others have gone. An hilarious killing spree targets the purveyors of right-wing extremism, corporate commercialism, filth, hate and greed. The likes of Fox television personalities, American Idol judges who capitalize on dehumanizing candidates, and spoiled rich kids, are all targets of Goldthwaite's slings and arrows. Sure to be criticized, this satiric attack on violence, human insensitivity and crass capitalism brings a new approach to cultural activism.
Walkouts: Rarely do I write about films I feel should be ignored, but at this years festival there were too many that drove me from the theater. Aside from the decidedly un-Revolutionary and silly Cuban entry mentioned prior, Last Days in Jerusalem was another film with a misleading title. Well acted but the theme was personal not political and the city of Jerusalem was simply the setting for a love affair going wrong. The much-touted In Darkness by famed Polish director Agnieszka Holland (Europa, Euiropa) failed to hold light to the troubling question of Polish complicity in the Nazi treatment of Jews during World War II. And the dismal setting of Jews in the sewers of Lvov living with rats, was truly dark and overdone. A powerfully important subject done better in many other films.
The pacing of Last Cristeros was slow enough to develop disinterest within the first 15 minutes. A critical subject in Mexican history about the attempted abolition of religion in the 20s will have to wait for a more dramatic and informative treatment. The subject of Fatherland showed promise in detailing the volatile political history of Argentina, but instead displayed an endless parade of tombstones in an ancient cemetery with readers quoting the dead and departed in a repetitive and predictable fashion. Recipient of good reviews at Cannes this year, Play, failed to spark an appreciation for the minimalist pacing and close to racist storyline following several young Black youth who steal from little white kids. Adventurous camerawork doesn't always trump political naiveté. This Side of Resurrection, Carre Blanc, and Year Of The Tiger, all had dismally tedious pacing, a lack of capturing dialog and political sounding plots that failed to live up to their promises.
Despite these few disappointments, the rest of the Festival provided an endless supply of exciting and stimulating cinema that will be covered in upcoming articles.
Photo: Vapor Trail (Clark)