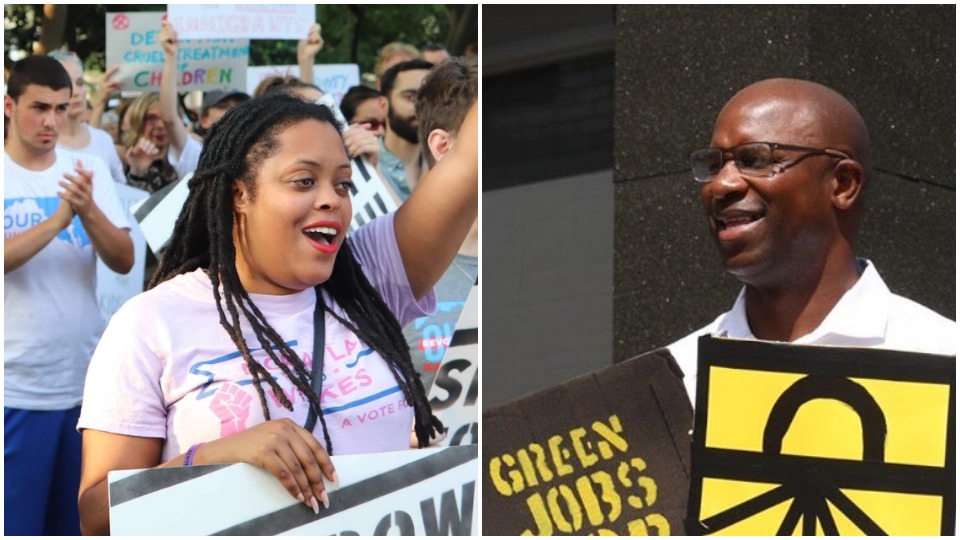 Even if campaigning takes different methods and forms due to the coronavirus pandemic, politics still goes on, and so does the effort by progressive Democrats to oust corporate-friendly foes. That's what two challengers to two top-tier Democrats will try to do in coming weeks.
But their targets, House Majority Leader Steny Hoyer, D-Md., and Foreign Affairs Committee Chairman Eliot Engel, D-N.Y., won't go down easily.
Hoyer faces three challengers on June 2 in what is probably the marquee congressional primary that day. The credible challenger, community activist McKayla Wilkes, says Hoyer's been around too long and is too tied to the corporate elite to properly represent Maryland's Fifth Congressional District, which covers most of majority-minority Prince George's County, the state's most populous.
Hoyer campaigns on his record, his ties to the state's dominant Democrats, his clout in the U.S. House, and his cash: $3.2 million as of March 31. He's also a political veteran, holding elected office all his adult life.
By contrast, Wilkes, an African American, touts in-person knowledge of the ills—hunger, joblessness, and a skewed criminal justice system—besetting her constituents. And she says she'll fight for them, especially against corporate health care and for the Green New Deal and criminal justice reform.
Her backers include Democracy for America, the Democratic Socialists of America, and Our Revolution, which all backed Sen. Bernie Sanders, Ind-Vt., in his two Democratic presidential primary campaigns. And Wilkes makes Hoyer's sources of campaign cash an issue. Wilkes raised just over $200,000 and refuses to take corporate campaign finance committee contributions. She says they tie politicians down.
"Elected officials have a duty to the most vulnerable and powerless in our society. Due to the undemocratic nature of our current campaign finance laws, our elected officials suffer from a lack of accountability and concern for the working-class people of their districts," she said, responding to a Ballotpedia questionnaire.
"As an elected official, my core responsibility would be to make sure people are heard and their concerns are elevated to the national stage so we can formulate the policy solutions we need. It is important that my candidacy serves as a vehicle for empowering and amplifying the voices of those that have been left out or ignored."
Engel is almost as entrenched as Hoyer, but top challenger Jamaal Bowman, a former Bronx middle school principal, sounds a similar theme. Engel, says Bowman, is out of touch with his district, which is now plurality, not majority, white. Bowman's latest big-name backer, the New York State Nurses Association—NNU's state affiliate—says Engel hasn't been back in his Bronx-Yonkers-Westchester coronavirus-hit district since March.
Three other candidates are in the June 23 primary, and Bowman also has the state's Working Families Party ballot line for the fall election. He raised $351,000 as of March 31, to Engel's $1.2 million.
"NYSNA nurses are excited to endorse a candidate who believes as we do that health care is a human right,  Jamaal Bowman for New York's 16th Congressional District," said NYSNA President Judy Sheridan-Gonzalez, RN. The district is rated safely Democratic.
"The COVID-19 crisis has shown more clearly than ever that our healthcare system is broken, and we must push for a more just Medicare for All system where everyone can access and afford the care that they need. NY-16's nurses and essential workers are grateful for Jamaal Bowman's partnership throughout the ongoing crisis, including joining nurses rallying at St. Joseph's Hospital to demand increased production of PPE (personal protective equipment), and repeatedly calling out the corrupt price gouging of this life-saving equipment."
Foreign policy may also be an issue in the Engel-Bowman contest. Bowman and the progressives hit Engel's opposition to the now-dead Barack Obama-negotiated deal curbing Iran's nuclear weapons. Engel, who is Jewish, as is a large share of his base, has always strongly supported Israel—and Israel's right-wing Prime Minister Benjamin "Bibi" Netanyahu campaigned openly for GOP President Donald Trump to dump the Iran deal. Trump did.
The progressive groups backing Wilkes and Bowman also hope to build on recent gains. After a near-miss for a progressive challenger to the most-pro-Trump U.S. House Democrat in a deep-blue South Texas district, two progressive women—Marie Newman and Kara Eastman—beat establishment-backed candidates in Democratic primaries on Chicago's Southwest Side and its adjacent suburbs and in Nebraska's Second District, which Omaha dominates, respectively.
Another sign of the party's progressive shift is in Indiana's Fifth Congressional District. All four candidates—three of them women—seeking the Democratic congressional nomination for the open seat didn't shy away from that label in a domain that runs from Anderson in the north down to silk-stocking sections of Indianapolis. That area in particular has growing numbers of GOP women alienated by Trump.
The Indiana seat opened when incumbent right-wing GOP Rep. Susan Brooks, one of only 13 House GOP women, announced her retirement just four months into this Congress. Brooks beat one of the four current candidates, consultant Dee Thornton, who had notable union support, by only seven percentage points in 2018.
Thornton, the other Democrats, and a horde of Republicans jumped into the June 2 race. But unions that lined up two years ago behind Thornton, an African-American, are either sitting out the primary or endorsed the establishment-backed hopeful, former State Rep. Christina Hale, who is white.
Besides backing the Green New Deal, Thornton is no fan of GOP President Donald Trump's new trade deal, the U.S.-Mexico-Canada Agreement (USMCA), or of anything else he does. In a recent Zoom debate/town hall, Thornton zinged the president's response to the pandemic. "It feels as if we're living in an episode of 'The Apprentice'"—Trump's "reality TV" show—"and my response is 'You're fired.'"
Hale, a former Kiwanis leader, says she's progressive, but her campaign website's issues section lists three priorities for helping workers: "Supporting the small business that continues to drive economic growth and job creation here in Indiana, creating good-paying jobs to update America's aging infrastructure, and raising the minimum wage so that everyone can earn a living wage." Notably missing, in a district with heavy UAW and other union presence: Worker rights.
But in one departure from the progressive agenda, Thornton shied away from Medicare For All. She backed lowering the age for Medicare to 50, instead. Hale supports the "public option" to expand Medicare. Another Green New Deal backer, scientist Jennifer Christie, endorsed Medicare For All, too.
The one male, Marion County (Indianapolis) Assistant DA Andy Jacobs Jr., also called himself a progressive in the debate and predicted Medicare For All would eventually happen. Jacobs has name recognition: His father, iconoclastic Rep. Andy Jacobs Sr. (D) represented Indianapolis for years.
Meanwhile, in Nebraska's Second District, Eastman is raring to take on shaky Trumpite GOP incumbent Don Bacon. Eastman won the primary on her second try, taking 60% of the vote against an establishment-endorsed foe. Eastman backs the Green New Deal and Medicare For All, among other progressive causes. Bacon ousted a first-term conservative Democrat two years ago, by 1.5 percentage points.
Eastman has also raised $850,000 already for her challenge to Bacon, and Trump. The controversial chief executive has already wrapped himself around Bacon, in a typical tweet:
"Congressman @DonJBacon is doing a tremendous job for Nebraska! He served our country as an Air Force General, and now he serves our Vets, Farmers, and Small Businesses. Strongly supports the Second Amendment. Don has my Complete & Total Endorsement! #NE02" Trump tweeted.
"We are building a COALITION," Eastman tweeted back. "If you are going to defeat the regressive tide of Trumpism in our state, we do it with kindness and inclusion and empathy and honesty. We welcome ALL Democrats to our movement! We welcome Independents and disgruntled Republicans too. Let's do this."