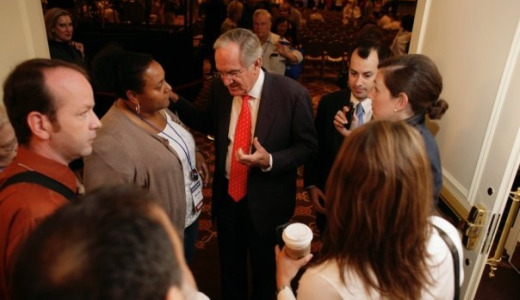 WASHINGTON – Thousands of progressive leaders, trade unionists and activists will meet at the Omni Shoreham hotel here June 7-9 for the America's Future NOW! Conference.
They will discuss, debate and plan strategies to challenge the corporate lobbyist agenda, to put the struggle for jobs front and center, and to create a reform majority that can defeat obstructionists Republicans while projecting a progressive program in the coming mid-term elections.
This is the seventh America's Future NOW! conference. (In the Bush years it was called the Take Back America conference.) It is organized by the Campaign for America's Future, which bills itself as "a strategy center for the progressive movement." Its goals are to "forge the enduring progressive majority needed to realize the America of shared prosperity and equal opportunity."
By spearheading a progressive agenda that addresses kitchen-table issues, while educating progressives, union and community organizers, and other activists, the conference hopes to "incubate national campaigns on critical issues that will define America for generations to come."
Founded as a response to the Bush-era attacks on working families, unions, and the environment, the conference provides a unified convergence point for different progressive political trends, giving an opportunity to debate, discuss, network and plan.
As indicated on the CAF website, "Americans have had it with tired conservative politics that divide us, an economy that squeezes us, a foreign policy that weakens us and a government that serves few of us."
The right-wing Republicans' "list of failure is simply exhausting," the organization says, pointing to "a disastrous Iraq occupation, a destabilized Middle East and Asia, the persistent threat of terrorism, a menacing climate crisis, an insecure and dwindling energy supply, unprecedented trade deficits, unchecked global corporate power, our broken health care system, a weakened pension system and an increasingly inaccessible higher education system."
With right-wing Republicans and tea party supporters mounting campaigns for the mid-term elections this fall, the America's Future NOW! conference is more important than ever.
Additionally, as we enter a possible era of reform, a bigger, broader, more inclusive movement is needed. The America's Future conference is a good place to start building the relationships, connections and strategies that will help us make progressive change.
Conference speakers include: House Speaker Nancy Pelosi, Rep. Donna Edwards of Maryland, AFL-CIO President Richard Trumka, SEIU President Emeritus Andy Stern, former Gov. Howard Dean, and United Steelworkers President Leo Gerard, just to name a few.
Photo: Sen. Tom Harkin, D-Iowa, talks with participants at the 2009 America's Future conference. (Campaign for America's Future)