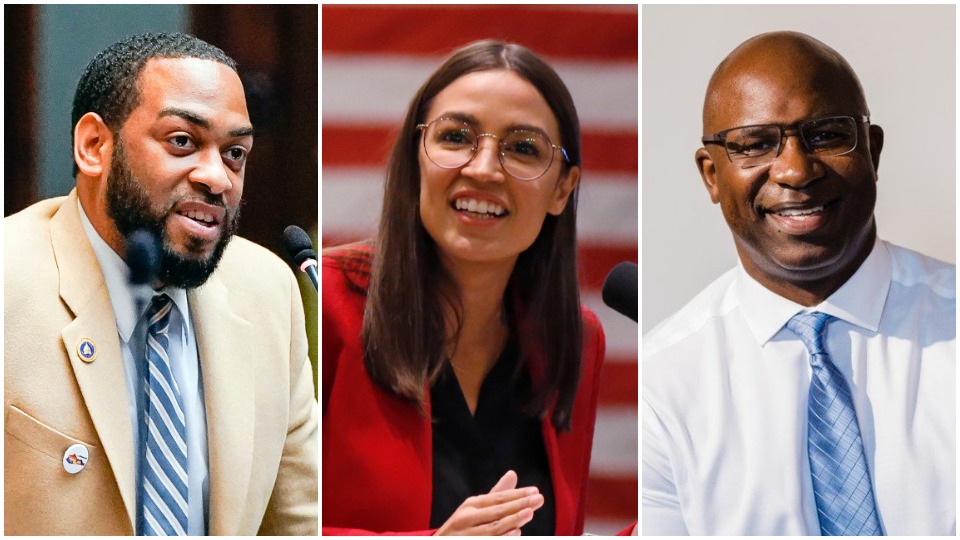 Rep. Alexandria Ocasio-Cortez rolled to a blowout victory in her Democratic primary yesterday in her New York City Congressional District that covers parts of the Bronx and Queens.
AOC, as she is popularly known across the country, trounced three opponents in New York's 14th Congressional District, garnering what looks like more than 81% of the vote. Votes are slow in coming for all the primary races yesterday because of large numbers of mail-in ballots that have yet to be counted.
The big victories yesterday indicate that there is indeed a progressive movement impacting the direction of the Democratic Party, with a good deal of the credit going to the campaign led by Sen. Bernie Sanders. AOC's massive win, in particular, shows that her victory two years ago against a long-time Democratic incumbent was much more than a fluke, as some claimed at the time, implying her win was more the result of a vibrant newcomer running against an absentee congressman who hardly appeared before the electorate.
The freshman lawmaker noted on social media last night that Tuesday proved her surprise upset in 2018 was not a "fluke." The democratic socialist said that her defeat of 10-term incumbent Rep. Joe Crowley at that time was a part of a serious movement propelled by the concerns of the voters. Tuesday proved it.
"Our win was treated as an aberration, or (because) my opponent 'didn't try,'" Ocasio-Cortez wrote in a tweet last night. "So from the start, tonight's race was important to me. Tonight, we are proving that the people's movement in NY isn't an accident. It's a mandate."
AOC's victory was particularly gratifying to progressives because one of her opponents, former CNBC anchor Michelle Caruso-Cabrera, had the backing of an impressive array of major corporate interests, including Goldman Sachs and the Chamber of Commerce.
The other big New York primary shakeup yesterday was in the 16th Congressional District, where 32-year incumbent Democratic Rep. Eliot Engel, chair of the Foreign Relations Committee, apparently went down to defeat at the hands of Jamaal Bowman, who has gained national attention and support over the past month.
Bowman, who is backed by progressives like Ocasio-Cortez and Sanders, was leading the 16-term congressman in early returns by roughly 25 points as of Wednesday morning.
Establishment-backed Rep. Carolyn Maloney is in an extremely tight race with progressive Suraj Patel in New York's 12th Congressional District Democratic primary.
Maloney, 74, is in her 14th term in the U.S. House of Representatives. Patel, 36, released a statement Tuesday evening declaring an early victory, though no official winner has yet been declared.
In Kentucky too yesterday, the ability of the progressive movements to influence the course of the Democratic Party was also on display with what looks like a victory of progressive African-American candidate Charles Booker over former Marine fighter pilot Amy McGrath, the establishment choice favored by Democratic Senate Minority Leader Chuck Schumer.
All voters in Louisville, Ky., had just one polling place at which to cast their vote. When a big crowd of voters were locked out last night because they couldn't get to the doors on time from their cars parked in the distant parking lot, Booker secured a court order extending voting time long enough so they could exercise their right to cast a ballot.
Booker has played a leading role in the protests against the police murder of Breonna Traylor in Louisville. Supporters last night were chanting "from the 'hood to the holler," a slogan encapsulating Booker's strategy of building a coalition of urban voters of color and rural white voters. He told them, "We have the opportunity to transform history!"
Once the nomination is certified, the winner in Kentucky will face off in November against Republican Senate Majority Leader Mitch McConnell, the roadblock to all progressive legislation in the country. The final results in Kentucky may take some time to be tallied, though, because of a huge surge of vote-by-mail ballots this year, which are expected to account for more than 50% of votes cast.
On the Republican side of the primaries, Donald Trump suffered some significant defeats yesterday. Two prominent Republican congressional candidates backed by Trump went down to defeat, one in North Carolina and another in Kentucky.
Newcomer Madison Cawthorn, 24, defeated Lynda Bennet, the Trump favorite to replace N.C. Rep. Mark Meadows, who vacated his seat to become Trump's Chief of Staff. Bennet, the defeated Trump candidate, like the president, was pushing the border wall, crackdowns on demonstrators she called "thugs," and attacks on immigrants. The anti-Trump Republican got two thirds of the vote.
In a Kentucky district, meanwhile, the Trump-backed primary challenger Todd McMurty, racked up only 12% of the vote against Rep. Thomas Massie, the six-term libertarian-leaning candidate Trump wants thrown out of the Republican Party. Massie gained infamy earlier this year for holding up the coronavirus stimulus relief bill.
Neither Cawthorn nor Massie are progressives. Both have solid conservative GOP credentials, but their victories suggest that the president's hold on the Republican electorate may not be as tight as some analysts and administration officials  have claimed.
Like free stuff? So do we. Here at People's World, we believe strongly in the mission of keeping the labor and democratic movements informed so they are prepared for the struggle. But we need your help. While our content is free for readers (something we are proud of) it takes money — a lot of it — to produce and cover the stories you see in our pages. Only you, our readers and supporters, can keep us going. Only you can make sure we keep the news that matters free of paywalls and advertisements. If you enjoy reading People's World and the stories we bring you, support our work by becoming a $5 monthly sustainer today.