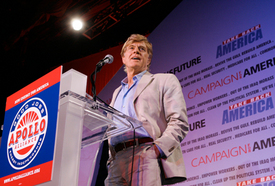 WASHINGTON — Ask Steve Robinson, a local Democratic committeeman from Lawrence, Kan., if his state is posed to help reverse right-wing rule in Congress, and he looks you straight in the eye and answers a firm "yes."
Robinson's friend, Republican state Rep. Dale Swenson, a laid off Boeing worker from Wichita, says its time to "galvanize progressive ideas. Both parties should take on the causes of working-class Americans. Put country ahead of party."
Robinson and Swenson were both at Campaign for America's Future "Take Back America" conference here June 13.
In its fourth year, the annual Take Back America conference opened with 2,000 attendees. Representatives from progressive, liberal and labor movements, like Biko Baker, organizer for the National Hip-Hop Convention, rubbed shoulders with Lynn Williams, president of the Steelworkers Organization of Active Retirees.
Senate Democrat Minority leader Harry Reid (D-Nev.) surprised the conference with a call to start the troop withdrawal from Iraq. "Iraq is not a matter for future presidents, as President Bush has said," he charged. "It's his war and it's his responsibility." He warned attendees of the Bush administration's campaign of "distort, distract, divide" to continue their right-wing stranglehold on power as the November state and congressional elections inch closer.
Former presidential candidate Sen. John Kerry drew numerous standing ovations after beginning his speech with, "I was wrong to vote for this war." He called for renewed courage and dissent from Bush policies in the halls of Congress and in the streets, saying, "It is our right and obligation to stand up to the president. It is immoral to be silent." He announced that he was starting a floor fight in the Senate next week to set a date to bring the troops home.
Showing differences within the Democratic Party, the next day, Sen. Hillary Clinton received a notably cooler reception, including some boos, when she spoke about her opposition to a "date certain" for withdrawal from Iraq. Robinson welcomed Kerry's and others' condemnation of the war. "They [conference organizers] finally condemned the war. It had been the 800-pound gorilla sitting on the sofa." Robinson, who had been to last year's conference, said he saw greater confidence and excitement this year because "people are more focused on Katrina and global warming."
Robert Borosage, co-director of the Campaign for America's Future, told the conference that the country is at a "tipping point" but warned that doesn't necessarily translate into changing the occupants of Congress.
CFA polling indicated the majority of voters want national security based on building allies; that the government should regulate corporations, free scientific and medical research from right-wing religious restrictions, guarantee national health care, develop energy independence and invest in public education.
But polling also shows Americans continuing to be wary of whether government can do anything successfully. "This provides an opening, not necessarily for a Democratic tsunami this fall," he said. "But for a long-term movement that challenges the conservative ideology of our day, a bold progressive reform movement that revives the sense of common purpose and the public good."
Frankie Robinson flew in with fellow ACORN members from Saginaw, Mich. Robinson said the conference is a big help to activists and the "little people" to "get 'em out to vote. What we are doing everyday, coming here and learning, we are powerful. We got a shot to make changes, but we gotta fight and not back down, slide around or whine."
The conference launched a drive for energy independence through clean, renewable sources. Actor Robert Redford joined Jerome Ringo of the Apollo Alliance to advocate for a pro-labor environmental program.
"It's not the environment or jobs," Ringo said. "It's the environment and jobs."
Redford said that he had been an outdoorsman since his youth. In the early 1980s his Sundance Institute hosted a meeting of U.S. and Soviet scientists who convinced him, and scores of other activists, that global warming was the product of fossil fuels, like oil, and threatened the existence of the planet.
"Their prediction came true," Redford told reporters.
Borrowing its name from the 1960s space program, the Apollo Project, the Apollo Alliance plan calls for a federal $300 billion investment in energy efficiency over 10 years that would create 3.3 million jobs.
The conference highlighted the initiative by presenting their annual "Right Stuff" award to United Steelworker President Leo Gerard. The USW is a member of the Apollo Alliance's national steering committee and recently forged a new coalition with the Sierra Club and National Wildlife Federation.
Gerard condemned efforts by Republicans to answer soaring gas prices by opening the last wilderness in North America to oil corporation drilling. "We would save more energy in one year by retrofitting all our schools than we ever would by drilling in the Artic National Wildlife Refuge," he said. "We can have — and deserve — a clean environment for us and our grandchildren and jobs."
Joelle Fishman, chairwoman of the political action commission of the Communist Party, who has attended previous "Take Back America" conferences, said this year's conference made some breakthroughs.
"The conference is breaking through on terrorism and war, Bush's trump card in the past few election cycles. The attendees are issuing a battle cry for democracy, peace and justice in our own country."
TOWN HALL May 2 – Confronting the COVID Economy: Women Fight Back