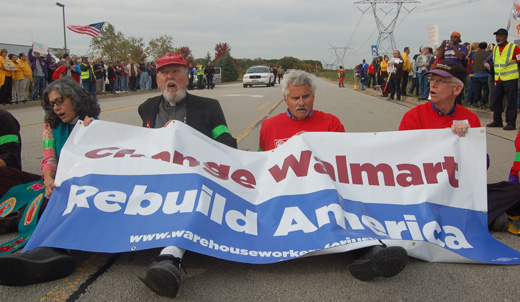 ELWOOD, Il. – In a spirited act of civil disobedience, 14 clergy, labor and community leaders were arrested for blocking access to Walmart's midwestern distribution center here on Oct. 1.
The mammoth Elwood facility is the biggest Walmart distribution warehouse in the nation, covering over 2.2 million square feet. The action brought shipping operations to a halt for several hours.
The action was part of a larger rally and march by hundreds of supporters of 38 striking warehouse workers who walked off the job Sept. 15 after they tried presenting a list of demands over pay and working conditions to management.
A foreman tried to scatter the workers by driving a giant forklift into them. Four workers were fired on the spot and the rest threatened. When their demands were rejected, the workers struck.
Warehouse Workers for Justice (WWJ), which is leading the effort to organize the workers, filed an unfair labor practice lawsuit on their behalf. It had previously filed charges over wage theft.
Eight other workers have subsequently joined the strike.
"They treat us like bodies," said Mike Compton, who considers himself a veteran after only working at Walmart for 3 months because of the exceedingly high turnover rate.
"They have no regard for our well-being or lives inside or outside of this place," he said. "The temperatures get up to 120 degrees and they want to know why we're stopping to get a drink of water. All they talk about is CPH, cartons per hour."
While Walmart owns the facility, it contracts the operation of it to Schneider Logistics. Schneider, in turn, uses sub contractors, making it difficult for workers to sort out just who is responsible for violating their rights at any given moment.
The arrangement allows Walmart to wash its hands of all wage and safety violations. Roadlink Workforce Solutions is the main temp agency at the Elwood facility.
"There have been six separate lawsuits against six different contractors in this warehouse for non payment of wages, non payment of overtime, non payment of the minimum wage, said Leah Fried of WWJ. "There are unsafe working conditions and racial and sexual discrimination and harassment. Walmart needs to take responsibility for what is happening in their warehouses."
Compton said the safety conditions were a huge concern to workers. In addition to the dangerous heat in the summer and freezing cold in the winter, most carts used for moving boxes have broken brakes. Accidents are rampant. The workers are not provided with protective gear and are constantly getting shin bruises among other injuries.
"All of us have permanent shin bruises, they never heal," he said.
Compton said the conditions of warehouse workers who recently struck in California were the same: wages, safety conditions, regular schedules and respect.
There are widespread complaints about sexual discrimination and harassment. Yolanda Dickerson said she and other women experienced it every day.
"When you come to work, you don't come to get put down, to get touched or shut up in a trailer. You don't come to have someone look at your body. They expect women to do the job of three men," she said.
"We're here to tell Walmart this has to stop," said Dickerson. "This is a fight to the finish and this is not done."
Alex has worked at the warehouse since March and said most workers quit after a month. He was one of the workers fired on Sept. 15. He was fed up with wage theft, no set work schedule and unsafe working conditions.
"They have you come in 15 minutes before your shift and don't pay you for it. Then when your shift is done, you punch out on an office clock different from the rest. It'll be 7:30 and the clock says 7:15. They do it every day to every person," he explained.
Over $1 million in wage theft has been won for workers by WWJ.
The workers can never plan their day according to Alex because sometimes they are sent home immediately and other times forced to work long hours. On his first day on the job he worked 17 hours.
He and a co-worker were forced to work in a trailer that had been fumigated in Mexico. They couldn't breathe and repeatedly complained to management to no avail.
The strikers were joined by a group of workers from Sensata Technical Industries in Freeport, Ill. The company was bought up by Mitt Romney's Bain capital and is being outsourced overseas. The workers are on the 20th day of a protest encampment next to the plant.
"We're here supporting you because we want your future to be what our recent past was, well paying jobs, benefits, secure future and the American dream," said Tom Gaulrapp.
"And what we see with what you are going through your present is going to be our future – crappy jobs with no benefits," he said.
"Working people standing together can do anything," he said. "Do we want a Walmart economy? Do we want a Romney economy?"
"No," groaned the crowd.
"Luanda Hamilton died in this warehouse. They worked her and worked her and worked her and like the rest of us they told us if you don't like it, there's the door," said Ted Ledwa.
"Luanda can't speak for herself but we're going to speak for her. Were we scared, yes? Did we stand up to them, yes we did.
"People say, they're Walmart. Well, you know what? We're taking it to Walmart. They don't pay us; they don't treat us with any respect. All we are to them are numbers and a body," said Ledwa.
Photo: John Bachtell/PW