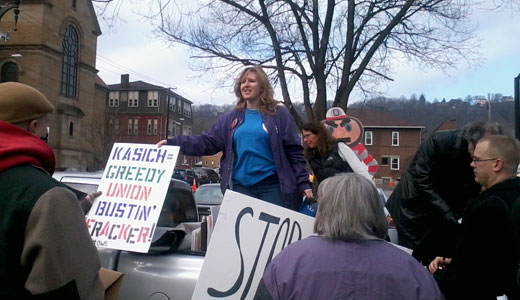 STEUBENVILLE, Ohio – Hundreds demonstrated here Feb. 7 against Republican Gov. John Kasich's corporate agenda on the occasion of his State of the State speech. Actions were also held the previous day at state office buildings in Cleveland, Columbus and Cincinnati.
Protesters denounced huge tax giveaways to the rich and big business that the governor is paying for with cuts to education, mental health and city services as well as privatization of lucrative assets like the proposed sale of the Ohio Turnpike.
State Sen. Mike Skindell told the boisterous crowd outside Steubenville High School, where Kasich gave his speech, that the governor plans to fund Jobs Ohio, the privatized state Department of Economic Development, with a surcharge on electricity bills. Skindell said the entire operation of Jobs Ohio, now serving as a land office to sell state assets, is illegal and is the target of a lawsuit he has filed.
Skindell and State Rep. Bob Hagan, who stood with him in the bed of a pickup truck to address the crowd, have introduced legislation to delay Kasich's reckless promotion of fracking at least until the federal Environmental Protection Administration issues a report on the impact on water pollution of this new technique for oil and natural gas extraction. Kasich said in his speech that 36 fracking wells have already been drilled in the Steubenville area.
Hagan, who represents Youngstown, spoke of the series of earthquakes that hit his district recently as a result of high-pressure pumping of fracking wastewater into storage wells. Kasich was forced to halt the dumping of the oily water imported mostly from Pennsylvania and New York after the quakes.
"I've never been in an earthquake before," said Youngstown resident Mike Alexander. "The one that happened on New Year's Eve felt like a truck hit our house."
While claiming to being committed to protecting the environment, Kasich said in his State of the State address that fracking would continue without delay. He was interrupted by protesters in the audience shouting "Mic check" and "John Kasich, you're selling out Ohio." As the interruptions continued, about 10 people were escorted from the building by some of the large contingents of uniformed and plainclothes officers and State Highway Patrol officers that were present for the address.
While Kasich made no mention of his current 36 percent public approval rating or the enormous setback he suffered in last November's election with the referendum repeal of the union-busting Senate Bill 5, this was on the minds of many demonstrators.
"SB 5 was the battle," Chrissie Heineman of the Service Employees Union told the crowd outside. "but the war is still on."
Shane Hanley, a steelworker locked out by Cooper Tire in Findlay, illustrated the same point saying that his union after giving up massive concessions was continuing to be victimized by "unrestrained corporate greed."
In his lengthy, disjointed and rambling address, Kasich sought to claim credit for every new job created in the past year, although many resulted from federal stimulus funding and programs begun by Ted Strickland, his Democratic predecessor. The Plain Dealer described the speech as "vague" and "light on new ideas."
"The governor is in fantasy-land," House Democratic leader Armond Budish told the paper. "He took credit for everything under the sun and, given a few more minutes, he would've taken credit for the sun."
Despite the unprecedented contentiousness of his first year in office, Kasich claimed to be for bipartisanship, citing his support for Cleveland Democratic Mayor Frank Jackson's request for legislation to strip teachers of seniority rights and establish "merit pay."
Cleveland Teachers Union President David Quolke described this as "SB 5 lite."
Democratic State Rep. Mike Foley dismissed Kasich's posturing about bipartisanship as a fraud.
"We're kept out of everything," he said. "We have 10 speeches blasting them on the floor. They (the Republicans) hardly bother to answer. They just ram through whatever they want."
Standing behind a banner reading "Recall John Kasich," the demonstrators chanted, "Hey, Hey, Ho, Ho, John Kasich's got to go."
Photo: Chrissie Heineman speaking. Rick Nagin/PW