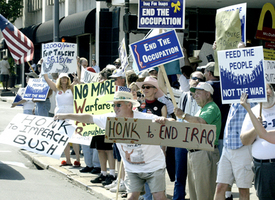 ST. LOUIS — Over 600 trade unionists, community activists, peace activists and students protested President Bush's visit here June 28. Bush was in town for a $2,000-a-plate fund-raiser for right-wing Missouri Sen. Jim Talent, who faces strong opposition from Democrat Claire McCaskill, the state auditor.
According to John Antonich from the United Food and Commercial Workers union, Meat Cutters Local 88, "We're protesting President Bush and Senator Talent because of the wage issue. We need a raise. Working families, here and all over the country, need a raise."
Bush has repeatedly fought federal minimum wage increases, while Talent has opposed state minimum wage initiatives.
Recently though, the Give Missouri a Raise Coalition led a successful grassroots campaign to put a minimum wage initiative on the ballot. They collected over 210,000 signatures in just over five weeks.
Tony Condra, secretary treasurer of SEIU Local 2000, a member of the coalition, told the World, "We're just getting started. We want to give Bush and Talent an example of what to expect this November. It's time for a change. And we're going to help make it happen."
Peace was also a major theme of the protest. Recent Missouri polls show Bush losing ground because of his "stay the course" stance on Iraq. In fact, 54 percent of Missouri's likely voters said they did not think the war in Iraq is worth it. Sixty percent of likely voters are calling for at least some troops to come home. And only 6 percent of Missourians think the war has made America safer.
According to the Rev. Audrey Hollis, the Bush administration has lost whatever legitimacy it once had. "They do not represent the majority of the people, the will of the people," she told the World. "Real democracy hears the voice of the people."
Connecting the minimum wage issue and the war in Iraq to the midterm elections, Hollis continued: "We have to use the only tool we have. The elections are a tool that we have to use to our fullest."
"Our voice is the voice of the American people," said Antonich. "Not the voice of right-wing extremism."
The Bush fund-raiser garnered over $1 million for Talent. Across town, in the working-class neighborhood of Overland, McCaskill held a $10 a plate fundraiser for Missouri war veterans.