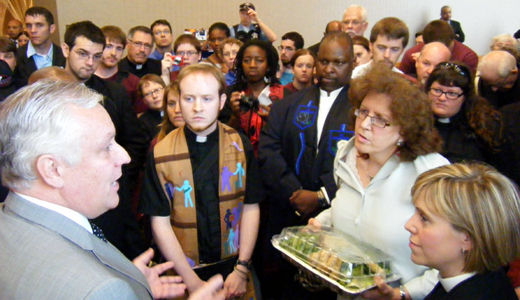 CHICAGO – Just six months after becoming a publicly traded company protests forced Hyatt Hotels to suspend its first shareholders meeting here.
Hundreds of local clergy and workers staged protests outside the chain's McCormick Place hotel and 75 made their way through the VIP entrance, past security and into the hallway outside the closed door meeting of the board of directors.
The clergy demanded that the board send a company executive out to discuss what they said was their outrage over Hyatt's attempt to make the recession permanent for workers despite Hyatt's rising share values. After the protesters spent 30 minutes singing psalms and refusing to move, the directors inside suspended their meeting and filed out past the clapping and chanting crowd.
Inside, before the closed-door meeting broke up, a former Hyatt housekeeper from Boston, who was fired in August 2009 and replaced by an outsourced worker making minimum wage, appealed to Hyatt's owners and top executives directly.
"I gave my body, everything I have and Hyatt disposed of us like trash," said Lucine Williams, who worked for the company for 21 years, before she and 100 others were similarly fired in August, 2009. Williams participated in the Chicago shareholders' meeting as a proxy.
The union rejects Hyatt claims that it has to cut back on worker salaries and benefits because of the recession. "When the company went public last November, in one day alone the Pritzkers cashed out over $900 million as part of the initial public offering," Ken Snyder, the political action director of Unite Here's Local 1said outside the hotel just before the clergy entered the building.
Expressing satisfaction with the large turnout of faith leaders at the hotel, Henry Tamarin, the president of Local 1, said labor would be building alliances with all of what he called "Hyatt's core constituencies."
He named the LGBT community as an example of just one of the groups he was talking about.
"Gay rights activists are angry that while Hyatt courts LGBT customers," he said, "it refuses to sever ties with Doug Manchester, a Hyatt owner and key funder of the initiative to ban gay marriage in California."
The union and its allies held simultaneous demonstrations in support of the Chicago action today in San Francisco, Los Angeles, Honolulu and Vancouver.
Yesterday four hundred workers at the Hyatt Regency in San Francisco went on strike.
Today's Chicago action followed by several weeks a walkout by hundreds of workers at the Hyatt Regency Chicago protesting, among other things, the banning of union organizers at Chicago's largest downtown hotel. Workers on the picket line today cheered when they heard the news that organizers have been allowed back into that hotel.
Nationwide, the hotel industry is rebounding faster and stronger than expected, with growth projected in 2011 and 2012. In the six months following Hyatt's November intial public offering Hyatt's shares were up over 656 percent.
"Hyatt has become an emblematic obstacle to our nation's economic recovery," said Rev.Calvin S. Morris, Ph.D. and Executive Director of the Community Renewal Society. Morris was one of the leaders of today's protest by the clergy. "I'm here today with leaders from many congregations and many faiths to send a message to Hyatt's owners that we will not sit idly by as Hyatt locks hardworking housekeepers, dishwashers, and doormen into a recession, while one of the wealthiest families in America gets wealthier."
Photo: Religious leaders delegation at shareholders meeting, with Robb Webb, Dir of HR for Hyatt Corp. Annemarie Strassel/Unite Here