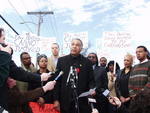 ST. LOUIS — Over 40 outraged citizens, community leaders and family members of victims protested against police brutality here Feb. 1. They gathered in front of the Maplewood police department in support of Edmon Burns, a recent victim of police violence.
Four police officers, three white and one Black, were caught on tape beating Burns two days before the protest. One officer was seen trying to break Burns' leg.
The FBI and the Missouri State Highway Patrol are investigating the beating. Unfortunately, many feel justice will be difficult to obtain.
"I am tired of seeing people beat and harassed for no reason," Rodiesha Mohammad told the World. "This is exactly why we need a civilian review board."
The Coalition Against Police Crimes and Repression, a local coalition of community, religious and student leaders, has been fighting for over five years to pass a civilian review board bill. While Board Bill 69 has been introduced to the Board of Aldermen, the issue is divided along racial lines. Black aldermen are in favor of the bill, while white aldermen are opposed.
"St. Louis has gone too long without a civilian review board," said Joan Suarez, co-chair of the St. Louis Jobs with Justice Workers' Rights Board. "It's almost as if the controls are off."
Civilian review boards are designed to investigate complaints independent of police involvement. They examine cases of abusive language, harassment and excessive force. The largest civilian review board is in New York City. It has dozens of investigators and has disciplined hundreds of police officers.
Review boards have been established in 71 of the nation's 100 largest cities.
St. Louis has a history of police violence. In 2001, Jerome Johnson was shot nine times by area police. Johnson, later found not guilty, was mistaken by police as a drug dealer. He saw a group of plainclothes officers running towards him and thought they were gang members. He ran and the police shot him four times in the back and five more times after he fell.
"As a former police officer, I can't let my anger rise to the point where I disregard the law," said Redditt Hudson of the American Civil Liberties Union of Eastern Missouri. Burns' beating was "an egregious and excessive use of police force," he said.