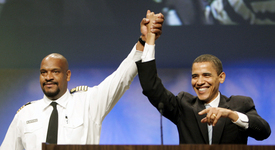 CHICAGO — "It's time, past time, that our soldiers come back home to their families" from Iraq, said Gerald McEntee, international president of the American Federation of State, County and Municipal Employees Union, in his keynote address to nearly 6,000 convention delegates and guests who assembled here Aug. 8.
His wide-ranging speech had a common theme: "Sisters and Brothers, if there is one lesson to be learned from the Social Security fight, it is this: When AFSCME fights, AFSCME wins!
"We're all in this together," he said. "Let us stand for an America where workers are treated with dignity and respect."
McEntee said the union must adopt a bold new plan called the "21st Century Initiative." The initiative includes reaching out and getting more members involved, continuing the practice of holding politicians accountable, making health care reform a top priority, increasing union membership, and strengthening affiliates to build a more cohesive union.
Well-known Latino actor and union supporter Jimmy Smits emceed the opening of the gathering. He said he is proud to be the son of a union family, because unions believe "each and every person has the right to a decent education, to jobs and the American dream."
Smits, who portrayed a Democratic president on the popular television show "The West Wing," continued: "I may be the closest thing to a pro-worker president."
"We'll see, maybe in 2008," he quipped.
Democratic Senators Dick Durbin and Barack Obama of Illinois and Hillary Rodham Clinton of New York also addressed the packed hall in Chicago's giant McCormick Place.
"There is a limit to what the American people can tolerate when it comes to the Bush administration," Durbin said. "Where was the federal government during Hurricane Katrina?" Touching on the quagmire in Iraq, he said, "This Republican Party in Congress is running on empty, and being crushed in the streets of Baghdad."
Obama said, "Ordinary people can do extraordinary things when we work together, and that is what AFSCME represents." He cited the example of the heroic sanitation workers in Memphis who went on strike in 1968 during the height of the civil rights movement. "This is the legacy you have inherited today against all odds, at the edge of despair," he said.
Obama added that the philosophy of the Republican-led Congress is to promote a so-called "ownership society," with "every man for himself and social Darwinism."
"It's time to say no to that Congress which says no to health care, Social Security, and pensions," he said. "Today the march goes on and the fight continues for jobs, for solidarity and a vision for America where we march together with hope and a better future."
Clinton made a strong appeal for the union membership's involvement in the midterm elections.
"We can't just be frustrated, or upset — we have to organize to change the direction of this country starting in November to elect Democrats in power," she said, citing the importance, for example, of the continuing fight to raise the minimum wage. "We have to make the case as to why now, more than ever, it's critical to show up on Election Day because we love this country."
Some delegates traveled from far away. Luis Lugo, president of Local 2082 from Puerto Rico, told the World that the union was important "to organize and to defend our rights and to gain support in Washington" for improvements in wages and working conditions.
James LaRocca is member of Local 11 in Cleveland. He said that attacks in the public sector are "unprecedented," and that one of the biggest fights currently under way is against privatization.
Looking to the November elections, he said, "In Ohio we have a real opportunity to change the corruption in the state."
The convention was uplifting, he said. "It's very exciting and energizing to be surrounded by folks with a lot of experience."
plozano@pww.org