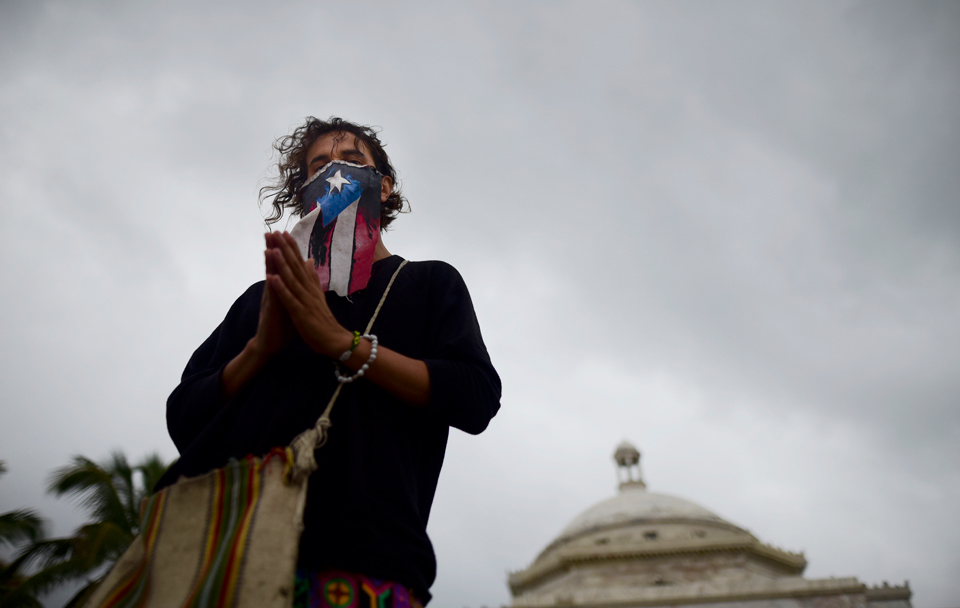 When goods supplier Luis Rivera leaves his home in Puerto Rico each morning to make his rounds of sales and deliveries to food markets throughout the island, he double-checks that he is carrying the documents that identify him as an essential worker. "If police stop my car on the road, and I don't have proof that I'm allowed to be out during the lockdown, I could get up to a $5,000 fine," he explains.
The island has imposed strict enforcement in an effort to stem spread of the coronavirus infection to its 3.5 million population. As of this writing, Puerto Rico has 316 diagnosed cases of COVID-19 and 12 deaths.
The island-wide lockdown is intensifying the situation Puerto Ricans were already facing due to the island's political and colonial status and tragic natural disasters that have besieged them in recent months and years. Puerto Rico has faced two major hurricanes, hundreds of earthquakes in December, a bigger 6.4 magnitude one on Jan. 7, and a financial crisis of historic proportions. Now, along with the rest of the world, it is also dealing with a major medical crisis.
Puerto Rican members of the scientific and healthcare community and political activists met online last weekend to address ways in which the U.S. mainland can be pressured to ensure that the island receives needed help in combating the coronavirus pandemic.
"Our commitment is to make sure that people come first," said Javier Cuevas, executive director of Vamos4PR Action. "Often, Puerto Rico becomes an afterthought in the U.S. public policy discussion, and we cannot allow that to be the case in the middle of a global pandemic."
As part of the federal stimulus package passed last week, Puerto Rico is expected to receive $2.241 billion of the $150 billion allocated for "State and Local Relief." The local treasury department will submit a plan detailing how it will distribute stimulus checks to individuals and families, which will be sent to everyone with a Social Security number. Puerto Rico will also benefit from part of a $100 billion allocation to assist health centers and to purchase medical supplies.
Puerto Rico will receive the biggest chunk of the $200 million in emergency nutritional assistance designated for U.S. island territories, which also include American Samoa and the Northern Mariana Islands. That's a small part, however, of the $1.27 billion in emergency food aid that had been requested by the governor of Puerto Rico and advocacy organizations.
The House had previously passed supplemental aid for Puerto Rico earthquake recovery, but organizations fear the amount is not enough for their communities and pledge to keep fighting for increased aid.
Cuevas's group, Vamos4 PR Action, is a network of organizations committed to advocating for Puerto Ricans on the island and the mainland. It came out of the labor movement, from unions such as SEIU 32BJ, back in 2016 in response to the debt crisis and colonialist austerity imposed by U.S. In his remarks, Cuevas highlighted how the challenges Puerto Ricans face have erased the lines between low- and high-skilled workers and shown that all—from agriculture to health care—are essential members of society. The organizations in Vamos4PR Action initially united to advocate for a fair economy, but Cuevas noted that this is made impossible when people's lives are at risk. That's why the group took the initiative to the webinar meeting entitled "Families First," which was hosted along with the Center for Popular Democracy Action, Boricuas Unidos en la Diáspora, and Hedge Clippers.
Dr. Frances Colón, Deputy Science and Technology Advisor to the U.S. Secretary of State from 2012-17, has long expertise in science policy with the federal government. Experienced agents in NIH and CDC conducted tabletop exercises playing out how we might respond as a country in case of a virus. Although warnings were given back in January, federal authorities delayed our response and lost valuable weeks of planning, resulting in a cascade of errors—delayed and faulty tests, shortages of Protective Personal Equipment (PPE), and a shortage of the chemicals and materials needed to perform the test.
According to Colón, necessary social restrictive policies were also severely delayed, and soon hot-spots of the virus started popping up. Economic policies and actions recommended by scientists were barely begun to be studied.
Puerto Rico has put in place very strict guidelines, she said, and it's important to keep informing those decisions with the best science.
An organization of Puerto Rican scientists, as part of the COVID-19 communications effort for the Puerto Rican community, has published dozens of articles and created a dozen radio spots in Spanish. They have also sponsored a donations drive for testing labs in Puerto Rico. The CienciaPR.org website has specifically designed kits for parents to help in home schooling.
Dr. Cruz Nasario, Professor of Epidemiology at the School of Public Health in Puerto Rico, said, "Lack of information poses a dangerous situation because it impedes planning and preparation."
We are experiencing community spread, Nazario said, but due to insufficient testing and further tests still pending, we don't really know how many cases there actually are. "For every case we diagnose," she said, "we probably have between 15 to 20 cases that are not diagnosed in the community."
Puerto Rico has about 9,000 hospital beds, but 70% are already in use. There will shortly be an acute need for more. But the island also needs nurses and doctors, since large numbers of health professionals had already left the country due to worsening economic conditions.
Claudia Martorel is an infectious disease physician and clinical investigator in Springfield, Mass. "Because of the particular mutation of the coronavirus that causes COVID-19, the virus attaches very tightly to the lungs, and because of the tight junction, less virus particles are needed to cause high numbers of infection."
Martorel continued, "Person to person transmission in respiratory droplets in air and surfaces is so highly contagious and rapidly spreading through exponential growth. We have no vaccine or approved effective treatment although there are some clinical trials on the way.
"The severely ill are requiring longer hospitalization and ventilator use than others with similar infections, like the flu. So because of the rapid spread and the aggressiveness there is greater need for Personal Protective Equipment and there's not enough. There is a higher demand than the supply that is available—limited hospital and ICU beds, limited infrastructure, limited PPE, so healthcare providers are getting sick in their communities and in their medical practices and hospitals."
An already dismantled social fabric
Luis José Torres Asencio works with the Citizen Commission to Audit the Debt. He is an attorney in Puerto Rico who works with NGOs on the island. "Before the crisis Puerto Rico was already dealing with the combined crisis of a colonial relationship with the U.S. that keeps us economically and politically burdened," he says. "Washington policies, negligent response after Hurricane Maria, the stagnant reconstruction process and more than three decades of austerity, has dismantled the public infrastructure and social fabric that we now so sorely need." The $72 billion public debt is currently being restructured under PROMESA in Puerto Rican District Court.
"The government has imposed very strict mandatory lockdown but has done little to create the social and economic conditions that would make it possible for vulnerable individuals to remain at home," said Torres Asencio, "and that is our main concern."
For instance, recent estimates show that about 3000 persons in Puerto Rico are homeless. The government acknowledges that they have no plan for that population and expect NGOs to address their needs. The governor subsequently issued an executive order to build temporary shelters and provide food and water, but a recent report found that although more than 30 contracts have been issued, almost two weeks after the lockdown, no such shelters have been built.
In addition, gender violence was already an emergency situation, and there have been increased incidences of domestic violence during the lockdown. Yet government has not declared that services provided in response to domestic violence are essential, so that they can continue to be provided during this period.
The stimulus package designates a $500 stipend for self-employed individuals, to cover all of their needs during a period of no income. Unemployment insurance will pay up to $190 per week, "but if they are dependent on being out on the street to generate income, and will not stay in their homes," Torres Asencio says, "the government needs to create the conditions for them to be able to remain in their homes."
Making deals with vulture funds
The agreement reached between the government and the banks to postpone mortgage payments for three months forces homeowners to bring their accounts up to date within three days after those three months, meaning they have to pay an amount equal to four months of mortgage payments by the month of June. "That's not relief," Torres Asencio observes.
No rent relief has been legislated other than a temporary moratorium. "After Hurricane Maria, thousands of individuals lost their homes because they had been unable to pay their rents during the crisis. We can't allow the same thing to happen here."
Armando Santiago, attorney with a Puerto Rico-based group dedicated to protecting pensions of retirees, who are the most impacted by the coronavirus crisis, has focused over the last few years on ensuring that vulture funds in the form of Wall Street bond holders "don't make off with money that needs to be invested on the island."
Puerto Rico's public health infrastructure had been decimated through years of budget cuts and austerity measures. "The federally imposed control board have made it a point to hoard as much money as possible of Puerto Rico's own resources, set it aside in a bank cash account, and use it as leverage to bribe bondholders into a deal they've been brokering behind closed doors in the bankruptcy process."
Puerto Rico is currently facing the single largest, longest and most expensive bankruptcy in U.S. municipal market history. Santiago says the bankruptcy has been negotiated almost entirely behind closed doors between the control board and coalitions of bond holders. "Last year they reached a deal to commit Puerto Rico to pay 40 years' worth of $32 billion in debt."
This money would be sequestered from Puerto Rico's economy through a sales tax. Money needed for meeting current, dire social needs competes directly with the money used to pay debt restructuring deals.
The board has decided to use the funds from the general fund to pay off bond holders. Four billion dollars have been set aside from $9 billion cash reserves built up over years of austerity, for a cash payment this summer to bond holders, with an additional commitment of another $16 billion for this group of hedge funds over the next 20 years.
A broad group of unions, community organizations, and thousands of retirees have organized to put a stop to this.
"Puerto Rico's legislature has the power to enact the laws needed to approve or disapprove the deals that the oversight board brokers in federal bankruptcy court," said Santiago. "We are pushing for a resolution passed in November that committed the Puerto Rican legislature to disapprove any bill that allows the current deal to go through including massive pension cuts to retirees, tax hikes and other budget cuts.
"We need to cut Puerto Rico's debt by as much as legally possible. One strategy is that the government and oversight board…take the huge cuts that are needed to access as much of the $9 billion cash reserve. We need it now more than ever, especially to secure pensions for the most vulnerable to make sure they can be safe at home and be able to pay for food and medication."
U.S. House Bill 2434, introduced March 9, aims to cancel the debt in order to fund pensions as an essential public service and protect the budget from further cuts to healthcare, transportation, and education.
This becomes more critical today. For instance, hospitals are asking that bond payments be granted a moratorium of 90 days so that they can afford to pre-pay for the equipment they desperately need. Health insurance companies are not paying the hospitals for up to 6-8 months for equipment.
"We are expecting about 16,000 patients if they come quickly to the hospitals," said Dr. Nasario. "This is similar to what happened with Hurricane Maria, where government said we had 64 deaths directly related to the hurricane, but there were over 4000 due to lack of access to and preparedness of the healthcare system."
Amid a strong sense of community and solidarity, essential workers are assuring their fellow Puerto Ricans that they will maintain the frontlines during the crisis.
The Agricultural Workers Association, in a video message aired throughout the island, also told Puerto Ricans, "We will continue to ensure that food is available for Puerto Ricans" so they can "Stay Safe at Home."