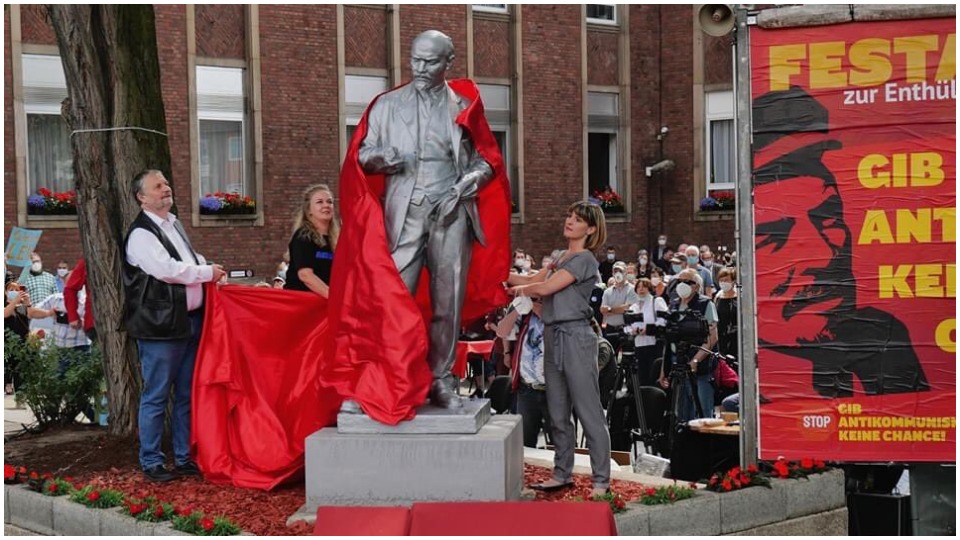 Lenin lives again in the western German city of Gelsenkirchen, which saw a new statue of the revolutionary Communist leader erected on Saturday in the face of opposition from city authorities.
The statue is the first monument to Lenin ever in the territory that used to be West Germany and the first to rise anywhere on German soil since the fall of socialist East Germany (officially the German Democratic Republic) in 1989.
It came after a lengthy legal battle which found in favor of the small Marxist-Leninist Party of Germany (MLPD). The court issued a ruling allowing the party to erect the statue on private property. The monument was originally made in Czechoslovakia in 1957.
Gelsenkirchen Mayor Frank Baranowski said he accepted the decision of the court "but not without comment" insisting that there was no place for Lenin in the city.
Large crowds attended Saturday's unveiling, which was accompanied by music and speeches. Attendees were asked to wear face masks and maintain social distancing to protect against potential infection of the coronavirus. Commenters said the scene was set with fluttering red flags and the smell of grilled sausages.
MLPD chair Gabi Fechtner said: "The time for monuments to racists, anti-Semites, fascists, anti-communists, and other relics of the past has clearly passed. Lenin was an ahead-of-his-time thinker of world-historical importance, an early fighter for freedom and democracy."
This article originally appeared in Morning Star. It has been supplemented with additional information.