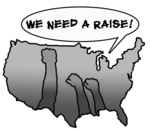 They could not find enough seats so they sat on the Capitol steps. Over 100 high school students from across Ohio gathered in Columbus on May 17 to present their minimum wage petitions to the committee of petitioners.
Decked out in their bright green "Raise the Wage" T-shirts, students individually marched to the podium and handed their petitions to state Sen. C.J. Prentiss, Piettie Talley from the Ohio AFL-CIO and Katy Heins from Let Justice Roll. A few minutes earlier Jonathan Lykes, a 10th grader from Shaw High School in East Cleveland, had electrified the crowd with an original poem. The refrain "$5.15 is an injustice" captured the theme for the day of the student-led gathering in Columbus. Other Ohio leaders including House Minority Leader Joyce Beatty, state Sens. Marc Dann, Ray Miller, Tom Roberts and Dale Miller, Ohio Democratic Party Chair Chris Redfern and State Rep. Barbara Sykes watched as students from many high schools submitted over 2,000 signatures.
A few hours before at the Ohio Education Association headquarters, students spoke about their experiences gathering signatures. One student talked about how she will remember what she did for her whole life. Another shed a tear as she described petitioning outside a building where people were waiting to receive clothing they could not afford. The tightly packed crowd rose to their feet when Lykes rhythmically inspired young people to stand up against poverty and economic injustice. Nervous at first, students gained confidence as they talked about the minimum wage campaign as the first, but not the last, time in their life to raise their voice for change.
As part of the Annenberg Civic Engagement Project, Columbus students had coined their own slogan, "Rage for the Wage," written researched booklets, and even spoken at other high schools urging students to join them in the campaign to raise Ohio's minimum wage and collect signatures for the constitutional amendment. The students from Shaw had stood in the rain on the primary Election Day to collect signatures. A whole busload of students journeyed to Columbus with another large contingent of active Shaw seniors left behind to take their senior final exams.
The teachers, despite being preoccupied with field trip forms, bus passes, and all the accouterments of school culture, quietly sat beaming as their students took the lead to force an unresponsive state government to take seriously the lives of the working poor.
The Columbus event culminates a six-month project to involve high school students in the campaign to raise Ohio's minimum wage. Over 600 students volunteered across Ohio to petition and most of these students could not come to Columbus. It's not easy getting a substitute, field trip approval and traveling hundreds of miles. At least 200 petitions have already been sent in.
Piettie Tally from the AFL-CIO described how a friend of hers in Toledo said she had signed a minimum wage petition. Talley asked what labor union member was circulating the petition. Her friend replied, "Oh, she was not from a labor union, she was a student at a Toledo high school."
What's next for high school students? Once the constitutional amendment gets on the November ballot we will reach out to students in high schools where at least 30 percent of the students are eligible for free or reduced lunch. We will then set up leadership development institutes for teachers and students to plan a campaign in September based on voter registration for eligible young people and for their parents, relatives and friends. In October we will then produce a high level of visibility on the need to vote in November to raise Ohio's minimum wage.
We gathered in Columbus on May 17, the 52nd anniversary of the Supreme Court's Brown v. Board of Education decision. As I pointed out as we began the student presentations, for a short time in history we had a government that made equality and opportunity a priority. We no longer have that government on the state and federal level. It's up to the young people themselves to force the government to regain its commitment to justice.
Can we imagine what the government would do if low income young people voted in the same numbers as high income senior citizens? That is the next step. With the right resources, finances and focus young people and their teachers can lead the way.
Michael Charney is a long-time teacher and community activist/organizer who recently retired as second vice president of the Cleveland Teachers Union. This article was originally published at www.clevelandaflcio.org/blog.html and is reprinted by permission of the author.