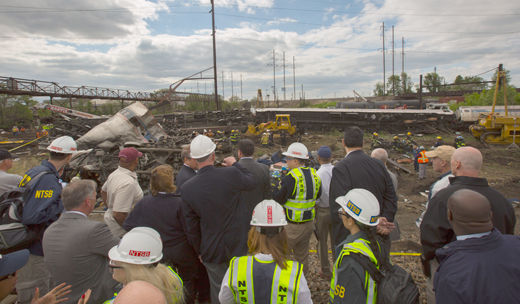 CLEVELAND, Ohio – Rail unions that represent most U.S. railroad operating personnel – including the union that represents engineers – are weighing in with more analysis of the fatal Amtrak crash in Philadelphia.
And in their joint statement, Presidents Dennis Pierce of the Brotherhood of Locomotive Engineers and Trainmen, a Teamsters sector, and John Previsich of the Transportation Division of the Sheet Metal, Air, Rail and Transportation Workers (Smart), say Congress shares some of the blame for the conditions which led to the May 12 crash.
The northbound Amtrak train crashed while rounding a curve in North Philadelphia. All of its cars derailed. Eight people were killed and another 200 were injured. Preliminary reports say the train was traveling more than 100 mph, double the speed limit on the curve.
One reason it was speeding is because Amtrak did not have the computerized Positive Train Control (PTC) system on its entire Northeast Corridor line, particularly that segment, due to lack of money for it from Congress. PTC would slow the train regardless of what the engineer did. And Congress passed legislation in 1981 that Amtrak interpreted as permitting it to run its passenger trains with one person – the engineer – as the crew.
"Armed with that legislative precedent – and mindful of where its funding originates – Amtrak has since 1983 refused to crew Northeast Corridor trains with more than one employee in the cab," the two presidents said.
The two unions "steadfastly maintain there should be two crew members in the cab of all trains to ensure public safety. But only Congress can change the legislation that reduced crew size on the Northeast Corridor."
Amtrak's PTC funding is also up to lawmakers, even though the federal government mandated seven years ago that railroads install PTC by the end of this year. There is no PTC on freight railroads, with a few exceptions, the union leaders added.
"The industry at large has spent the interim finding reasons to avoid implementing PTC technology. They have created the situation about which they all now complain – they say they cannot meet the Dec. 31 deadline. Each death caused by the delay of PTC implementation is one too many, yet Congress is preparing to consider a blanket five-year extension to 2020. This is most certainly not in the public interest."
Pierce and Previsich noted that since 2005, the National Transportation Safety Board, which is probing the Philly crash, has investigated 16 accidents "that could have been prevented or mitigated with PTC." And 52 people, including members of both unions, died in those crashes, while 942 more were injured.
"NTSB publicly stated" PTC technology would have prevented the Philadelphia crash. While "there is no disagreement over the value of PTC technology, there is no technology available today that can ever safely replace a second crew member in the cab."
Photo: The NTSB Go Team arrives on the scene of the Amtrak train No. 188 derailment in Philadelphia, Pennsylvania. | Wikipedia, National Transportation Safety Board via Flickr, Public Domain