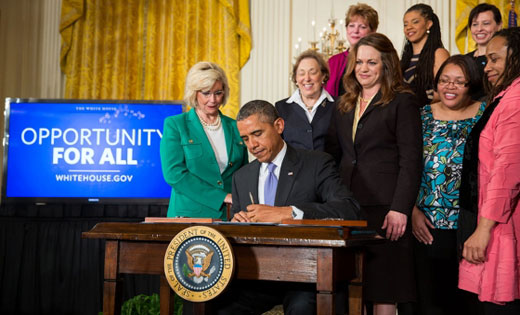 Women and their male supporters took action across the United States this week for Equal Pay for Women. In Chicago, 40 organizations called a rally in Daley Plaza under the slogan "Equal Work Deserves Equal Wages". Illinois Governor Pat Quinn, Cook County President Toni Preckwinkle and Illinois Attorney General Lisa Madigan led the speakers' list.
The UN has proclaimed Equal Pay Day around the world. This year in the U.S., the date was Apr. 8, 99 days into the year 2014. That's how long it takes, at an average woman's wage, to catch up to an average man's wage for January 1, 2013 to December 31, 2013. The founder of Equal Pay Day, the National Committee on Pay Equity, is also demanding equal pay for minorities.
How unequal are women's wages? Women in the U.S., on average, are now paid only 77 cents to every $1.00 of men's average pay. And bad as the gender gap is in general, the gap is worse for women of color. African American women average only 64 cents and Latina women only 52 cents to every $1.00 of men's average pay.
Governor Quinn, in his speech April 8th, called for raising the state's minimum wage from $8.25 to at least $10. He was echoing President Obama's 2014 State of the Union address. The raise, Obama said, would shrink the gender wage gap by nearly five percent, since 60 percent of minimum wage workers are women. Quinn also spoke of the need for paid sick leave since unpaid sick leave lowered women's wages more. Quinn is running for re-election and faces Republican multibillionaire, Bruce Rauner, who wanted to cut the minimum wage that is already too low.
Toni Preckwinkle said there was much work to do. Back in 1963, when the Equal Pay Act was passed, the gender pay gap was 59 cents to the dollar. At today's 77 cents to the dollar, it would take 65 more years to catch up.
Lisa Madigan also referred to the Equal Pay Act of 1963 and asked why pay was still so unequal. A law needs to be enforced, she said. She also reported on her work to protect low-paid workers, the majority women, from pay day loans at huge interest rates and pay day cards that effectively cut pay even further.
Others spoke about successful local suits against employers who violated the Equal Pay law, winning as much as $100,000 for women paid less than men for the same work. They added that much more is needed. Congress needs to pass the Paycheck Fairness Act (S.84, H.R.377) and the Fair Pay Act (S.168, H.R.438) to close loopholes in current laws and protect women's rights to fight for equal pay.
The audience applauded mention of President Obama's executive order earlier that day. The order protects the right of employees of federal contractors to discuss salaries without fear of being fired. This issue was highlighted by the Lillie Ledbetter case where the Supreme Court ruled that she was too late to demand equal pay because she did not file within 180 days after the unequal pay began. The Supreme Court did not care that Ledbetter only learned of the inequality many years after it started. A law correcting this injustice was the first law that Obama signed in 2009.
This reporter has wondered where the pay goes that women have worked for but do not get. The economist, Walter Krugman, explains that it does not go to the working man. Fully 60 percent of male workers have actually suffered a drop in wages when adjusted for inflation.
The most important factor in winning equal pay for women was strangely never mentioned by the speakers. That is, winning a union contract. Among union members, women working full-time are typically paid 90.6 percent of what their male counterparts are paid – a wage gap of 9.4 cents. The wage gap among union members shrunk by 2.6 cents between 2013 and 2012 (to 9.4 cents from 12.0 cents) – for non-union workers it's been virtually unchanged for seven years.
It is interesting to note that the European gender wage gap is less than the gap in the US, about 84 cents to the dollar. As a result their Equal Pay Day comes earlier, Feb. 28. The higher rates of union membership seem the obvious explanation. As the great union leader, Addie Wyatt, used to say, "The biggest step towards equal pay is winning a union contract."
The Paycheck Fairness Act was blocked in the Senate April 9th, ironically the day after Equal Pay Day. Please note that Senator Reid changed his vote to "No" to allow him to bring the Act back for a vote. See how your senator voted.
Photo: Obama signs an executive order addressing the gender wage gap. WhiteHouse.gov