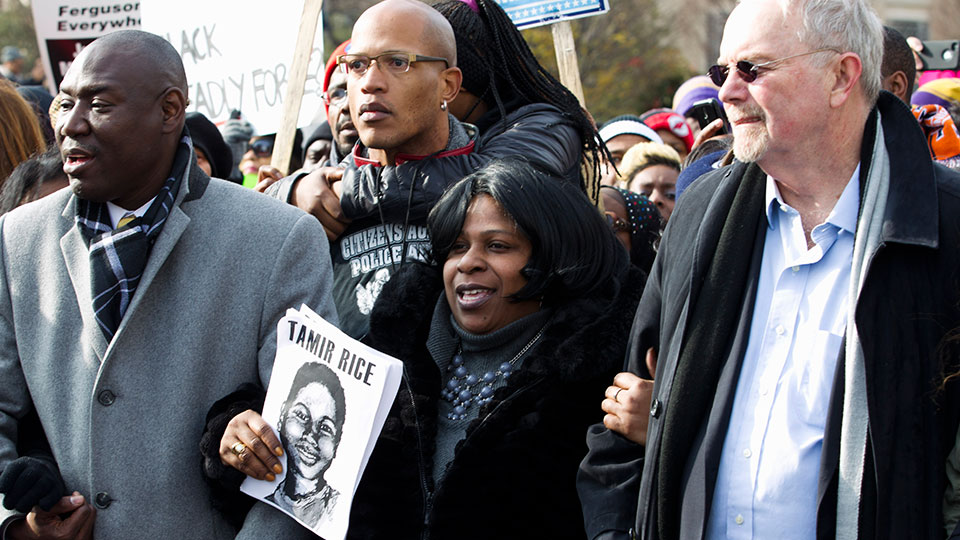 WASHINGTON—This Friday, June 25, would have been Tamir Rice's 19th birthday. Who knows what promising career he would have chosen for himself out of his many passions? Sports, the arts, academics–he enjoyed it all. Who knows how many lives his bright personality would have touched? He would have had a lifetime to craft his legacy. Undoubtedly, he would have taken part in last year's uprisings against racism, joining with the rest of the working class in calling for a better world. The world would not be big enough now for 19-year-old Tamir Rice.
But all this must remain speculation, as Tamir was brutally murdered by police in Cleveland, Ohio, on Nov. 22, 2014. Neither the officer who shot and killed him, Timothy Loehmann, nor the officer driving the police car, Frank Garmback, have ever faced justice. Now, a coalition spearheaded by Tamir's mother, Samaria Rice, is calling on the Department of Justice to reopen its closed investigation into the killing. And to mark the occasion, as well as propel Tamir's case back into the public eye, Tamir's Campaign for Justice is hosting rallies this Friday in Cleveland and Washington, D.C.
Friday's actions follow heightened pressure on the Biden administration over the case. After the Department of Justice announced in December 2020, in the closing days of the Trump administration, that it was officially dropping its investigation into the killing, Tamir's Campaign held a rally in Cleveland demanding that the irregularities in both the original grand jury and the federal investigation be transparently redressed. Moreover, during President Joe Biden's recent trip to Cleveland, the coalition was there once again to remind him of a campaign promise he made back in 2015 to pursue justice for Tamir.
During that trip, Samaria Rice reminded Biden, "When I saw you in 2015 at a convention in Detroit, you promised to make things right when you became the next president. We were on stage together, and you shook my hand and said 'We will make things right.' I'm asking you to re-open Tamir's case. His human and civil rights were violated in the most horrific way and for that Timothy Loehmann and Frank Garmback need to be convicted."
Biden is not the only one facing the pressure. Samaria has also expressed her frustration with the Black Lives Matter Global Network Foundation and some of its more famous activists for allegedly using Tamir's killing to boost their own standing within progressive circles. She has accused figures such as Tamika Mallory of "benefitting off the blood" of those slain by police and has called out Shaun King for raising money in her son's name without ever meeting with the Rice family.
Samaria's comments come as the Black Lives Matter movement faces a reckoning over its increasing legitimation within society, particularly its endorsement by key members of the Democratic Party establishment. The so-called "BLM10," or the original 10 Black Lives Matter chapters that voiced concerns over where the movement was heading in late 2020, have been joined by other chapters and allies outside the movement in calling for greater accountability and a return to the original mission animating the Black Lives Matter movement. Though Tamir's killing helped spark that movement, some, including Samaria, feel that it no longer represents the potential for structural change that his murder could have meant.
Against this background, at noon on Friday, activists and fellow justice-seekers will gather at the Navy Memorial Plaza in downtown Washington to demand justice for Tamir Rice and the countless other Black, brown, and working-class folks slaughtered by the police throughout this country's history.
In a press release, the coalition acknowledged that the Washington, D.C., action springs from this community's own intimate knowledge of police brutality, making the connection between Rice's killing and that of Deon Kay in September 2020. Kay, 18, was gunned down in the street after being alleged to possess a firearm. His death was just the most recent at the hands of a Washington Metropolitan Police Department that also killed the likes of Jeffrey Price, D'Quan Young, Marqueese Alson, Eric Carter, and far too many more.
As much as Friday's actions are about Tamir, they are also aimed at galvanizing once again the people's uprising from last year. "From D.C. to Cleveland," the press release reads, "communities most impacted by the global white supremacist, capitalist, patriarchal structures must band together and shift power from the ruling capitalist class into the hands of the people. As long as the ruling class is in power, exploitation will increase, death by their violent forces will continue and their laws will maintain 'order' by keeping a knee on the neck of our families, friends, and neighbors. Our conditions will not change unless we organize to build community-led power to advance our human right to informed consent and self-determination."
You can demonstrate your solidarity with the Rice family by sending a letter to the Department of Justice demanding that the investigation be reopened. If you're in the Cleveland or Washington areas, join Friday's events.