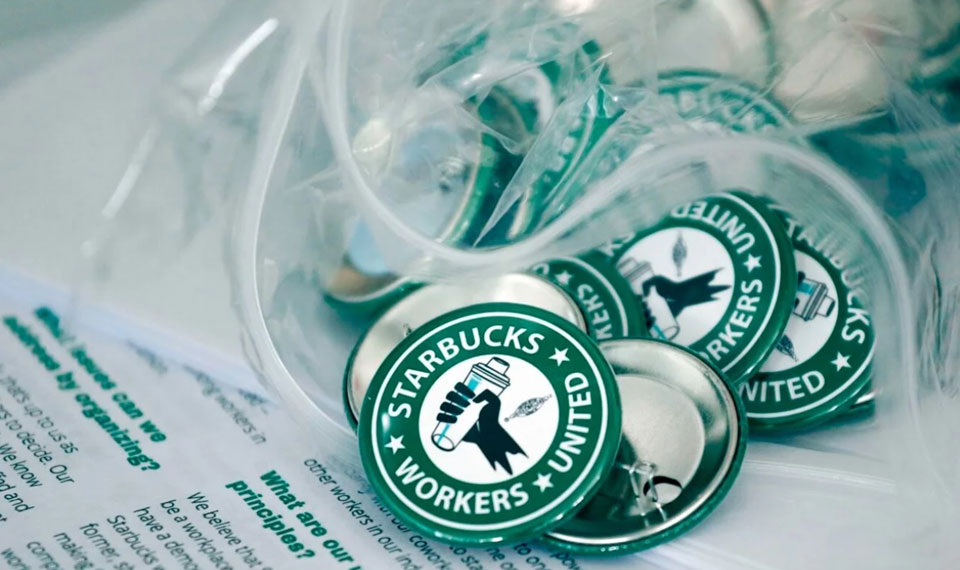 On the morning of February 26, union organizers and community members gathered in Roanoke, in the Appalachian region of Virginia, for a rally in support of Starbucks employees who are attempting to unionize at the Bridges location, a few blocks from Roanoke Memorial Hospital.
The workers at this Starbucks join the nationwide movement of workers who are also attempting to unionize in order to secure higher wages and stronger worker protections.
What started as an effort by employees of coffee shops in Buffalo has now expanded to a unionization effort taking place in over 100 stores in 26 states, including Virginia.
As soon as the Buffalo location declared that its workers intended to form a union, Starbucks management announced that they would be implementing two raises, one to take place immediately, and another to take place later to raise their minimum wage. "Clearly [Starbucks] was scared, so imagine what we could accomplish if we actually had a union?" said one worker.
The union has also listed the following complaints on their Facebook page:
Seniority pay: Tenured workers may only make a few cents more than brand new workers.
COVID-19 protections: Currently, customers are not required to wear masks in corporate SBUX locations. In addition, workers are only eligible for TWO paid 5-day isolations per quarter. After that, they must use their sick time or risk not getting paid.
Better pay and staffing: SBUX saw record profits in the first quarter of 2022, and CEO Kevin Johnson received a $20M bonus last year. However, wages have remained stagnant and many require second jobs in order to make a living.
"$12 an hour is a poverty wage; it is not enough!" said Roanoke City Councilwoman Vivian Sanchez Jones. "How are you supposed to pay for childcare or gasoline on $12 an hour?"
The workers at the Bridges Starbucks had always considered unionizing, but a few issues that happened in January helped them to see that the time was right to start to organize themselves and their co-workers more earnestly: Nearly everyone on staff was infected with COVID-19. Starbucks policy grants two five-day isolations for employees who have COVID-19, but they did not grant paid time off for isolation if the infection was contracted outside of work. On top of that, if a worker exceeded the two isolations, they would have to use sick time or PTO, which does not accrue very quickly. If they were unable to use those or hadn't accumulated enough hours, they risked going without food or rent money.
The workers at the Bridges Starbucks are in close contact with the workers at other locations in the Roanoke Valley area. "Our store had more people who knew about unionizing and labor history. Other stores may need education. But people are frustrated and hurting everywhere. It's a matter of showing that something can be done to change that," said one of the workers.
According to the workers, the manager of the Bridges Starbucks has claimed to be short on labor but has cut shifts and hours. "We definitely think it's retaliation. Lots of stores have seen these moves they make; we know what they're trying to do because all the workers in these stores communicate. [Management] wants to thin out our ranks. They created rules where you couldn't call someone in if you couldn't come in. The policy has always been that if you can't make your shift, you could call someone to cover your shift, but now they won't let us."
Roanoke City Councilman Joe Cobb spoke about the need for a company to have its employees back. He applauded the young people for standing up for their own lives and recognized the precarious situation they were in, stating that one difficult situation could lead to homelessness.
Virginia State Delegate Sam Rasoul, who represents the area, pointed out that Starbucks currently has record amounts of resources and that the workers are only asking for what is their fair share. "We as [residents of the Roanoke Valley] stand with you! Workers deserve to be treated with respect!" He proclaimed.
Chuck Simpson, union organizer and president of Communications Workers of America Local 2204, praised the efforts of the workers. "If you're not at the table, you're on the menu! … If you feel weak, arm and arm, let's get to the finish line together!"
Additionally, the workers appreciate any and all donations that people are willing to provide to help offset the costs of hours cut in retaliation: https://gofund.me/268edaca.
Three more stores in Northern Virginia (Loudoun and Fairfax counties) are also announcing that they intend to unionize. They state that they want to obtain higher wages that will allow them to live in the area and they want more consistent work schedules.