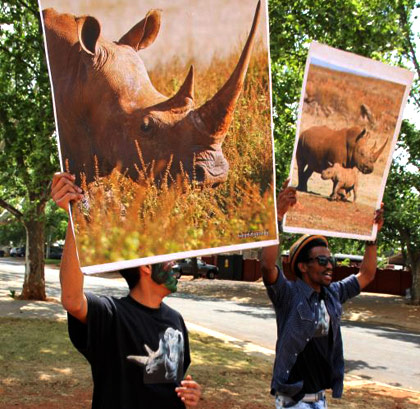 The extremely rare northern white rhino – a subspecies of white rhino – may soon disappear. One of the last males, a 34 year-old rhino named Suni, died from natural causes on Oct. 17, at a nature reserve in Kenya, leaving just six northern white rhinos (only one of them male) remaining worldwide. Its close cousin, the southern white rhino, is also severely threatened. The low numbers are themselves largely a product of the relentless rhino poaching that occurs across Africa, and which has driven the animals as a whole to the brink of extinction. And the problem is getting worse.
Back in 2009, Suni was one of eight of its species at the Kenyan Ol Pejeta Conservancy as part of a last-resort effort to save its kind. To date, these rhinos have not fared well in captivity. But after all, experts point out, it's not as though they're exactly doing too well in the wild: according to some conservationists, a free-roaming rhino is killed for its horn every nine hours.
"It's a shame the [northern white rhino] subspecies got to that point," said Matthew Lewis, the World Wildlife Fund's senior program officer for African species conservation. Corralling surviving rhinos in that type of nature reserve represents "the worst-case scenario in trying to bring back a subspecies. Its story is a fantastic lesson on what not to do, and how we need to avoid getting to this point with other rhinos."
So what to do? The answer, most would say, is to continue to support efforts to stop poaching, which is the primary cause of the decline of rhinos, as well as elephants and other animals. "That we've lost the subspecies is a statement of just how bad off animals are across Africa," said Stuart Pimm, a conservation ecologist at North Carolina's Duke University. "It's a measure of the fact that rhinos are being massively poached and in trouble wherever they are. It also means we're losing this distinctive, important animal within the savanna ecosystem. It's not just another charismatic animal; it's also a species that has a very clear ecological role, and we need to be very worried that we lost that."
Large demonstrations took place Oct. 4 in 136 different cities, with activists calling for an end to rhino and elephant poaching, and seeking to draw greater attention to the issue in the eyes of the public. "There's a lot of talk, but we need to see more action," said Simon Jones, founder of nonprofit group Helping Rhinos. "We need more rangers on the ground and we need more campaigns in countries where ivory and rhino horns are sold."
Among those actions was a march that took place that day in Johannesburg, South Africa. One of the organizers, Dex Kotze, remarked, "We have to do this for future generations. The youth today are making a statement globally, in 136 cities, that it's their heritage that is being killed. South Africa, home to the world's largest rhino populations, has seen at least 700 killed so far this year. We are also here protesting against the political leaders of the world, who do not have the guts and political will to make appropriate changes in their laws."
Organizers there debuted a list of objectives, which included the demand for a global ban on the trade in ivory and rhino horns, stricter penalties for poachers who are caught, and better, more coordinated international cooperation in stopping what has arguably developed into a flourishing underground criminal industry.
Photo: Poaching protest in Johannesburg, South Africa. Black Focal Lens blog (GNU General Public License)