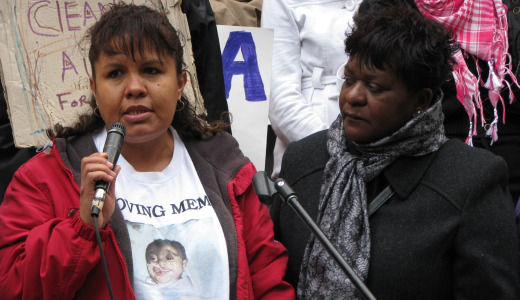 SAN FRANCISCO – What do a hazardous waste disposal plant, a refinery, a former power plant site and a housing complex under construction have in common? Answer: They all rain pollution on the predominantly African American, Latino and Asian American neighborhoods nearby, say community members fighting for environmental justice in northern California.
Residents of Bay Area communities including Richmond, East Palo Alto, San Francisco's Bayview-Hunter's Point neighborhood and others have been fighting such polluters – all corporate giants – for years.
Demonstrators from around the Bay Area and beyond joined hands Jan. 27 at the regional office of the U.S. Environmental Protection Agency here, in solidarity with nearly 50 protesters from the tiny Central Valley town of Kettleman City. There, many residents are pressing for tests to determine what – including emanations from a chemical waste disposal facility – could be related to a cluster of birth defects and infant deaths.
And raising cautious hopes that they might really be heard and things might be different this time, newly appointed regional EPA director Jared Blumenfeld stood among the crowd, listening intently.
Kettleman City residents, and Greenaction for Health and Environmental Justice, which supports their struggle, say the giant toxic waste company Chemical Waste Management has been dumping highly toxic PCBs at a nearby landfill – the largest such facility in the western U.S. – on a permit that should have expired a dozen years ago. The permit is now being considered for renewal.
Of 20 infants born in the 14 months starting with September 2007, residents say five were born with oral clefts and three of the five died. Among the most moving testimonials at the rally was that of Maria Saulcedo, whose baby daughter, Ashley, died last year. Speaking in Spanish, she told the crowd, "I do not want this to continue for the babies born in Kettleman City. We want justice and we don't want the community where we live to continue to be contaminated."
East Palo Alto youth activist Annie Loya told the new administrator, "Year after year we have stood on these steps, and the message has always been the same. We need help, we need restrictions and regulations to be stronger … People of color are here asking for help, for respect, for prioritizing our communities as other communities are prioritized," she said.
"My heart and prayers go out to the people who are here today and their families. None of us in any circumstances would want that to happen to us," Blumenfeld told the crowd. "When it happens to a neighbor, to someone else you've heard of, or within a timeframe, you have to ask questions, and that's why you're here today, for answers. I want answers, and I want to help bring those answers."
Blumenfeld said he is ordering an internal review "of every single enforcement action that has happened," and pledged to visit Kettleman City the following week, to see the waste facility and learn what residents think should be done. He then returned to his office for a post-rally meeting with Kettleman City residents, Greenaction and other environmental justice leaders.
In a telephone interview, Greenaction executive director Bradley Angel called the half-hour meeting "a very positive discussion." Angel said he believes EPA is "taking Kettleman City very seriously for the first time ever, and expressed hope the Obama administration's new EPA leadership is serious about environmental justice.
Saying the EPA has had "one of the worst records of any agency on environmental justice issues," Angel emphasized that it isn't yet clear what the president's stated commitment to environmental justice will mean in practice, but said Blumenfeld's promised internal investigation and visit to Kettleman City are very promising steps.
"The residents were very appreciative, but they also made clear the proof will be in the action," Angel said, crediting the "ferocious community environmental justice struggle" for "action we never saw before from any government official regarding communities of color and environmental racism."
In a significant victory, Angel said, the state Department of Toxic Substances Control said Jan. 28 that it will work with residents to develop an environmental sampling plan to test pollution in Kettleman City. Though the department would not hold up its part of the permitting, Angel said he believes the process will be slowed because it's impossible to acknowledge the need for testing and still try to ram through the permit.
Meanwhile, other communities continue their struggles. Marie Harrison, Greenaction leader from Bayview-Hunter's Point, told the World before the rally that government agencies are failing to deal with dust flowing from a former Navy shipyard, and from new housing the Lennar Corp. is building in the neighborhood.
"Our children are constantly being made sick," Harrison said, "yet the old regime just turned a deaf ear and a closed eye to us. We are hopeful the new regime is going to open up their eyes and ears."
Photo: Marie Harrison (right) listens to Maria Saulcedo, whose infant daughter was one of the babies who died last year. (PW/Marilyn Bechtel)