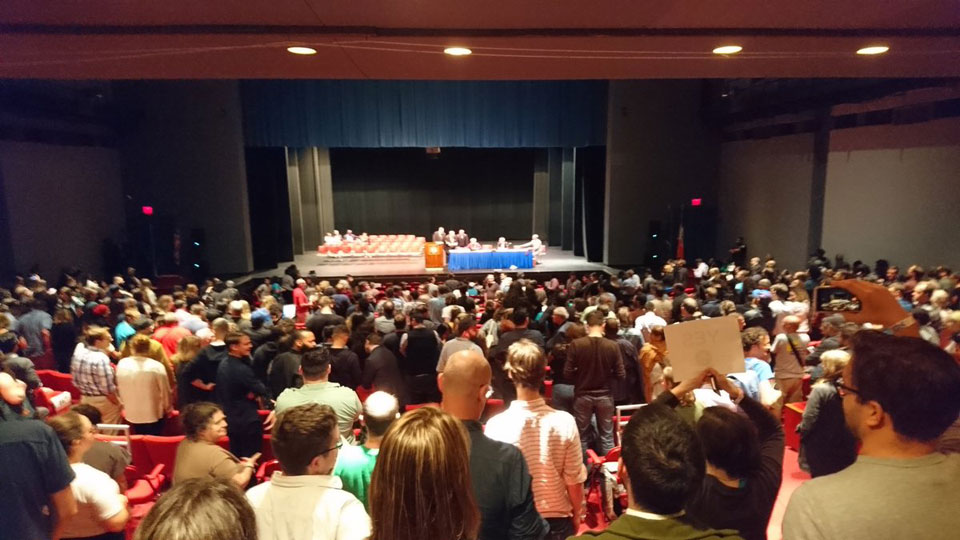 All around the country workers and their allies are bringing their issues into the electoral arena. Many this year entered Democratic Party primaries with some outstanding successes and, as official Democratic Party candidates, are challenging entrenched Republicans on many different levels.
They have learned, however, that there is still a lot of work to be done within the Democratic Party itself if it is ever to be transformed into a permanently reliable vehicle for people's politics. Once they get involved in the internal politics of the Democratic Party they learn that progress toward such a goal will take sustained time, effort and struggle.
People who represent other forces in the party don't simply roll over and play dead. Nowhere more than in Brooklyn have prgressives in the Democartic Party come to learn this.
Taking part of their cue from the Bernie Sanders campaign in 2012, the Brooklyn Reform Coalition came together "to clean up" Brooklyn Democratic politics by recruiting an unprecedented number of candidates to run for County Committee, the grassroots, block by block district system that makes up the Democratic Party. The boro-wide County Committee (CC) is responsible for choosing local judicial nominees, choosing the Democratic Party's nominee in special elections (which currently account for one-third of elected officials in the New York State legislature), and helping to create the Democratic Party platform.
This year, #RepYourBlock brought together the New Kings Democrats (NKD), Brooklyn Progressive Action Network, Central Brooklyn Independent Democrats, Indivisible Brooklyn, and others, and recruited more than 500 new people to run for County Committee (CC) seats. New Queens Democrats, Millennials for Revolution, and Queens Resist are also engaged in a struggle to reform the Queens County Democratic Party. The fight for reform in the Manhattan Democratic Party, where the most change has been seen, started decades ago. After Obama's campaign, reformers took over the Manhattan Young Democrats and launched a successful Open Seat Project in 2009.
In Brooklyn things moved a bit slower. Brooklyn, which constitutes Kings County, was long ruled by a Democratic Party machine so famous for election irregularities and voter suppression that the county was covered, through the 1970's, by the Voting Rights Act with federal marshals installed at the polling places.
The County Committee (CC) of the Brooklyn Democratic Party (officially, the "Kings County Democratic County Committee") had their meeting on Thursday, September 27th at the Kingsborough Community College. #RepYourBlock's recruitment drive produced a record number of CC members, packing the auditorium from wall to wall in a public transit-deprived corner of Brooklyn.
After waiting over two hours for the meeting to start, an unidentified party official, shuffled to the podium and reported 541 members physically present, including the author of this article, although by this time some had already left in frustration.
On paper, the power of the County Committee (CC) is built at the neighborhood level. Within each small Election District, covering just a few blocks, registered Democrats elect two to four CC members — one or two "male" and one or two "female." There are roughly 5,000 available CC seats in Brooklyn, but Party leadership has made no effort to establish local organization, political education, or competitive elections. Less than half the seats have typically been filled, and most have been filled with minimal or no community involvement. Local district leaders simply fill in the names of registered Dems, many of whom never even know that they are officially on the County Committee.
Another big problem is the proxy voting system. County Committee (CC) members receive a card in the mail, which they are encouraged to sign. This transfers their voting power to someone else, usually to a party executive. Frank Seddio is the executive chair of the Brooklyn Democratic Party. At the CC meeting, Seddio had 550 proxy votes, allowing him to override the entire assembly all by himself!
Among the tricks and privileges he used to run off with CC members' voting power, were sending mailers with forged signatures (and misspelled names) of CC members' local representatives, urging them to give him their proxy, and hiring a private company to knock on doors to collect more proxies.
In Queens, the Party secretly added people to the committee without their knowledge. Only in Manhattan have reform efforts nearly abolished the use of proxies.
Tunnel-visioned bureaucrats obsessively counting proxy cards, oblivious to the actual human beings in front of them trying to register their presence at the meeting, had created the two-hour delay. "They only care about the proxy, Somia El-Rowmeim complained. "They don't care about the people … who spent their time to serve the community."
Acting as a further break on democracy is the party's Executive Committee. It is supposed to be a "standing committee" of the County Committee (CC) to carry out CC resolutions. In practice, it is shrouded in secrecy and used to crush the County Committee.
Brandon West of New Kings Democrats communicated his past experience. "We [usually] find out who the officers for the Party" are "about 30 seconds before we come here." In the past, activists had to submit a Freedom Of Information Law (FOIL) request to find out who the officers were, and discovered "there were some District Leaders who didn't know that they were officers of the Party." Party executives were also being secretive about the Party's financials, and what rules they were using at County Committee meetings. Digging deeper, activists found out no one at Executive Committee meetings was even keeping notes, even when Party executives were changing the rules.
Eventually, the reformers made some mild gains. The Brooklyn Democratic Party agreed to have at least two meetings a year. They put up a website to post information about rules, finances, and leadership, but crucial information remains out of date, cursory, or completely missing.
The Executive Committee is made up of District Leaders and 13 Party officers. Registered Democrats in each of the 21 NYS Assembly Districts in Brooklyn elect two District Leaders, who become committee members of the NYS Democratic Party. The County Committee (CC) is supposed to directly elect the 13 Party officers.
Assembly District Committees (ADCs) are also required in each Assembly District, so that County Committee (CC) members and local residents can meet with their District Leaders. They allow for CC members to work together more closely as well. An ADC has not met in over 50 years, but CC members are now working to change that.
The reform coalition presented a slate of officers with Brandon West of New Kings Democrats leading the ticket. Frank Seddio had his own slate of officers with Joe Bova at the top.
One County Committee (CC) member made a motion to "allow each candidate to speak for 60 seconds." Martin Connor, presiding over the meeting, struck it down on a technicality without a vote. Connor, who began his career in the early 1970's as a "reform" leader of the Brooklyn Heights Independent Democrats, functions now as a seasoned party machine operative.
Another CC member proposed to vote on officers individually, rather than as a slate, but this too was gruffly dismissed as "out of order." Officers reported 491 votes for the reform slate, without saying how many were proxy votes and how many were from those in the room. The Bova slate easily won with Seddio's 550 proxy votes, plus 50 of those physically present.
According to the County Committee (CC) rules, the vote of each "individual member" is supposed to be counted and recorded one Assembly District at a time in numerical order. If any CC member makes an objection, the votes in their Assembly District are supposed to be reviewed and recorded by a roll call of the membership.
The officers did not seem accustomed to using this process. Instead, they asked the entire assembly to say "aye" and "nay" in turn, and Connor would make an estimate based on his own subjective and selective auditory senses about which group was louder. Or, the entire County Committee (CC) was asked to stand for or against certain motions, and officers would make ritualistic head rotations alluding to the idea of counting while constructing convenient estimates about how many people they thought were standing or sitting. When CC members could not hear motions made from the floor, Connor would bulldoze through the voting process, moving onto additional agenda items while hundreds of people protested.
Proxy votes were also mysteriously appearing out of nowhere. First, the unnamed Secretary said there were a total of 727 proxies, then 750. Seddio had 525 at first, then 550. Brandon West had 130, "a powerful number," the un-named chair of the meeting reflected encouragingly.
Toward the end of the meeting, a motion was made to reconsider the vote on the slate of officers. Connor said there were 1,370 people present including proxies and hinted, without clarity, that all 750 proxies had voted against the motion. "That's the majority of the total possible attendees tonight in person," he yelled angrily but also victoriously. A committee woman protested that 750 + 541 = 1,291. The cornered Connor forcefully defended himself pushing out his hands and screaming, "Okay, I made a mistake, okay?" and read off a list of other proxies held by Seddio's friends, adding up to 92, which still didn't make any sense.
"They lost. You lost," the flustered Connor seemingly shouted incoherently and the committee woman said, "Are they [Seddio's friends] here now?" so Connor shrugged derisively and declared, "The motion has been defeated. The Chair, without objection adjourns this meeting!"
"Wait, hold on…" she objected as the auditorium was erupting in tumultuous outcry.
And that was how the meeting ended. It was another lesson for everyone that only vigilance, studying, organizing and hard work can lead to democracy and positive results. Unfortunately, leaders of the Brooklyn Democratic Party machine proved once again that night that when you keep people ignorant of what's happening you kill democracy.