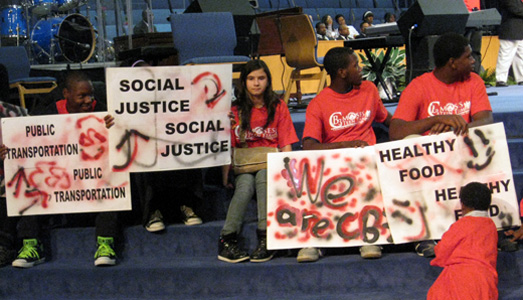 DETROIT – At its Fire of Faith, Rekindling Democracy rally this past Sunday, the Detroit metropolitan faith community unveiled a new kind of "heat" beginning to sweep the region.
The gathering was huge. Parking lots spilled over as 50 congregations, representing a mosaic of Jewish, Protestant, Catholic and Muslim beliefs, gathered at Detroit's Greater Grace Temple and agreed to use their faith based values to organize for racial and socioeconomic equality. They will demand comprehensive immigration reform, access to healthy food and jobs, and investment in education and regional transit.
Understood by all was that winning those demands requires a maximum voter turnout in November.
Emphasizing that point, Rev. Charles Williams ll, Board President of MOSES, the faith based social justice organization sponsoring the rally, said those planning to "turn back the clock" by repealing the Affordable Care Act and other safety net provisions will be stopped.
Rev. John Hice, First United Methodist Church in Royal Oak, said religious leaders have influence and must use their positions to "insure the most vulnerable are protected."
He raised sharp criticisms of the 2010 Congressional budget crisis and the "voting bloc" that pressed to redirect money away from programs like Head Start and meals for seniors while protecting the wealthy and defense spending.
In front of all assembled, Hice asked for and received the commitment of Democratic Congressman John Conyers and Gary Peters to fight on these issues in Congress.
Peters said the social safety net cannot be destroyed and all need to pay their fair share. Conyers said he'd continue the fight for full employment saying "We are the most powerful, well-off economy; we need to take it (jobs) off the "to do list and get it done."
Ms. Monserrat Contrerras, a twenty two year old student representing St. Anne's Catholic Church, hailed President Obama's executive order on the Dream Act, which benefited 800,000 young people, herself included.
She drew similarities between that action and President Lincoln's Emancipation Proclamation. Initially, Lincoln's proclamation did not free all slaves. Congressional action, occurring a year later, was necessary to complete abolition. Although we are grateful for the Dream Act, congressional action is also needed for comprehensive immigration reform said Contrerras.
Ms. Cindy Reese of the Greater Southern Baptist Church said MOSES believes transit is a civil and human right. The Southeast Michigan's transit system is almost non-existent and creates huge barriers for those without cars. Reese said a quality regional transit system would create thousands of jobs, decrease congestion and produce a cleaner environment.
At the rally's conclusion, Host Pastor Bishop Charles Ellis asked all clerics to come forward. With two Sundays remaining before the October 9th voter registration deadline, all pledged to have their congregations one hundred percent registered.
Street heat is coming from the pulpit and the pews.
Photo: Signs of the times at Fire of Faith rally April Smith/PW