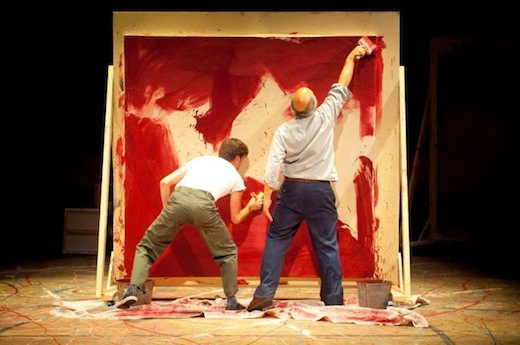 John Logan's multiple Tony Award-winning Red is a theatrical time machine that transports audiences back to those heady days when abstract expressionism was the vogue. It's the best two-man show this critic has ever seen. In this bioplay, Tony Abatemarco incarnates the artist Mark Rothko, who emerged with Jackson Pollock and Willem de Kooning as the artistic exemplars of their generation. We find the painter of those celebrated "fuzzy rectangular clouds of color" at the peak of his prominence. Yet, despite attaining fame and fortune and a highly celebrated commission for a swanky New York restaurant, Rothko remains the archetypal irascible, temperamental artiste. Why?
To find out what makes Mark tick the playwright has conjured up a fictional foil, Ken (Patrick Stafford), an aspiring painter whom Rothko hires to work at his Lower Manhattan studio as his personal assistant. Ken is most certainly not hired to be the sorcerer's apprentice, student, friend or pseudo-son, Rothko pronounces. As such, Ken helps the maestro mix his paints, stretches and scores his canvases, goes out to pick up coffee or Chinese food from nearby takeout joints – and listens to Rothko ranting, raving, and musing on art and life.
For one so controlling, the painter enigmatically advocates "the active participation of the viewer" in his work. Among Rothko's ruminations are spoken meditations on the relationship and tensions between art and commerce that evince the painter's awareness of capitalism's commodification – and fetishism – of culture.
Scenic designer JR Bruce recreates Rothko's studio in New York's Bowery district, with its colossal canvases and paint-splattered floor that looks like one of those action paintings wrought by Jackson Pollock, Rothko's friend and contemporary. Much of Red's dialogue focuses on Rothko's insistence that Pollock killed himself (a prescient insight, considering Rothko's own fate).
Rothko reveals that he was born Jewish as Marcus Rothkowitz in 1903 in what he calls "Russia" (now in Latvia), where he witnessed (or was told in vivid detail about) Cossacks butchering Jews. The lad moved to America at age 10, and in response to anti-Semitism in the land of the free, later changed his name so it wouldn't sound too Jewish.
Despite his stature and wealth, in his troubled psyche Rothko arguably remained the ever-persecuted Jew: No amount of fame and fortune could ever erase or compensate for his traumatized childhood. His cry against the indifference of art critics and the public vis-à-vis his paintings echoes society's silence in the face of the massacring of Jews Rothko may have witnessed in his youth. He is also insecure about the late 1950s rise of Pop Art's acolytes, such as Andy Warhol, who threaten to upend Abstract Expressionism's hegemony in the ever-changing vagaries of collectors, galleries, and museums.
John Logan is a top-notch playwright and screenwriter whose screen credits include reflections on great artists, including Orson Welles in RKO 281 and Georges Méliès in Hugo. However, while this reviewer greatly enjoyed Red, it's not everybody's cup of turpentine. Those uninterested in Abstract Expressionism – and painting in general – may find it boring. As it plumbs the creative process, some will probably consider Red too talky, although there is one great fast-moving scene where Mark and Ken prime a blank canvas with their brushes dipped in buckets, tantalizingly transforming the white into the titular red right before our very eyes.
There is also a moving vignette wherein Ken discovers Mark covered in the color: Is it paint or blood? The scene foreshadows a later Rothko assistant finding the painter covered in his own blood, lying on the kitchen floor in 1970.
Abatemarco, authoritative and convincing, and Stafford acquit themselves well as the abstract odd couple in this anything-but-by-the-numbers 90-minute play. Stafford is also effective as the worm, afraid to show the maestro one of his own oils, who finally turns. Stafford has had a recurring role on TV's Glee and played Wolfgang in an L.A. staging of Amadeus.
Red is for discerning theatergoers who love painting and/or well-acted drama, and all those who believe art belongs in a temple – not restaurants.
Red is being performed through Sept. 15, Thursdays-Saturdays at 8 pm and Sundays at 2 pm, at the International City Theatre, Long Beach Performing Arts Center, 300 East Ocean Blvd., Long Beach, CA 90802 on: For more info: (562) 436-4610; www.InternationalCityTheatre.com.
Photo: Patrick Stafford and Tony Abatemarco in Red. International City Theatre Facebook page.