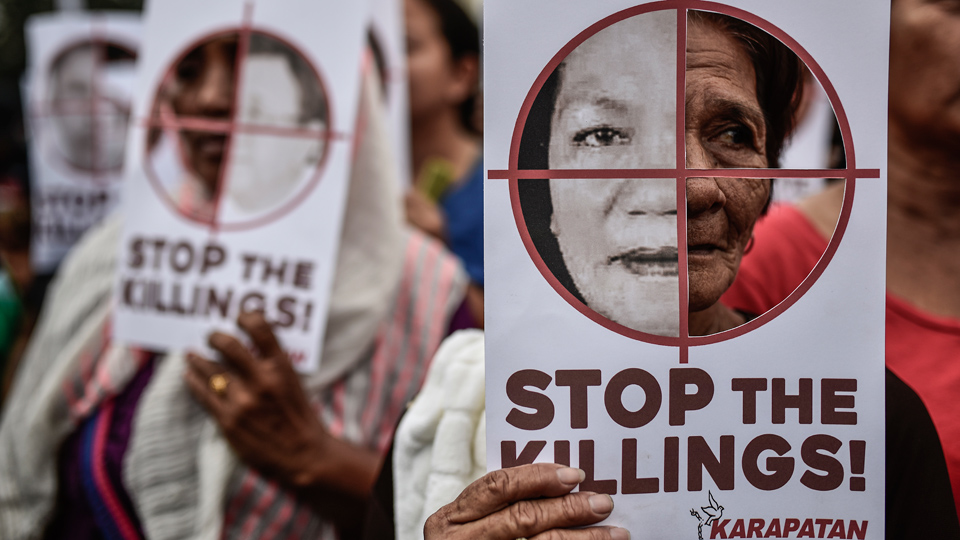 WASHINGTON—Saying the U.S. is standing by as Philippine President Rodrigo Duterte's army and police massacre thousands of people in an alleged "war on drugs," U.S. religious groups and Philippine activists are taking a message of resistance—and their campaign to cut off U.S. support—nationwide.
The drive actually started at an international human rights conference in San Francisco in mid-April, when one of the prime human rights campaigners, Jerome Abba, was supposed to brief the group. He never got the chance. But that hasn't stopped the campaigners, who are starting a tour of the U.S.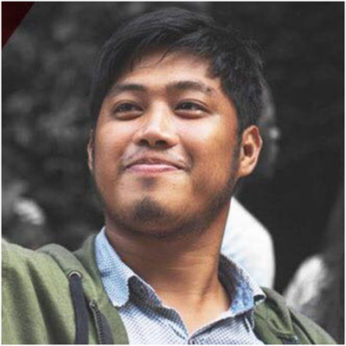 At an April 24 session in D.C., Rossella De Leon, head of the Secretariat for the International Coalition for Human Rights in the Philippines-U.S., described how U.S. agents detained Abba at San Francisco International Airport.
Before being deported despite a valid U.S. visa, Abba was held incommunicado for 28 hours, threatened with shooting, accused of being a terrorist and a communist, stripped naked, and left unfed for much of the time. Agents offered a meal with pork to Abba, who had previously informed them he is an observant Muslim—for whom pork is forbidden.
"He was subjected to physical and psychological torture by Customs and Border Patrol and Department of Homeland Security agents," De Leon said. Meanwhile, the attorney Abba kept demanding to see, from the National Lawyers Guild, was barred outside the airport's security offices and several hundred demonstrators joined in protest, demanding Abba's freedom. Another protest occurred April 23.
But what's going on in the Philippines is even worse, said Fritzi Junance Magbanua, a Lumad teacher from the island of Mindanao and leader of the Save Our Schools network there.
"The world is becoming more and more dangerous for human rights defenders," she said. "With martial law, government forces were given authority for extrajudicial killings." That includes people killed for resisting corporate takeovers in order "to extract resources from their land," for example. One of her students, aged 19, was "killed in cold blood," in an extrajudicial murder last year.
And there have been 68 attacks on 89 schools, affecting 2,500 students in the last few months, she said.
The schools have become havens of freedom for dissenters and human rights defenders, she said. "This story of resistance is what I wish to inspire."
Even the Trump administration's State Department, in its human rights report—greatly sanitized from the Obama years—concedes there's a problem in the Philippines, a U.S. territory from 1898-1946.
"Extrajudicial killings have been the chief human rights concern in the country for many years and, after a sharp rise with the onset of the antidrug campaign in 2016, they continued in 2017. From January to the end of September, media reports chronicled more than 900 fatalities in police operations suspected to be connected with the government's antidrug campaign," the report says in part.
"Significant concerns persisted about impunity of civilian national and local government officials and powerful business and commercial figures," the report adds.
Abba was still able to tell conference delegates the story, via video, about Duterte's killings, which have totaled a minimum of 20,000 by the Philippine Army since the former mayor of Davao entered the Malacanang Palace, Manila's equivalent of the White House.
And that's not counting the extrajudicial killings, said speakers at the D.C. session, start of the Stop The Killings tour. The tour will continue to New York City through April 27, Chicago April 28-30, Seattle and Portland May 1-5, San Francisco May 6-9 and Los Angeles May 10-11.
The Philippine speakers drew support from the United Church of Christ, the Methodist Church, Jewish Voices for Peace, and other religious groups. They also met with members of the House Human Rights Caucus and contacted both Asian-Pacific American Labor Alliance—the AFL-CIO constituency group for Asian-American workers—and the Solidarity Center, the fed's overseas arm.
"I'm sickened and horrified. What would ordinarily be shock treatment is especially abhorrent," said Methodist Rev. Susan Henry-Crowe of the U.S. officials' treatment of Abba.
The government's treatment and deportation of Abba may fit a pattern, warned Rev. Michael Neuroth, the United Church of Christ's policy advocate. Citing a recent Guardian article, he said federal authorities are treating other invited foreign speakers in similar ways. In so many words, he called it un-Christian.
Neuroth also offered practical help: After the meeting, he headed over to Congress to lobby to restore—and intensify—U.S. conditions on military aid to the Philippines. Lawmakers imposed some conditions, which the Democratic Obama administration implemented four years ago, cutting military aid by one-third, or $10 million. But they were dropped a year later.
"We call on the president"—U.S. President Donald Trump—"to end the policy of extreme vetting of human rights defenders" from abroad, "to stop the extrajudicial killings" by Duterte, "and to support S1055," Neuroth added.
That measure, by Sen. Ben Cardin, D-Md., bans U.S. military weapons sales to the Philippine police and authorizes—but does not actually allot—$25 million both this fiscal year and next fiscal year, which starts Oct. 1, for protecting and promoting human rights in the Philippines.