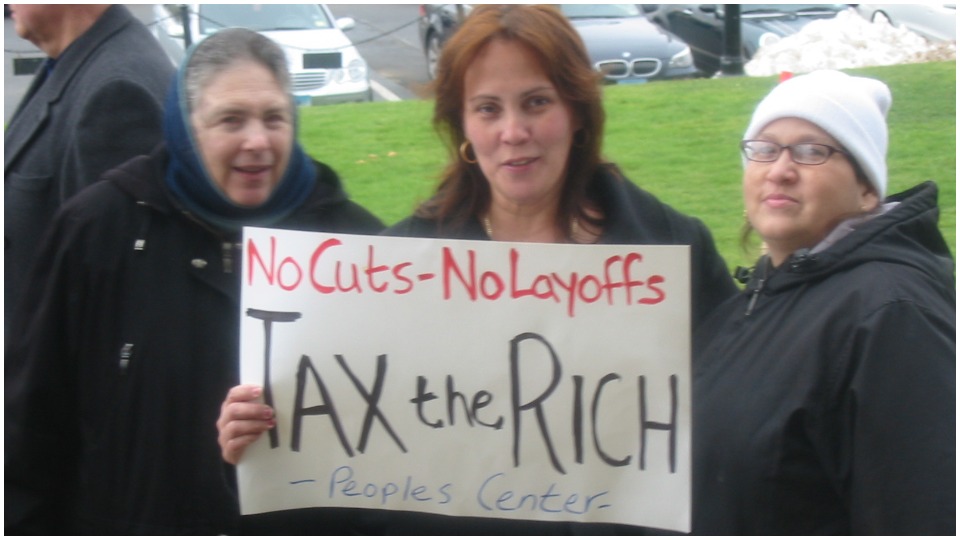 Juana (Wanda) Tirado, long time activist and community organizer in Connecticut, passed away on May 14, 2020. She was for several years a leader in the Connecticut District of the Communist Party. Wanda is being remembered as not only a comrade but a mother, friend, and warrior.
On Nov. 18, 1963, Wanda was born to Daniella Medina and Flor Tirado, two Puerto Ricans who had recently migrated to New York City. Wanda was raised by a single mother due to her father passing at a young age.
Raised in the South Bronx, she was no stranger to daily struggles. Wanda attended Theodore Roosevelt High School in the Bronx. Years later, she had her two oldest children, Jasmine and Jimmy. In the mid 1990s, she moved from New York City to Hartford, Conn.
Hartford is where she began her journey fighting for the people and ensuring their voices will always be heard. It's also where she met a soon to be lifelong friend, Brian Steinburg. When she first moved to Connecticut, she was employed as a CNA at a nursing home in Hartford and also worked with the Welfare Reform Group alongside lifelong friend Luz Santana. The first victory she took part in was a battle for a family who was struggling to get their landlord and the City of Hartford to deal with a severe sewage breakdown between the house and city pipeline. After this victory, she joined the Communist Party. This kicked off the beginning of many organizing efforts over the next 20 years.
Almost a year after joining the Communist Party, a problem arose in Wanda's youngest child's school. The principal was attempting to eliminate the bilingual education program that was open to all students in the school. Wanda began a movement to prevent the action.
First, she organized the concerned parents, then spoke to teachers, who quickly supported her by sending parents they knew well to Wanda. Wanda then went to the state assemblyperson from her district, which the Communist Party club had worked for in the elections, and who eagerly joined to pressure the principal. The state assemblyperson then brought in the state senator that represented half of Hartford. Unable to withstand the pressure, the principal reversed his position.
Wanda then began working for the Hartford Board of Education, starting as a bilingual tester who traveled to different schools in Hartford. After years of doing that, she began working as a Family Resource Aide at Sports and Medical High School in Hartford. Once she left the school system, she participated in various political campaigns while working for Dattco as a bus monitor. She became the lead rank-and-file organizer in establishing an SEIU local for school bus monitors where she worked. She remained at Dattco until retirement.
During her time in the Communist Party, Wanda became chair of her club in Hartford, then a member of the Connecticut State Committee, and then a member of the National Committee. While working full time and also raising her two youngest children on her own, she was always described as a strong, compassionate, intelligent woman. She was a true warrior for the people and a loving comrade. Whenever she saw an injustice, she did something about it. She marched and rallied and brought her kids to meetings so they could be a part of the movement. She raised three strong and talented sons and a strong daughter.
Wanda got her son Vic involved with the Communist Party as well in her time, and they both became involved in the movement to improve the condition of Hartford Public Schools. Wanda always supported everything her sons did, which led Vic to become a confident leader in the community and in the Young Communist League. She truly believed in improving the lives of our youth because they are the future of our country. She was a strong supporter of the YCL.
Wanda left this world a better place, thanks to her love, passion, and vision. Wanda suffered from various health issues later on in life that she kept private from everyone except for family and select friends. Unfortunately, the health issues progressed tremendously over the last two years.
Wanda passed on May 14, 2020, after suffering from cardiac arrest. Wanda left four children, five grandchildren, and many other friends and colleagues who over the years became family. We miss Wanda so much, but she will always be with us as we carry on for a better world. As we go on in a world without Wanda, we must continue to stay passionate, keep the fire, and support each other. We must spread the peace and love we give each other to the rest of the world.
Wanda Tirado – ¡Présenté!