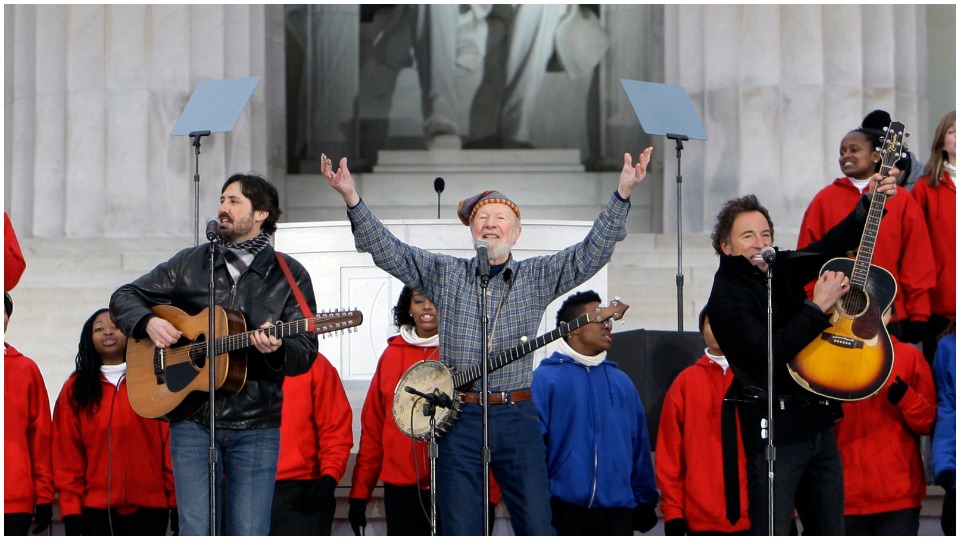 There are few people more famous in the political song movement than Pete Seeger, whose 100th birthday is May 3, 2019. Along with his contemporaries Paul Robeson, Woody Guthrie, and others, Seeger represented the might of song in highlighting the common cause, strengthening courage, and inspiring resistance. For these singers, song was a weapon in the struggle for a fair, equal, and peaceful society.
Pete grew up in a musical family. His father Charles was a musicologist and lecturer who lost his job when he opposed U.S. involvement in the First World War. His mother Constance, a violinist, also held socialist and pacifist political views. His parents divorced when Pete was still a young child. Charles remarried and joined the Composers Collective, who performed their songs for strikers and the unemployed. The family traveled the country, playing music and attending folk festivals on many occasions. It was in this context that Pete encountered the banjo and made it his instrument.
Aged 17 in 1936, Pete Seeger joined the Young Communist League, and in 1942 he became a member of the Communist Party USA, leaving it in 1949 but remaining a friend of it the rest of his life. In 1938, Seeger enrolled for a course in sociology in Harvard in the hope of becoming a journalist, although he did not finish it. He went to New York where he met Woody Guthrie, Alan Lomax, Lead Belly, and others, deeply involving him with traditional American music.
They jointly founded the "Almanac Singers" in December 1940. With their pro-union songs and ballads against racism and war, the band propelled Seeger into an active political folksong scene. They performed for strikers with songs such as "Talking Union," and others about the struggles for the unionization of industrial workers.
The Almanac Singers' recording of "I Don't Want Your Millions, Mister"
When the United States entered World War II after the attack on Pearl Harbor in December 1941, the Almanac Singers focused on anti-fascist songs. In June 1942, Seeger enlisted in the U.S. Army to fight fascism. He worked on airplane engines in Mississippi and later transferred to Saipan in the Western Pacific to entertain troops. Military intelligence deemed him unfit "for a position of trust or responsibility," though, due to his "Communistic sympathies, unsatisfactory relations with landlords, and his numerous Communist and otherwise undesirable friends." Intelligence agents described "Almanac Singers" as "spreading Communist and anti-Fascist propaganda through songs and recordings".
Seeger was a fervent supporter of Republican Spain against fascist General Francisco Franco and in 1943 recorded several Spanish Civil War songs with like-minded musicians. The album was entitled "Songs of the Lincoln Battalion," which had been the name of the brigade of U.S. anti-fascist fighters who volunteered to defend democracy in Spain in the '30s. The Lincoln Battalion had been organized by the Communist Party.
After the war, Seeger established "People's Songs, Incorporated," saying: "I hope to have hundreds, thousands, tens of thousands of union choruses. Just as every church has a choir, why not every union?"
Soon, People's Songs had 2,000 members and was growing fast. An FBI file was opened on the organization.
In November 1948, Seeger co-founded the folk group "The Weavers." The group took its name from a German drama about the Silesian Weavers' uprising by Gerhart Hauptmann, "Die Weber," containing the lines, "I'll stand it no more, come what may."
The group recorded "Goodnight Irene," a song written by Seeger's friend, Lead Belly. Censorship threats dictated the chorus be changed from "I'll get you in my dreams" to "I'll see you in my dreams." The record topped the charts in 1950. The band also popularized Guthrie's "This Land Is Your Land" and other left-wing songs such as "If I had a Hammer."
Pete Seeger, with Bruce Springsteen, performs "This Land is Your Land" at the first inauguration of Barack Obama in Washington, January 2009.
Seeger's support of civil and workers' rights, racial equality, international understanding, and peace made him suspicious in the eyes of the state. During the McCarthy witch-hunt, Seeger and fellow Almanac singer Lee Hays were identified as Communist Party members in 1955 and summoned to testify before the House Committee on Un-American Activities. Seeger refused to answer, on First Amendment grounds, the first to do so after the conviction of the Hollywood Ten in 1950. The House found Seeger guilty of contempt but had to overturn this conviction in 1961 on technical grounds.
However, anti-communism was rampant, and the band suffered from a total boycott by the establishment music industry. Right-wing groups sabotaged their concerts, ultimately leading to the group's dissolution in 1952. For 17 years, the U.S. media ostracized Seeger. He performed at high schools and on college campuses and for minor trade unions, which of course meant smaller audiences. Nevertheless, Seeger reached a lot of people, some of whom later found jobs in the trade union movement, were involved with festivals, with Hollywood, on the radio, or Broadway. Famous bands popularized Seeger-authored songs from this time, including "Where Have All the Flowers Gone," a song that came to him when reading Sholokhov's "And Quiet Flows the Don."
In 1957, Pete met another victim of FBI surveillance and intimidation, Martin Luther King, Jr., at the Highlander Folk School in Tennessee. Here began what would become the anthem of the Civil Rights Movement—"We Shall Overcome," for which Seeger slightly changed the hymn "I Will Overcome." In 1963, Seeger sang it on the 50-mile walk from Selma to Montgomery, along with 1,000 other marchers.
Pete Seeger performs the Civil Rights Movement anthem "We Shall Overcome" for an audience in Berlin, GDR in 1967.
In the years ahead, Seeger co-founded the music magazine "Sing Out!" and became a senior figure in the 1960s folk revival. The urban folk-revival movement, which Seeger called "Woody's Children," after Guthrie, adapted traditional songs for political purposes. The Industrial Workers of the World (Wobblies) had pioneered this in their Little Red Song Book. This book was compiled by legendary union organizer Joe Hill and was a favorite of Guthrie's.
Like Rev. King, Seeger was a vocal critic of the U.S. war in Vietnam, writing very popular anti-war songs like "Waist Deep in the Big Muddy" and "If You Love Your Uncle Sam (Bring 'Em Home)". On November 15, 1969, the Vietnam Moratorium March on Washington took place. Seeger led half a million protesters in singing John Lennon's peace song "Give Peace a Chance," calling on President Richard Nixon at the White House, asking "Are you listening?" Seeger would also visit North Vietnam with his family in 1972.
Pete Seeger and his wife Toshi Ohta lived in a log cabin overlooking the Hudson River. Disturbed by the river's pollution, they co-founded the Hudson River Sloop Clearwater and started the Great Hudson River Revival, the Clearwater Festival, along with others. In this way, they were instrumental in rallying public support for cleaning the Hudson River. The Clearwater Festival now attracts over 15,000 people each summer, highlighting and improving the river and surrounding wetlands.
Seeger remained politically active into his 90s. In 2012, he performed with Harry Belafonte, Jackson Browne, and others for Leonard Peltier of the American Indian Movement, who has been in prison for over 40 years.
Pete Seeger died on January 27, 2014, at the age of 94. He played an active role in all of the important struggles of the 20th and early 21st centuries—for peace, the environment, and civil and workers' rights. His memory is inscribed indelibly in all those who are part of the same movements when they sing "We Shall Overcome."
2019 marks a century since the founding of the Communist Party USA. To commemorate the anniversary of the oldest socialist organization in the United States, People's World has launched the article series: 100 Years of the Communist Party USA. Read the other articles published in the series and check out the guidelines about how to submit your own contribution.