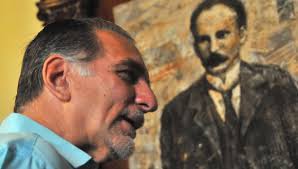 MEXICO CITY — Olga Salvanueva and husband René González were the guests of the Mexico Cuba solidarity organization on Monday evening, Sept. 7. The room at the historic National Press Club of Mexico City was filled to capacity, and people were standing in the aisles and outside the three sets of wood and glass double doors that provide entry along one side of the elongated room. Over 300 people waved hand-held pairs of Mexican and Cuban flags as the two guests entered and were introduced.
René González is one of the Cuban 5 (along with Gerardo Hernández, Antonio Guerrero, Ramón Labañino, and Fernando González) who were recently freed from U.S. prisons after years of pressure from millions of citizens of different countries around the world as well as governments, dignitaries and prominent individuals.
In opening, González and his wife were officially thanked by one of the women of the solidarity group for being here and continuing to struggle for the dignity of common people everywhere in the world. They were here in Mexico after the Cuban Five endured years in U.S. prisons. They were here after the U.S. wanted them never to go free. They were here after years of struggle by Olga Salvanueva, along with many millions, to free the five Cuban heroes. At last she and her husband are reunited as a family with their daughter.
In René's words, this accomplishment to seek justice through their freedom was as important a victory as was Playa Girón (Bay of Pigs) where in April of 1961 the Cuban people defeated a CIA-orchestrated military attack to overthrow the recently established revolutionary government of Cuba. The invading force was comprised of Cuban mercenaries from the U.S. with U.S. government air and tactical support.
René stated that he and the other four of the Cuban 5 are traveling to many countries of the world to personally thank the millions who in many small ways took part in defeating the attempt to keep them in prison for defending Cuban citizens from terrorist attacks that were planned and launched in and from Florida. He said it would be impossible to pay the debt to so many but that he and the Cuban 5 would work to keep Cuba as the example it represents to people around the world.
He told the crowd that the U.S. would try to fool and corrupt Cuba in the new atmosphere of easing tensions with the opening of U.S.-Cuba relations. He said they welcome all the advice that everyone has offered in telling the Cubans what they think might happen "because," he said, "you have lived in relations with the U.S. and you all know better than we what experiences you have had in these relations. We must learn about those from you."
René gave examples of people like Lucius Walker of the Pastors for Peace organization that gave help not only to the struggle to Free the Cuban 5, but so much solidarity to the Cuban people. He said that in the special period which followed the collapse of the Soviet Union, when so many things were scarce in Cuba, people all over the world, like Lucius Walker, showed their solidarity and helped the Cuban people morally and materially to pursue their sovereign right to build their own idea of a just and socialist society. He said not only that justice is key but that it must enjoy wide civic participation. People together, in different countries, must develop their own definition of socialism for their reality. He said that as a Cuban he aspired to justice as part of the new conditions that normalization of relations with the U.S. would bring.
A moment was also taken to recognize and show support for the Puerto Rican Oscar López Rivera, who is the longest still-held political prisoner in U.S. prisons. A pronouncement of solidarity was also made in support of the Venezuelan people and their government headed by President Nicolás Maduro.
Photo: Cuban hero Rene Gonzalez in Mexico. Prensa Latina.