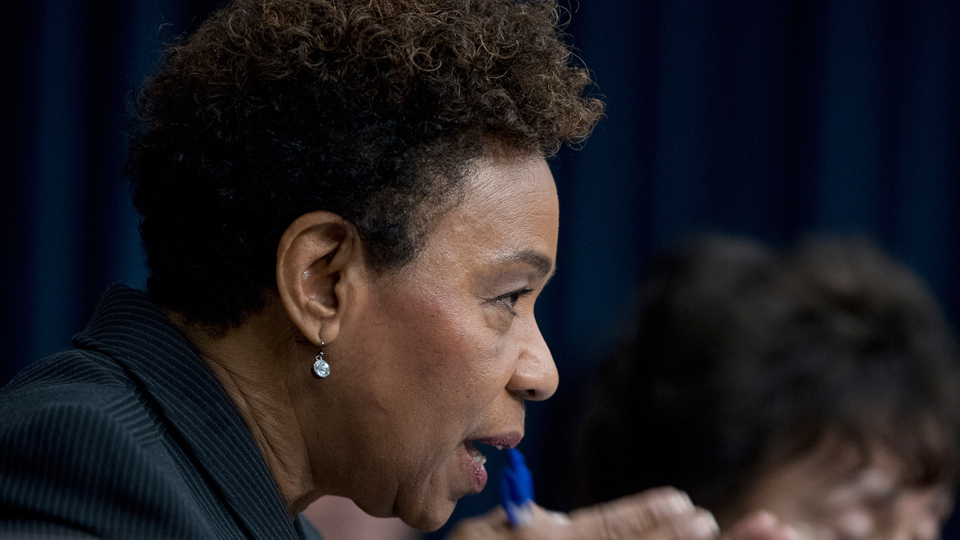 OAKLAND, Calif. — Hundreds of U.S. Representative Barbara Lee's constituents gathered in East Oakland Aug. 2 for a town hall meeting she hosted with the theme, "What do you have to lose? The Impacts of Trump on African Americans."
Lee, D-Calif., has long been a leader in Congress for civil rights, democracy and equality, and against war.
Panelists included Mark Morial, president of the National Urban League; state Assemblymember Tony Thurmond and Bay Area Rapid Transit (BART) Director Lateefah Simon. Angela Glover Blackwell of PolicyLink moderated the discussion.
"You remember that during the campaign, Donald Trump said to the black community, 'What do you have to lose?' Well, we have to look at what we are losing," Lee said.
She cited the Congressional Black Caucus' response – "In no way are you going to take us back. We're going to fight, resist, and move forward."
Picking up on that theme, Morial – a former mayor of New Orleans – highlighted risk areas the Trump administration's policies pose for African Americans, all people of color, and "all people who love justice in 21st century America." Citing the Urban League's annual report, The State of Black America, Morial called attention to profound inequities in health, housing, education and social justice.
The Urban League's 2017 Black-White Equality Index, contained in the annual report, puts African Americans at 56.5 percent compared to whites, 80 percent in health, 78.2 percent in education, 57.4 percent in social justice – but 100.6 percent in civic engagement. The report includes a similar index for Hispanics.
Voter suppression is the number one risk posed by the Trump administration, said Morial, followed by efforts to strip health care away from millions of people, and the assault on the federal budget.
"The battle we are in today is not a political battle; it is a moral battle," he said. "We must 'stay woke,' we must act."
The "War on Drugs" has had profoundly destructive consequences over the last four decades, BART Director Simon said. "One trillion has gone to over 20 million arrests and convictions since 1977, within the drug paradigm."
Simon warned of the great danger posed by Attorney General Jeff Sessions' declaration that he will double down on the war against drugs. Millions of dollars are being spent on "caging people and nothing on healing them," she told the audience," adding, "We do have power; we have to continue to be the moral conscience of that power."
"Our state is spending $5 billion per year to incarcerate people in private prisons, run by people who are profiting from the suffering of our families and our loved ones," California Assemblymember Tony Thurmond, D-Richmond told the crowd. "We need to get to a place of prevention and re-entry. Let's educate, not incarcerate." Thurmond introduced Assembly Bill 43 earlier this year. AB 43 would tax private prisons and spend the resulting revenue on programs shown to prevent incarceration, including universal preschool and after-school programs.
While African Americans experience the disproportionately high rates of incarceration, Thurmond said, AB 43 will benefit everyone. "Trump is out to hurt not only African Americans, he's out to hurt everybody. We have to stay connected and fight for everyone."
During the town hall, the panelists responded to written questions from the audience, many of them dealing with problems of gentrification, affordable housing, criminal justice issues and access to education and health care.
Other area elected officials participating included Alameda County Supervisor Keith Carson and Oakland Mayor Libby Schaaf.