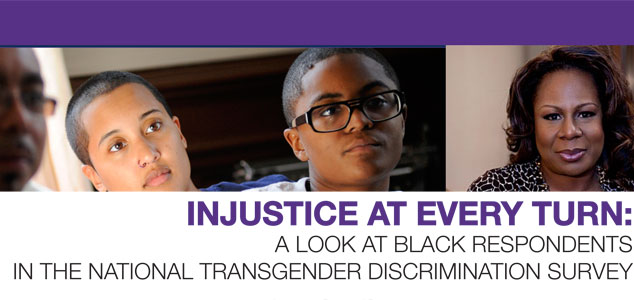 Because of the effects of racism, being black in America has never been easy. And if you're transgendered, you are also likely to have been discriminated against. But if you're black and transgendered, the chances increase exponentially, a new survey found.
The information comes from Injustice at Every Turn: A Report of the National Transgender Discrimination Survey, conducted by the National Gay and Lesbian Task Force and the National Center for Transgender Equality.
According to the document, shocking 34 percent of transgendered black people live in "extreme poverty," compared to a corresponding figure of fifteen percent for transgendered people of all races and 9 percent for blacks of all sexual orientation. The percent of Americans as a whole living in extreme poverty is 4 percent – meaning that transgendered blacks are more than eight times more likely to experience poverty than the population as a whole.
The rates of HIV infection are just as stark: More than one in five, or 20 percent, of transgendered blacks report infection – with an additional 10 percent who said they didn't know. The overall figure for Americans is 0.6 percent.
"The survey results showed that transgender people faced bias that affects all areas of life," said the National Black Justice Coalition in a special fact sheet, Injustice at Every Turn: A Look at Black Respondents, which looked specifically at the report's meaning for black Americans.
"However, one of the most important findings was that the combination of anti-transgender bias with structural and individual racism meant that transgender people of color experience particularly devastating levels of discrimination. Among them, black transgender people reported the highest level of discrimination."
The sheet, set to be the first in a series, is the result of collaboration between the National Black Justice Coalition and the two organizations that carried out the broader study.
The NBJC announced that it would partner with those organizations in a more ongoing basis, in order to fight for "a world where all people are fully empowered to participate safely, openly and honestly in family, faith and community, regardless of gender identity and sexual orientation."
Additional facts in the report serve to drive home the necessity of the alliance: Black transgendered men are in dire straights – so dire, in fact, that 49 percent have attempted suicide. At some point in their lives, 41 percent of these men were homeless – five times the rate of the U.S. population as a whole.
According to the organization that conducted the research, "Links to the online NTDS survey instrument was distributed through a network of more than 800 trans-serving and trans-led advocacy and service organizations, support groups, list-serves and online social networks. Nearly 2,000 paper surveys were distributed to hard-to-reach transgender and gender non-conforming populations. A total of 6,456 completed questionnaires were included in the final data set, 381 of which were black or black multiracial."
Some aspects of the report have generated criticism and discussion, mainly due to the nature of its research method.
"Voluntary surveys are notoriously hard to trust," said a sociology professor at a southeastern Florida university. The professor, who requested anonymity, "They're especially hard to trust when you are asked to believe that there is a specific phenomenon in society based on a certain group of people's interpretation of their own experiences."
The sociologist pointed to a section of the report saying that 38 percent of black transgendered men were refused housing due to bias. "This is their interpretation of why they were refused housing. Of course, a number of them did experience discrimination because of bias. But how many? We can't simply take it at face value – that people said they felt bias, that they were actually the victim of it."
Still, asked whether the report should be dismissed, the professor gave an emphatic "no." "Some things are more cut-and-dry than others," he said, "and the facts that aren't based on interpretation are important."
"Disregarding the parts of the report that are hard to verify," he concluded, "it's obvious that there is a problem of discrimination in America. Discrimination against a lot of people and groups, but black transgendered people in particular."
Editors note: The National Center for Transgender Equality provides this explanation of the term Transgender: An umbrella term for people whose gender identity, expression or behavior is different from those typically associated with their assigned sex at birth, including but not limited to transsexuals, cross- dressers, androgynous people, genderqueers, and gender non-conforming people. Transgender is a broad term and is good for non-transgender people to use. "Trans" is shorthand for "transgender."