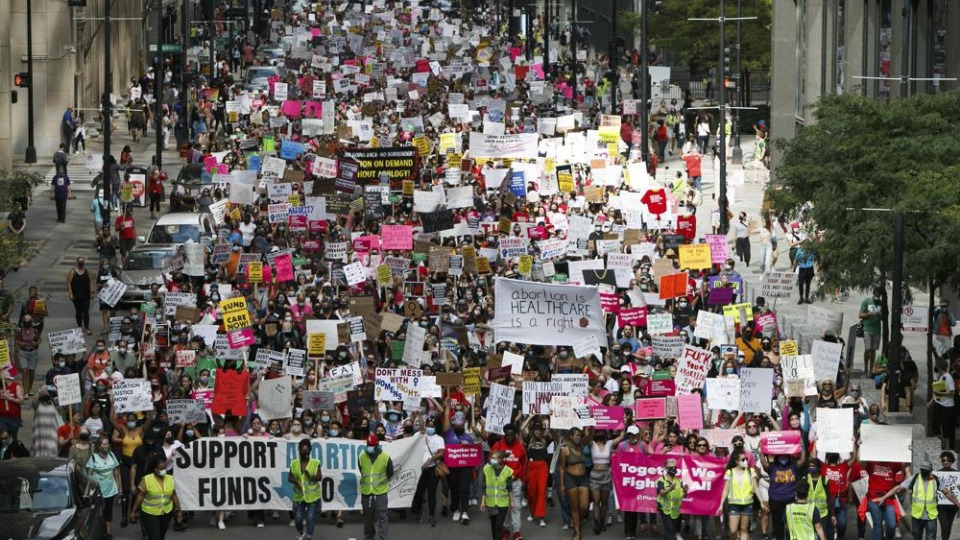 Hundreds of thousands marched in defense of women's reproductive health rights on Saturday Oct. 2 in more than 600 actions across the United States. In this running thread, People's World will present dispatches from our correspondents in cities and towns all around the country. Check back here for updates, and see our main story on Women's March 2021.
EUREKA, Calif.
Henry Millstein
Many drivers honked their horns in solidarity with some 350 demonstrators rallying for respect for women's right to choose in downtown Eureka, a small city of 26,000 in the far northwest of California. The local Planned Parenthood organization played a leading role in organizing the demonstration, one of over 600 held nationwide in reaction to a new Texas law severely restricting women's abortion rights, part of a nationwide Republican onslaught on women's rights.
The GOP hopes to get the new conservative majority on the Supreme Court to repudiate the 1971 Roe v. Wade decision that declared a constitutional right to abortion. Demonstrators chanted "Our bodies, our choice," and "Hey hey, ho ho, that Texas law has got to go."
The demonstrators were multi-generational and varied, from high school students to senior citizens, and included clergy from several Christian denominations and a contingent from Temple Beth El, the local Jewish synagogue.
Caroline Isaacs, a Temple member, told People's World that she came out "because as a person of faith I believe that God created people to do godly work, and justice is an important part of that." Asked specifically how abortion rights relate to justice, she responded, "Because the right to abortion, like the right to all healthcare, is something that all people need to access equally."
Other demonstrators voiced similar convictions. Steve, a member of the local Humboldt Bay Veterans for Peace chapter, said he came out "because women's rights are human rights." His wife Jolene commented that she has spent 55 years fighting for abortion rights. "Women should control their own bodies." she continued. "Whether a woman wants or doesn't want to have a child, I want to help her."
A representative of State Assemblymember Jim Wood drew vigorous applause when she declared that Wood "understands that reproductive rights are human rights" and quoted him as saying, "I stand today and forever with Planned Parenthood."
___
SEQUIM, Wash.
Tim Wheeler
Two vigils were organized in Clallam County—one in Sequim and one in Port Angeles—to tell male white supremacist politicians "We won't go back!" No more back alley abortions, no more women and girls bleeding to death from coat hangers jabbed into their wombs.
Before Roe v. Wade in 1973, thousands of women and girls died due to a lack of safe, legal abortions. But now, Trumpite Republicans like Texas Gov. Greg Abbott and the "Gang of Six" on the U.S. Supreme Court are waging war on women, scheming to nullify Roe.
Tens of thousands protested, march rallied, and vigiled for women's equality and reproductive freedom Oct. 2. I counted 101 vigilers in Sequim on all four corners of Washington and Sequim-Dungeness Way. I counted early and observed that 12 more people arrived, so a more accurate count is 113 in Sequim.
Two hours later, 106 attendees stood with their signs in front of the Clallam County Courthouse in Port Angeles. Again, the crowd became denser as the action got underway, growing to at least 126 at this event.
The vigils were sponsored by Voices for Health and Healing, the League of Women Voters of Clallam County, Indivisible Sequim, and the Democratic Party of Clallam County.
Chants echoed at the events included "One-two-three-four, Roe v. Wade forevermore!" and "Hey Hey Ho Ho, Greg Abbott has got to go!" Several people's signs displayed coat hangers, and more than one said, "Stop the Texas Taliban."