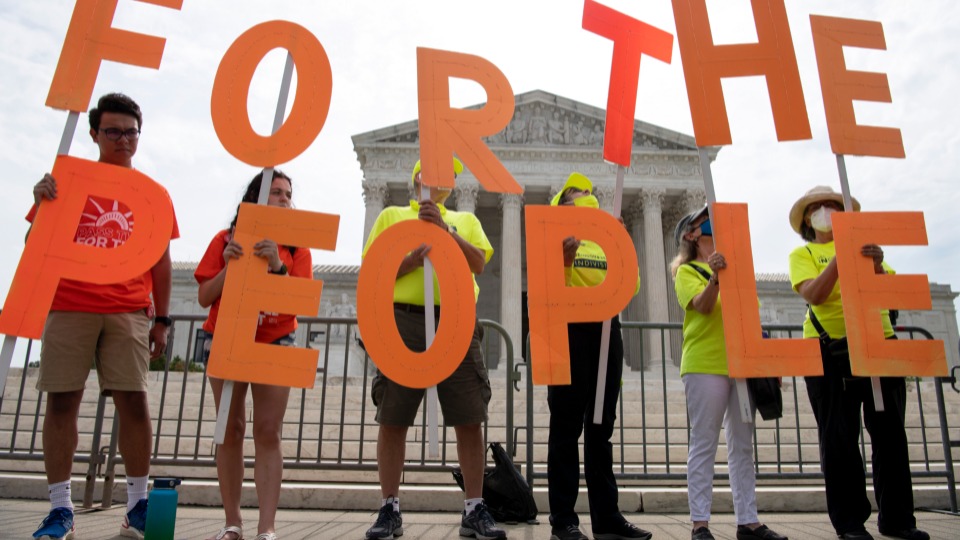 WASHINGTON—It is no surprise that despite a spate of endorsements and a rally of backers Tuesday on Capitol Hill, the Senate sponsor of the For The People Act expects it'll hit a Republican rock in a Senate vote to bring it up for debate.
Democratic President Joe Biden calls the For The People Act (S1/HR1) the most vital legislation of his presidency, in terms of preserving democracy in the U.S. But in another repeat of the GOP's all-out assault on freedom, voting rights, and the U.S. Constitution, Senate Republican leader Mitch McConnell of Kentucky plans to have his entire caucus block it. That will be enough to block a vote from taking place Tuesday but will do nothing to prevent a firestorm of protest to spread across the country in what will be an epic battle to preserve democracy.
Labor and all of its allies, often led by groups like Indivisible, will make July a month of misery for cowardly Republicans who, afraid to separate themselves from Donald Trump and the Big Lie, and now afraid to buck McConnell in his attack on voting rights, will have to face the people they represent during the July Senate break.
Indivisible, labor unions, civil rights groups, and allies are promising that what will unfold across the country this summer is a movement that could very well dwarf the one that engulfed America when, under President Trump, GOP senators smiled smugly at a press conference, making it clear that they would kill the Affordable Care Act. In the end, the mass mobilization to save health care prevented them from achieving their goal. Progressive organizations are preparing to repeat now what they did back then, making it impossible for anyone in the Senate—Republican or Democrat—to be or go anywhere this summer without hearing from their own constituents.
Immediate call-in underway
Unions and other progressives aren't even waiting for next month and have called for a mass call-in already, with details at DeadlineForDemocracy.org. In the same way that mass mobilization saved the Affordable Care Act, they are saying that if everyone calls in now and daily going forward and hits the streets form now through the summer, democracy can be saved.
In a phone-in to Our Revolution, the Bernie Sanders-originated organization, Democratic Sen. Jeff Merkley, a chief cosponsor of the voting rights bill, said the "motion to proceed" to debate on the measure will probably fail today because of the McConnell-GOP opposition. But he isn't giving up, and neither should anyone else, he said.
"You have to tell every member of Congress there are no excuses not to defend the Constitution," Merkley said. While other votes could occur in coming months, and Merkley predicted they would, "If it fails 'Government of the people, by the people and for the people,' to quote Lincoln's words, is very much closer to perishing in America right now than it ever was."
But the Senate is split 50-50 and the motion to proceed, the first procedural step in getting to an actual vote on the measure (S1/HR1), needs 60 votes to pass.
It doesn't have every Democrat on board, yet. Sen. Joe Manchin, D-W. Va., the most conservative of them, proposed a stripped-down compromise. It drew backing from influential voting rights activist Stacey Abrams and, on June 21, former President Barack Obama, if only to get debate started. But McConnell threw cold water on that, too. "No quarter" for any voting rights bills, the senator says.
And fellow holdout Sen. Kyrsten Sinema, D-Ariz., has been silent, despite intense lobbying from citizens groups, the Poor People's Campaign, voting rights groups, unions, civil rights groups, CPUSA, and other progressives. Arizonans sat in at Sinema's Tucson office days before. Biden met with both Sinema and Manchin on June 21 to lobby them to back For The People.
Merkley urged Our Revolution's listeners to jam senators' phone lines urging that at least lawmakers debate the wide-ranging election and political reform measure. Indivisible, took the same tack as Merkley: That there will be other chances for the For The People Act and more weeks for its backers to put the pressure on.
DEADLINE FOR DEMOCRACY – TAKE ACTION NOW
"A 'motion to proceed' would allow the Senate to actually consider the bill. If or when that vote fails, that only means the motion to proceed fails, not that the For The People Act failed," Indivisible e-mailed (their emphasis). "After that, what matters is the Senate goes home to their states and sees a big, bold nationwide movement of visible public events to demand democracy reform, no excuses. That's where you come in.
"In the end, winning this fight depends on showing up as a movement over the next three weeks" so S1/HR1 would come up again in July. If it passes, as it already has in the Democratic-run House, there would be enough time to implement its reforms before and in the 2022 mid-term elections—and to negate the anti-voter legislation being shoved through GOP-run red states, disenfranchising workers, women, people of color, and students.
Labor steps up
While Merkley was pessimistic about the looming vote on whether to have debate, Senate Majority Leader Charles Schumer, D-N.Y., took a positive tone in a brief one-on-one phone conference with CWA President Chris Shelton and his union's local leaders. Shelton and Schumer, too, urged listeners to jam phone lines and lobby for the legislation, a top labor priority, along with the Protect the Right To Organize (PRO) Act.
Even if the Republicans oppose the For The People Act on substance—and McConnell has forced them to do so—"We have to call these Republicans who don't even want to move to debate and ask them 'Why won't you debate? What are you afraid of?'" Schumer said.
Merkley actually answered that rhetorical question in his talk: The GOP is afraid of two forces, their own corporate campaign contributors, who want to remain in power by restricting voting, and the legions of Trumpites who invaded the U.S. Capitol on Jan. 6 and who still threaten armed violence. They're stirred by the "election fraud" lies of former GOP Oval Office occupant Donald Trump. His white nationalists now dominate the GOP rank and file.
"Even before Republican legislatures started taking away voting rights" and even before Trump, those red-state legislatures "were doing a lot of bad things" that hurt the country and democracy, Schumer said. If the For The People Act fails, workers will feel the lash, too, Shelton warned.
The GOP skewed elections through unlimited "dark money" from corporate coffers and through specific gerrymandering to perpetuate themselves in power, Schumer said. "In the last state legislative election in Wisconsin, Democrats won 53% of the votes. They got 33% of the seats," he said. The For The People Act would ban such gerrymanders and force disclosure of the dark money, among other remedies.
Such a skewing hurts workers, with the Wisconsin GOP's anti-worker anti-union Act 10 a decade ago under right-wing GOP Gov. Scott Walker a prime example. That's why the union movement in general and CWA in particular, starting years ago, has campaigned and agitated for comprehensive campaign reform, Shelton said.
"CWA is so committed because our democratic process has not addressed health care for all, fair wages, a tax code that's not skewed to the 1%, and, most important of all, reform of our labor laws" through the PRO Act.
"People see the opposition—the corporations and their agenda—get pushed through Congress" quickly "while labor law reform doesn't even get brought to the Senate floor. The corporate interests can come in preying on lies and people's fears, or legislatures are gerrymandered so much that our voices don't get heard. Naturally, more and more of our voters are checking out year after."