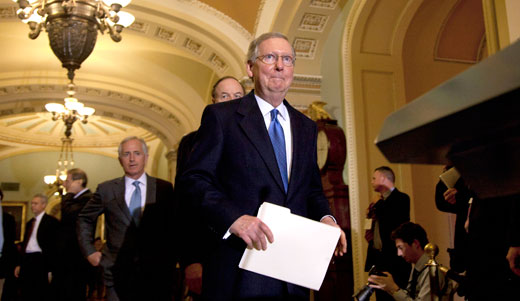 The Republican senator from Utah, Sen. Mike Lee, has been admitting to the press that the GOP vote against President Obama's nominee to the Consumer Financial Protection Board was to sabotage the agency.
Yesterday, a Senate majority of 53 voted to move forward with Richard Cordray's nomination to lead the new Consumer Financial Protection Bureau. The vote was short of the 60-vote supermajority he needed to be confirmed.
One of the Republicans who filibustered, Sen. Lee, has been blatantly telling the press that he joined his fellow GOP obstructionists because he simply wants to sabotage President Obama's consumer protection plans.
"I have met Mr. Cordray," Lee said, "and my decision to oppose his confirmation by the Senate has nothing to do with his qualifications. Rather, I felt is my duty to oppose his confirmation as part of my opposition to the creation of the consumer protection board itself."
The senator also said that "confirming any director for this bureau would be tantamount to saying that we need a uniquely powerful agency."
The filibuster of the President's nominee yesterday is seen very broadly as an assault not just on democracy, but even upon the rule of law itself. "The CFPB was created by an act of Congress," said a statement by Think Progress, "and can only be repealed or modified by an act of Congress. By his own admission, Lee's filibuster is an attempt to make an end run around the Constitution's legitimate lawmaking process.
The filibuster is only one example of the extreme right wing approach consistently taken by Lee. At one time or another during his term in office Lee has declared child labor laws, FEMA, food stamps, the FDA, Medicaid, Medicare, Social Security and income assistance for the poor as all being unconstitutional.
When the Senate adjourns for the year, President Obama is legally able to make a recess appointment of Cordray to the position, thereby allowing the board to function until the end of the next session. The president said he would consider appointing Cordray when Congress adjourns next Friday for its holiday recess, during which it would not have the power to block him.
"We're not giving up on this, we'll keep on going at it," Obama said. Republican leaders suggested that they would seek to prevent a recess appointment by keeping the Senate technically in session throughout the holidays.
Obama blasted Republicans for what he said is their unprecedented string of filibusters.
"Well qualified judges do not get a vote. Assistant secretaries to the Treasury get held up for no reason," Obama said. Republicans "are trying to see if they can reverse some sort of law that's already been passed. That's part of what gets the American people so frustrated. They do not think this is on the level."
Obama has promised to delay his winter vacation, a 17-day trip top Hawaii set to begin Dec. 17 – and keep Congress in session until Republicans agree to extend both the payroll tax cut and unemployment benefits for six million scheduled to lose them in the coming year. "We are going to stay here to make sure that the American people's taxes don't go up on Jan. 1, and to make sure that folks who desperately need unemployment insurance get that help," Obama declared.
Photo: Senate Minority Leader Mitch McConnell, R-Ky., followed by Richard Shelby, R-Ala., Sen. Bob Corker, R-Tenn., on Capitol Hill in Washington. President Obama said that Republicans are guilty of an unprecedented use of the filibuster to block progress. (Evan Vucci/AP)