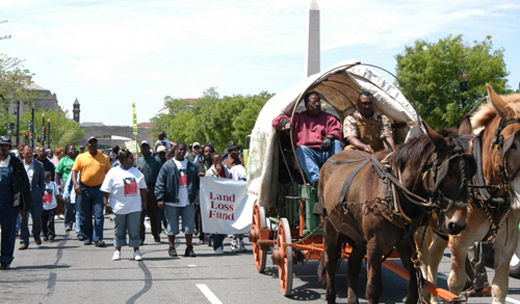 WASHINGTON – Willie E. Adams, a founding member of the National Black Farmers Association (NBFA), has been fighting U.S. Agriculture Department (USDA) discrimination in denying Black farmers federal loans for as long as he has been a farmer.
Thanks to a Republican filibuster in the U.S. Senate, Adams and all the other Black farmers are still waiting for the $1.25 billion settlement offered by President Obama as compensation for nearly a century of flagrant USDA discrimination. The House passed the compensation package as a rider attached to a supplemental war funding bill in July but the Senate refused to include the funds when they voted on the spending bill in August.
Adams raises grass-fed cattle and hay on a 60 acre farm near Greensboro, N.C. that his father bought in 1938. "I'm really surprised that after all these years of struggle we're still waiting for justice," Adams told the World in a phone interview. He was one of the original 42 Black farmers who filed a lawsuit in federal court back in the mid-1990s accusing USDA of systematic discrimination in denying the loans that white farmers are granted routinely. Their suit was upheld by a federal judge in 1997 and again in 1999. But many thousands of the farmers, including Adams, have yet to receive a dime.
Adams charged that the impasse proves that officials in Washington are still determined "that people in this country are not going to be treated equally. We serve our country in the military. We have had land in our families for generations and yet we are denied loans that we need to stay on the land."
He telephoned Georgia's U.S. Senators Saxby Chambliss and Johnny Isakson, both Republicans. "My calls fell on deaf ears," he said. "Many of the Black farmers are living on borrowed time. Many of us are not able to pay our debts because of the economic situation. We are falling deeper and deeper in the hole. Foreclosure hangs over our heads." Adams said the Senate should act on the long-stalled compensation package in September before they recess for the midterm elections.
John Boyd, president of the NBFA who operates a farm in Virginia, brought his mule with him to a Sept. 7 press conference on the steps of the federal courthouse in lower Manhattan. The Reconstruction program after the Civil War promised the freed slaves "60 acres and a mule," and Boyd's mule made clear that Black farmers are still waiting. "Suffering is an understatement of what is going on with Black farmers," Boyd told reporters. African American farmers, he charged, are losing their land three times faster than other farmers. Black farmers are forced to wait more than a year – 400 days on average, he charged, for USDA to process their loan applications. White farmers' applications are processed in less than 30 days.
"Congress has money for everything – to bail out banks, Wall Street, AIG, everybody, but they can't seem to get this done. There is something terribly wrong with this picture."
A federal judge upheld their lawsuit in a 1997 ruling in Pigford v. Glickman. That resulted in an out of court settlement but tens of thousands of Black farmers missed the deadline to submit claims.
Under a federal judge's ruling in 1999, qualified farmers could receive up to $50,000 each to settle their claims of racial bias on an expedited basis or as much as $250,000 if they went through a more rigorous process of proving bias.
As an Illinois Senator, President Obama sponsored a measure in the 2008 Farm Bill that reopened the case. Last February, Attorney General Eric Holder and Attorney General Tom Vilsack announced a new compensation program, "Pigford II," contingent on Congress approving funding. Obama also spoke out strongly to compensate Latino, Native American Indian, and women farmers who also suffered discrimination at the hands of USDA.
The Black farmers are weighing the possibility of joining forces with the Latino, Native American Indian, and women farmers in a combined fight to win justice for all the victims of USDA discrimination.