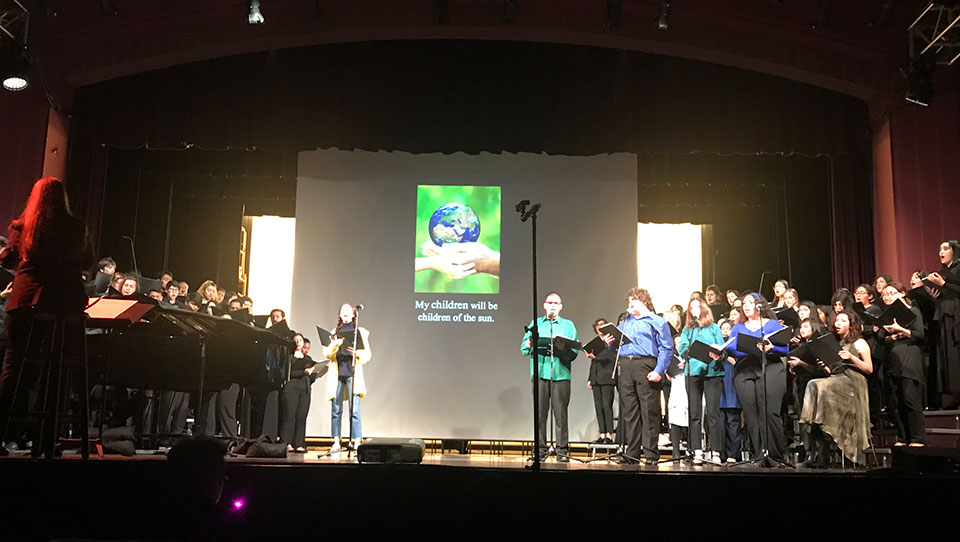 VAN NUYS, Calif.—A requiem is the Latin mass for the dead. High school students at Van Nuys High School in Los Angeles's San Fernando Valley know perfectly well the Earth is not dead. Yet. But the way things are going….
Requiem: This Earth, Our Home is the latest entry in the catalogue of works created in L.A.'s school programs in coordination with the educational outreach program of the Los Angeles Master Chorale. Previous efforts have included works about the Latinx student walkout of the 1960s, the internment of Japanese Americans into concentration camps during World War II, and younger children's ideas about science and math.
The two world premiere free performances of the Requiem took place this past weekend, Fri., Feb. 28 and Sat., Feb. 29 (I attended Feb. 28). As with the other LAMC collaborations, the students themselves wrote the original words and melodies, with professional help from LAMC in the form of teaching artists-in-residence, composer Saunder Choi, performer Alice Kirwan Murray, and lyricist Doug Cooney.
An imposing mass of 85 students from the Van Nuys High School choirs, ranging from freshmen to seniors, sang with a 17-piece orchestra, all but two of them student musicians. Fourteen students had solo parts singing the words of various "characters" the students invented to humanize their Requiem. Also singing in the chorus were eight LAMC "ringers" to help the students find their notes, stay on pitch, and blend as an ensemble. VNHS Choral Director Brianne Arevalo conducted these forces more than 100-person strong.
The Oratorio Project is part of LAMC's award-winning Voices Within program in which students are immersed in a six-month in-school residency to compose and perform an original musical work, performance length approximately 43 minutes, for soloists, choir and orchestra.
In the evolution of this new piece, the school administration had a little more influence than usual. It was they who first suggested the theme of climate change, but the students came on board soon enough. And it was the school principal, Yolanda Gardea, who suggested that the "oratorio" this year take the particular shape of a requiem, a form with which many of the church-going students are no doubt somewhat familiar. In its sequence of nine movements, this Requiem recapitulates classic phases of the church liturgy, without, of course, being or even for the most part sounding religious (it is a public school, after all).
For the first ten weeks of the program the students considered the causes, implications, and consequences of climate change, reflecting on how it affects themselves and their own communities—including the countries and lands whence a certain percentage of the students emigrated. Using the formal structure of a classical requiem, the students came up with the thoughts they wanted to share with the world about the impact of rising sea levels, cataclysmic weather patterns, animal extinction, and displaced people, as well as the issue of climate denial.
At the same time, alongside the devastating threats, they also look at positive developments regarding public awareness and renewable sources of energy. One of the "characters" included as a soloist in the Requiem is none other than Greta Thunberg, the world-famous teenage climate defender and persistent goad to public officials and institutions to start doing something about the climate fast, before her generation has to live with the inevitable and irreversible consequences.
After they wrote the text, the students started inventing little melodic nuggets to go along with the stresses and rhythms of the words. Nuggets turned into musical phrases and phrases into song. I had a chance to review the libretto in advance, and I couldn't help thinking, Gosh, some of these words sound awfully prosaic and clunky—it will take some talent to make music of them!
Driving up to Van Nuys I wondered about all the labor that goes into creating a large-scale concert piece for over 100 performers, and how only two audiences in the world—mostly fellow students on Fri., and families and friends on Sat.—will ever hear it.
But of course, the success of a work like this is not to be judged only by its permanence (or lack of same) in the musical catalogue. It is very much a learning piece, in the research that went into it, the musicianship acquired in its creation and rehearsal, in the heady pride of accomplishment and self-confidence in the performance. I was told by LAMC's Director of Education Lesli Beard, that VNHS has an overall senior graduation rate of 85%, but for students who participate in the Oratorio Project, it is 100%. Talk about success!
And in another important way, the Requiem has served to educate not only the participants but the entire school population and their families, about the issue of climate change. It is now no longer a problem far out of reach but something tangible that even high school students can assume their part in solving. Far from a lamentation over the death of the Earth, it is a rousing, harmonious call to action—in personal lives, on campus, in Van Nuys, and beyond.
This was the fourth and final year of LAMC's residency at Van Nuys High. There are a lot of schools in L.A., and it's time to move on to some of the others, having perfected the model here.
To introduce the work, a video explained how the process of creating it goes. One student in the short film reassured viewers that what they are about to hear is "not putting our planet to rest, which is what a requiem is all about." Another proudly said, "This is what the students want the rest of the world to know." Conductor Arevalo praised the Oratorio Project as "one of the greatest programs that's ever been created," saying that the Requiem is "a meaningful piece of art."
As the chorus members started filing into their places on stage to audience applause, Lesli Beard stated with assurance, "These students are fierce and fearless."
Nine movements
Requiem: This Earth, Our Home has nine movements, most of them featuring some combination of chorus with soloists, and in one highlighting a double chorus, with the LAMC singers a separate part. Throughout, the text is projected so the audience can readily follow, illustrated by appropriate graphics and photos, which the students themselves researched and selected.
In Part 1, Requiem Aeternam (Eternal Rest), the choir sings "Sea levels rise as polar ice disappears. / Animals endangered, their habitats destroyed. / Another storm, another crisis." A yellow-jacketed Greta (Madlen Nazaryan) makes her first appearance, warning, "The house is on fire. Immediate danger. / The situation is happening. This is our reality." But the main focus of this movement is the choir's response to the crisis: "Stay calm. Breathe in and out. / Stay calm. There is hope. We must focus." (Echoes of the much-parodied British World War II slogan "Stay calm and carry on.") Concerned Citizens #1 and #2 (Sofia Luna and Esteban Morales) say, "A solution. There is a solution. / Good comes from unity. Everyone coming together. / Panic is contagious. Panic holds us back." And Greta agrees: "Even small changes make a big difference. / And make the world better for all." The movement ends with quiet hope.
In Part 2, Kyrie/Agnus Dei (Lord Have Mercy/Lamb of God), the theme is forgiveness. A Teen Advocate (Melissa Rodriguez) sings, "I look at the beach. / I see the ocean, the trash, unrecognizable. / I think—am I the problem?" as the video shows a shoreline packed solid with waste that floated in, and then a polar bear hugging forlornly for dear life on little more than a snowball in the ocean. Teen Advocate continues, "When it affects your life, / When you can see it in front of you, then you will listen." Choir: "Hear me with empathy and understanding. / Can you forgive the unforgivable?" The composer's humming effects in the chorus are admirable.
The Dies Irae (Day of Wrath), here movement 3, summons up all the terror of the Day of Judgment. This movement in most requiems is fast, loud and scary. Now we meet a number of terrifying characters, Wildfire (André Devancens), Hurricane (Anaïs Unanyan), Earthquake and Drought (neither identified by name in the program). Photos of the various disasters appear on the screen.
"Everything burns," sings Wildfire in his smoky, somewhat ragged voice. "Flames devour the trees, plants, and wildlife. / I ride the wind. / People on fire. Mountains left black. / I destroy homes and lives." Hurricane adds, "Everything drowns. / Everything thrown far, far away. / I soak and ruin. People drown. / Crush the buildings. Flood the streets. I destroy homes and lives."
"Hard to breathe," the choir reports, almost like an urgent on-the-spot news report. "Cannot breathe. Evacuate! / Thirst and hunger. / Starvation. Destruction. / Flooding and worry. Death and suffering. / Everything everyone loves—destroyed." Earthquake and Drought also claim credit for their wanton destructiveness.
Offertorium (Save me from danger) is the fourth movement. Here the choir and soloists are fleeing for "Safe passage. Higher ground. / Food and water. First Aid supplies." The Wildfire Victim (Conrad Wilcox) speaks of "Smoke. Orange skies. / A roar of flames. People cry." And the Storm Victim (Sabrina Chase) says, "Cloudy. Dark skies. / A gust of wind. Roaring thunder…. / A radio, batteries, a flashlight. / A way to survive without losing any more. / As far away as fast as possible. / Are the others okay?"
I was struck here by some of the soloists' lightly accented English, and wondered if a certain number of these students themselves might have fled from ecological or other disasters in their countries of origin.
Part 5, Confutatis (Silenced), is the most politically pointed movement of the Requiem. Now the mood shifts from everyone's personal responsibility to accusation. There are no solos in this section. The orchestra starts off with bold, heavy, masculine chords, and the choir sings as one. "Big oil companies, you aren't human. / Greed has taken over your mind. / You knew all along…. / But you lie about facts / And how it could affect us…. / You pay people we trust to tell us lies. / You spread misinformation like a plague…." as the video screen shows belching industrial chimneys. "You have led us to our doom. / See the chaos you created. / You chose money. We chose humanity. / You'll be punished for your greed."
Part 6, Libera Me (Deliver Me), is the turning point of the Requiem, the moment, now that the ugly truth has been uttered out loud, to take action and responsibility, to assert agency. Greta, still in her trademark yellow jacket: "You prepared for your future. / Is there a future for me? / We must take your damage / And rescue our tomorrow. / You leave us to do the impossible. / We will do the impossible. / The world is now on our shoulders."
The choir chimes in: "A leak became a flood. / A crack became a canyon. / One person becomes a force, a movement. / A generation of change…. / And there will be a future for me." How poignant—how disgraceful!—that high school students have to ask, Will there "be a future for me?"
Movement 7 is the Lacrimosa (Lamentations of Jeremiah), full of weeping and tears. The solo role of Earth (Sophie Bocanegra) takes up this whole movement, backed by the choir, as she meditates—in her highly expressive and well-trained soprano voice—on melting glaciers, icebergs, and rising sea levels. "It's hard to imagine. / I weep almost all the time. / I weep to let it out. / Something touches my soul…. / I drown in a wave of tears…. Sorrow floods my soul. / I mourn for future generations; / For those who lose their homes. / I mourn for all of life and natural wonders; / For the ignorance of my children. / Babies are born every day / And greet the world by crying. / As a child, I cried and never cared if anyone saw. / Today, my tears come from mourning. / You have to do something." How pitiful that young people have to grow up with such a feeling of sorrow over the world they are inheriting!
Part 8, Beatitudes (Sacrifice), has the choir coming to grips with species extinction. "Something that once thrived and is no more. / Gone forever. Extinction is final. / It must feel empty. / How terrifying to be wiped out from the Earth. / Will I have to describe penguins to my children? / How do I describe a penguin to my child? / Or the great ape, once majestic. / Or the elephants. / Or the camel. / Or the giraffe. / Or a whale."
The chorus continues, again perhaps with personal resonance for some of the immigrant children on stage: "Displaced is what happens to people, no longer with a home. It means to be alone, and home no more…. It has made me aware. / I never thought about it—but I love this planet. / I love this planet. / We must change. / My promise to the future is to cherish it more. / We must change."
The final segment of Requiem is Lux Aeterna (Eternal Light), a hopeful grand finale combining Greta with a solo quartet (Samuel Vargas Medrano, Conrad Wilcox, Sofia Luina Ramirez, and Sabrina Chase) and the full chorus resolving to be agents of change and healing: "Together, we're making a difference. / We're making ourselves heard. / We need to overcome this. / To move from what we created into the future, / into the light. / My children will be children of the sun."
The quartet add, "Let the sun power us and provide opportunities. / Let the wind blow away the smoke with fresh air, a fresh start. / Let our children live a life of green."
The prayerfulness of the sentiments made me think of the 1962 Soviet-era song "May There Always Be Sunshine," which went on to become an international hit heard as a plea, in that anxious time of nuclear testing, for world peace.
Joy and sorrow
I have to admit it, I had tears in my eyes by the end, tears of an inscrutable mixture of joy at the promise of youth and the unquenchable optimism they show to the world in the face of destruction they wake up to every morning, and a deep sorrow that the way the world has been put together presents them with such all-consuming challenges. One doesn't have to be a wild-eyed Utopian to believe—to know—that surely something better could be passed on to them.
I also was impressed that the words—some of them looking so unpoetic on the page—came off set so musically well. Partly it's the students' own yearning and need to make these ideas sing to us, and partly, of course, the expertise of composer Saunder Choi in pulling the disparate elements together, harmonizing and orchestrating them into a successful score. Many of the individual solo voices, too, were impressive.
But yes, I do mean successful beyond the expectations of a student exercise meant to be performed and heard only twice. I wonder if a clean, finished score could be prepared that would make Requiem: This Earth, Our Home available for other school groups to present. It's good stuff.