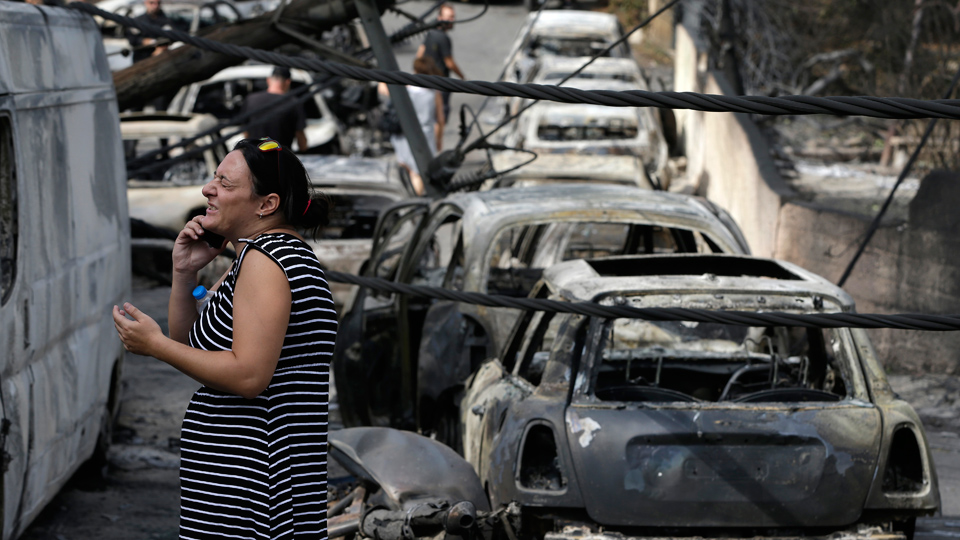 ATHENS—Grief but also anger gripped Greece today as the death toll from the worst wildfires for over a decade reached 80, with scores more still missing.
The government declared three days of national mourning yesterday as the scale of the devastation in the Rafina seaside resort area just 20 miles north-east of Athens city center became apparent.
Over 1,500 homes have been destroyed in Monday's wildfire that ripped through the forest.
There were long lines at the major hospitals in response to an appeal for blood donations. In neighboring Turkey, the health workers' association in Istanbul contacted counterparts in Athens with offers of direct assistance.
Among the rescuers of 700 people who fled into the sea to escape the fires were Egyptian immigrant fishermen.
Greek Prime Minister Alexis Tsipras described the fire as "unconventional" or "asymmetric." It was the term used by his conservative predecessor Costas Karamanlis about a previous blaze in 2007.
Now as then, the implication is that the nation is under attack, as in asymmetric warfare, and must, therefore, suppress all political division and unite.
"But this is a blatant politicization," says one retired firefighter.
"Some government officials are suggesting that arson is responsible in a plot to destabilize the country, but there is no evidence of that."
Trade unions and the parties of the left are pointing to the impact of privatization and austerity on fatally weakening the country's infrastructure, from water and forest management to the fire service.
Speaking in parliament today, Dimitris Koutsoumpas, general secretary of the Communist Party of Greece, warned that the "national mourning…should not be an excuse to cover up the great responsibility of governments, including this government, over time" for the running down of infrastructure and rescue services, and for the lack of regulation on property developers.
The fire service budget was €500 million ($585m USD) in 2007. This year, it is just €397m ($464m USD). Nine of the country's aging Canadair firefighting planes are grounded due to lack of parts, says one pilot from northern Greece.
Meanwhile, 700 firefighters have been seconded from the national force to serve the 14 now privatized airports under the deal that sold them off to the German company Fraport.
It has become clear today also that there was no emergency evacuation plan for the Rafina area, where there have been decades of unregulated building by developers.
Questions were mounting today alongside demands for the immediate re-housing of those who have lost everything.
In response, Tsipras said: "The whys and wherefores" would be investigated "when the time is right."
For many, including survivors of the nightmare inferno, that time is now.