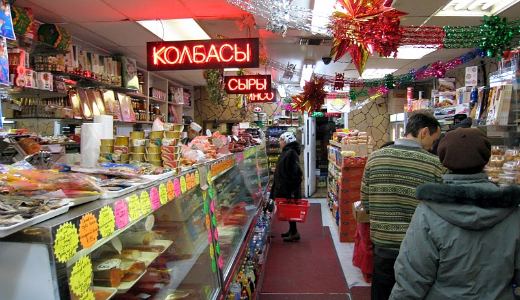 BROOKLYN, N.Y. – The Russian-speaking residents of Brighton Beach are often portrayed in popular movies and television shows as drug pushers, alcoholics and Mafioso. Now neighborhood residents and their allies are fighting a much more extreme version of that caricature, in the form of a new Lifetime Television series.
The show moving the community to action is simply called "Brighton Beach," and has been marketed as a New York Russian version of MTV's infamous "Jersey Shore."
"Jersey Shore" is much like MTV's "The Real World," in that it portrays a number of real-life people who agree to move into a single house. However, instead of being from different walks of life as in "Real World," "Jersey Shore" characters are all from the same background.
All of the characters, including "Snookie" and "The Situation," fall into the category of "guido," a derogatory name for Italian Americans that the show's characters proudly use.
Lifetime's "Brighton Beach" series promises to be a Brooklyn Russian version of that – and the stereotypes, producers boast, will be rampant.
"There will be plenty of vodka, techno music and guys wearing Adidas pants, leather jackets and gold chains, and driving souped-up cars," said Elina Miller, the show's producer, as quoted in The Hollywood Reporter.
The Russian-speaking community here includes people from Russia, the Ukraine and Belarus, but also numerous other places, such as Uzbekistan and other Central Asian nations formerly part of the Soviet Union. Their population is now more than 300,000 million in the New York metropolitan area, and 1.5 million nationally.
Still, says John Lisyanskiy, founder of the Russian-Speaking American Leadership Conference, the community has rarely "been depicted as anything more than thugs, criminals and outcasts."
"As you set out to air the show, we ask that you formally break with Jersey Shore's form of tasteless exposé and elevate the material to depict Russian-speaking Americans accurately and without ethnic bias," reads a letter sent to Lifetime Television by Lisyanksiy on behalf of his organization.
"We do so not as crusaders for censorship," the message continues, "but as concerned citizens of immigrant descent, fighting to prevent the air of intolerance from shrouding our long and proud American legacy."
Also signing the letter "in support" were dozens of others, from newspaper publishers and other business leaders to members of Congress and Bill de Blasio, the city's public advocate.
"Jersey Shore" has attracted its own share of controversy. Given the show's sky-high ratings, millions of people routinely tune in, but many have objected to its content. Some have done so simply out of annoyance with the characters' antics (Snookie was recently acquitted in real life of charges of "criminal annoyance"), while others have had more serious objections.
According to a report earlier this year in The Guardian, Italian American organizations protested the show's stereotyping of Italians as hedonistic "guidos" and "guidettes."
The Russian-speakers hope they will be more successful with "Brighton Beach."
Photo: A store in the real Brighton Beach. Urmet CC BY-ND 3.0