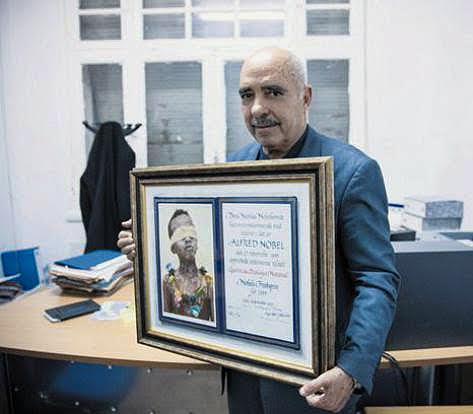 Rosa Moussaoui is the Tunis, Tunisia, special correspondent for L'Humanité.
Lawyer, former president of the Tunis Bar, Maître Abdessatar Ben Moussa heads the Tunisian League for the Defence of Human Rights, one of the member organisations of the Tunisian National Dialogue Quartet, which was awarded the Nobel Peace Prize in 2015.
The Nobel Committee stated: "The Arab Spring originated in Tunisia in 2010-2011, but quickly spread to a number of countries in North Africa and the Middle East. In many of these countries, the struggle for democracy and fundamental rights has come to a standstill or suffered setbacks. Tunisia, however, has seen a democratic transition based on a vibrant civil society with demands for respect for basic human rights.
"The National Dialogue Quartet has comprised four key organizations in Tunisian civil society: the Tunisian General Labour Union (UGTT, Union Générale Tunisienne du Travail), the Tunisian Confederation of Industry, Trade and Handicrafts (UTICA, Union Tunisienne de l'Industrie, du Commerce et de l'Artisanat), the Tunisian Human Rights League (LTDH, La Ligue Tunisienne pour la Défense des Droits de l'Homme), and the Tunisian Order of Lawyers (Ordre National des Avocats de Tunisie).
"The Quartet was formed in the summer of 2013 when the democratization process was in danger of collapsing as a result of political assassinations and widespread social unrest. It established an alternative, peaceful political process at a time when the country was on the brink of civil war. It was thus instrumental in enabling Tunisia, in the space of a few years, to establish a constitutional system of government guaranteeing fundamental rights for the entire population, irrespective of gender, political conviction or religious belief."
R.M. Five years after the fall of the Ben Ali dictatorship, after the 2014 ratification of a new constitution, do you consider that democratic transition has been achieved in Tunisia?
Me. Abdessatar Ben Moussa Absolutely not. It's a long process. Democracy is easy to destroy but is very difficult to construct. It is true that Tunisia now possesses a constitution which enshrines human rights, collective and individual liberties, a civil state based on alternation of power, equal rights for men and women. However we have a long way to go: we hoped for more, with, for example, the abolition of the death penalty. Democracy cannot rest on a constitution and the holding of free elections.
Legislation is still not yet aligned with the Constitution: draconian laws are still in force in Tunisia. Journalists are still tried and imprisoned according to ancient laws though they are in conflict with legal decree 115 of 2011, relating to the freedom of the press. Equally, though the Constitution provides for the presence of a lawyer during police detention, Criminal Procedure Rules have still not been amended. However it's a fundamental safeguard against the torture and mistreatment that persists in police stations, in National Guard bureaus and in overcrowded prisons. Torture is no longer orchestrated as it was under Ben Ali but it's a culture that persists for the extraction of confessions. We have not had a radical transformation of the police and prison systems.
One positive thing is that the Tunisian League for the Defence of Human Rights has signed a convention with the ministry of the justice that allows us to visit prisons without notice. We are working on a similar agreement with the interior ministry to allow us to visit police stations. That said, we remain concerned and vigilant over the state of liberties in Tunisia.
R.M. Do you fear the consequences of implementing the fight against terrorism in a Tunisia placed under a state of emergency?
Me. Abdessatar Ben Moussa Obviously! The police carry out investigations, searches, without any judicial control. Every day we see attacks on fundamental freedoms enshrined in the Constitution. We remain convinced that respect for human rights is the best weapon against terrorism. Youths denied the right to work are easy prey to terrorist groups who recruit in the slums and poor rural areas. For as long as social and economic problems remain unresolved, as long as youth unemployment remains high, measures solely based on security are doomed to failure.
R.M. The program of change from dictatorship to the establishment of a system of transitional justice, is this progressing? How far are you towards creating a truth commission to examine crimes committed by the dictatorship?
Me. Abdessatar Ben Moussa This transitional justice system should have been in place by 2011. After five years it appears to be a problem for us… I do not believe we can achieve transitional justice based on the South African model. There are still people who belong in prison holding positions in the machinery of power. It's true a Commission for Truth and Dignity has started work, however, it was assigned to people based on partisan persuasion, during a period when the majority in the National Constituent Assembly was held by the troika dominated by Ennahda.
R.M. Most Arab countries that underwent popular uprisings in 2011 have plunged into war, chaos or the return to dictatorship. How has Tunisia managed to keep on the path to democracy?
Me. Abdessatar Ben Moussa After the assassinations of Chokri Belaïd and Mohamed Brahmi in 2013, we were on the brink of civil war. Mobilisation of civil society and the opening up of national dialogue allowed us to evade a political struggle fraught with dangers. The trick that Tunisia employed was to find a congruent and organised civil society and an elite imbued with progressive values. I also stress the central role of emancipated and militant Tunisian women who engaged in each step of the constitutional debate to defend their gains and acquire new rights. The course of events in Egypt also bore weight: political parties, with Ennahdha at the helm, understood that confrontation would lead only to destruction. Finally, the political powers accepted the debate. Several factors played a positive role. However this scenario cannot be replicated elsewhere such as in Libya or Syria.
R.M. For you, what is the most significant change Tunisia has undergone in the past five years?
Me. Abdessatar Ben Moussa I don't hesitate in saying freedom of expression, freedom of the press. In Ben Ali's era, no journalist could enter the headquarters of the Tunisian League for the Defence of Human Rights. It is an inalterable acquisition.
Original French article: Abdessatar Ben Moussa : « Le respect des droits humains est la meilleure arme contre le terrorisme » by Rosa Moussaoui
Translated by Adrian Jordan
Reposted from L'Humanité in English.
Photo: Ben Moussa Abdessatar with the Nobel Peace Prize awarded to the Tunisian National Dialogue Quartet. Ons Abid.