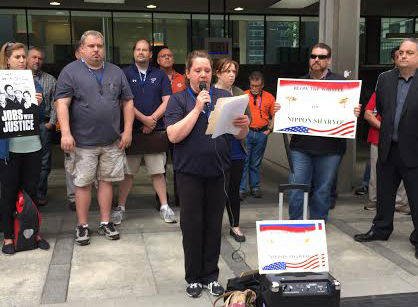 CHICAGO – On Thursday morning, members of Chicago Jobs with Justice as well as the Jobs to Move America coalition coalesced in front of the Metra train station in downtown Chicago to declare their support for a worker fired in retaliation for whistleblowing.
Jennifer Svenkerud had been working at non-union Nippon Sharyo in Arlington Heights, Illinois. Nippon Sharyo, a Japanese company, specializes in building train cars for mass transit and has received $1.3 billion in federal, state, and local funds for its work.
The conditions in Jennifer's factory, as with any factory job, were unsafe by their very nature. Jennifer was assigned Mar. 3 to a new section of the factory where she would be drilling above her head – perched awkwardly near a five-foot drop. When she asked for rails or boards, her concerns were dismissed but when she pushed further, the problem was fixed but just for that day.
A safety manager called a meeting to address the issues that Jennifer had raised and the management was infuriated. The safety committee, on which Jennifer sat, did an analysis of that particular position in the factory and deemed it a safety concern.
The next day, she was called into a disciplinary meeting under the pretext of co-worker complaints and was sent home that day without pay. The next day, she was given a "last chance agreement" despite having no previous disciplinary history and was removed from the safety committee.
That same day, she received a performance review that said she "looked out for what's best for the company" and was "quality oriented." It was an overall damning document for the company– how does a worker go from being exemplary to being on her last chance?
Speaking up, that's how.
Jennifer filed a whistleblower complaint with OSHA against the company and she was subsequently fired under the auspices of "going to the wrong person to report a problem."
"My name is Jennifer Svenkerud and I am a worker with a voice and rights under the law, and I thank you for your support," she said to the crowd of 50 who responded with applause and blasts from the whistles they wore around their necks in solidarity.
Nippon Sharyo is no new comer to insidious corporate practices. Previously, they had been inspected and cited by OSHA twice in less than a year.
Susan Hurley of Chicago Jobs with Justice emceed the rally and made no equivocations about the commitment of her organization saying, "The way that this company who is receiving state funds is operating its plant and treating its workers is totally unacceptable. We are not going to back down and we are going to hold this company accountable."
Chicago Federation of Labor Secretary-Treasurer Robert G. Reiter, Jr. spoke to commit his support and the support of the federation. On hand from the CFL were members of IBEW, Local 134, whose members made up the bulk of the crowd as well as the UAW and others. His concern was the use of taxpayer funds by a company that would retaliate against its workers.
"Focusing on American manufacturing is great, but it has to be done in a responsible way and in a respectful way for its workers," he said to vocal agreement from the supporters on hand.
Through her speech and after, Svenkerud was visibly taken with the solidarity she was receiving. "These people [union members and supporters] are kind people and I can't believe how everyone sticks up for each other, a union is an amazing thing. I've never worked union before and if I don't go back to Nippon, I want a union job."
Next up for Jennifer is working on a resume while maintaining the fight for her job and dignity at Nippon Sharyo.
Photo: Ada Fuentes, Chicago Jobs With Justice