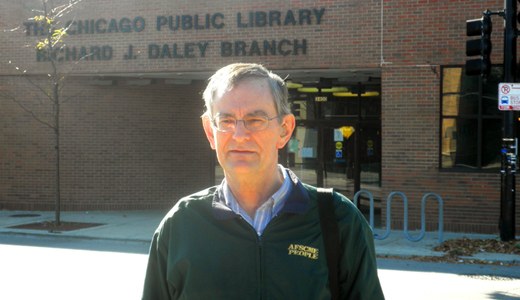 Recently, Chicago Mayor Rahm Emanuel announced there would be significant cuts in the city's library system. These cuts would reduce staff members' 60 plus hours a week to 40. In 2009, hours during the workweek were reduced to eight. According to Jim Hardt, this may spell doom for the public the libraries serve.
For one, Hardt shared with the People's World, "Now they're proposing more hour cuts." They're also going to be laying off staff and changing pension plans he said.
Another problem on the horizon is a possible mass exodus of workers out of the system. "People are saying that they'd rather retire under current contract," said Hardt, "rather than one that's being forced on them," citing upcoming contract negotiations.
Jim Hardt began as an entry-level librarian. He is now a retired branch manager at the Richard J. Daley Library in Chicago's Bridgeport neighborhood. A Navy veteran and an American federation of State, County and Municpal Employees union member for 25 years, he spent much of his adult life in public service. Hardt is deeply concerned about the state of libraries in America.
Some proposed cuts in the 2012 city budget would put an end to children's programs, cause service delays in receiving ordered books and DVDs, and create inadequate patron service.
In addition to cuts and layoffs, he said, "The budget available for purchase of books for Chicago libraries" is getting slashed.
As for the cutbacks, AFSCME workers refused to accept them. In fact, said Hardt, "Our union is the only one that didn't go along with the mayor's proposal."
The historic cuts in cities across the country have led to some library closings across the country.
Moreover, there's another dilemma the public needs to examine, he says. The public is increasingly adapting to the modern technological environment – making the switch to electronic books and seeking out wireless Internet outlets. While the libraries may have chosen to cater to this, people with limited financial resources will be affected negatively. Whereas anyone can check out a physical book, not everyone has the money to afford the hardware that would allow them to peruse a digital book. Ultimately, if a library gets rid of books and pushes onward with electronic advancement, it will result in a loss in the amount of free information now available to the general public.
Hardt felt that big business currently has too strong a hand in the libraries in the U.S. With 24 years of branch managing experience, he confirmed, "Big business is not gonna give us free books." The big danger, he said, is "leaving it to the politicians."
Hardt also equated libraries with upholding real family values and providing good services to the community at large. He sees libraries as an integral part of family life and said, rather than fewer services there should be more. "When a child is born, the library should issue the mother an information packet," he suggested, citing one example of a possible new service.
Ultimately, said Hardt, "Libraries should be for the common good – but [they] should also cater to demand. There are libraries that do this well. Others, however, will look at a book and say 'it's two years old,' and get rid of it. To just throw out books makes no sense."
The now-retired book lover says libraries play critical functions in society, some of which are not always obvious.
"The role of the public library reflects community. For example, in our library, we have a Hispanic staff member, and four who are Chinese. This eases the initiation of new ethnic arrivals to the community," he said.
What do we do about the cuts and the danger to libraries? What the community needs to do, Hardt says, is to make its voice heard.
As human beings, he noted, "We are programmed to share. And our society doesn't do that too often. The best thing that we can do is to serve everybody that comes in the door."
After talking to Hardt you can't help but think that Chicago's draconian budget cuts will disallow valuable public servants like him to do just that.

Photo: Jim Hardt stands in front of the Richard Daley branch of the Chicago Public Library. Hardt is concerned about the future of libraries. James Raines/PW. James Raines & Fred Barr contributed to this story.