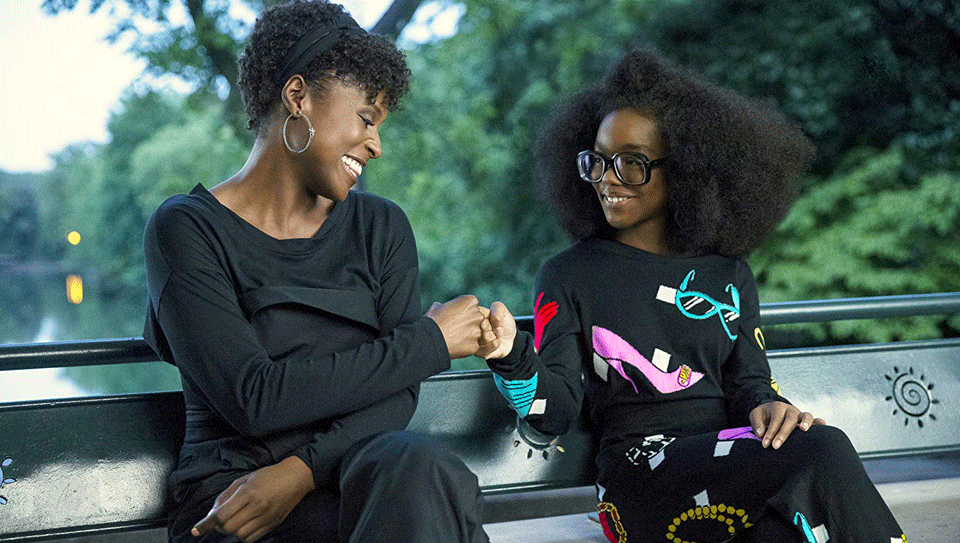 According to The Wall Street Journal, Universal's "Little originated with [Marsai] Martin's idea for a female-focused twist on Big, the Tom Hanks comedy" about a teenager who magically transmogrifies into a grown man. Depending on how generous you are, this process is called an "homage," or known in some circles as intellectual property theft. In any case, like most copycats. this tedious reworking of the 1988 comedy directed by Penny Marshall, written by Gary Ross and Anne Spielberg, has none of the far superior original's charm, such as the oversized keyboard dancing scene.
Like Laverne & Shirley co-star Marshall, Martin appears in an ABC sitcom, Black-ish, and the formulaic strictures and structures of that medium permeate Little. I fully realize that I'm about half a century beyond the coveted demographic Little is presumably striving to lure into the multiplexes. And as a white male, this feature starring three African American females plus a multi-culti cast may not exactly have yours truly in mind, too. But having said all that, this movie's mentality is generally aimed at early adolescents who are about Martin's age: 14-year-olds.
In Little, Regina Hall (2017's Girls Trip, 2018's The Hate U Give) plays the grownup Jordan Sanders, a mean, nasty, capitalistic character. Although in her journey back to childhood Jordan supposedly learns some valuable life lessons, I'm tired of bourgeois depictions wherein previously disempowered characters are now able to act like knaves, as if that is what equality and true empowerment are really all about, behaving like those who previously oppressed you and others. Jordan typifies the kind of despicable behavior Don Cheadle has been squandering his considerable talent on in two Showtime series, one of which Hall has also been acting in. Black people assuming the roles of white racists and capitalistic types was novel when Robert Downey Sr. directed the hilarious Putney Swope in 1969, but methinks this trend's expiration date has long passed.
Indeed, Hall may have been cast because she has also had recurring roles in Black-ish and Insecure (playing the strangely named character "Ninny"). Issa Rae, the star of HBO's Insecure, portrays April, the tyrannical Jordan's much-put-upon assistant. Although Rae's not particularly good in this role it was a relief to not have to listen to her totally gratuitously drop the "N" word frequently as she does on her so-so Insecure—presumably as an insecure way to remind viewers that, oh yeah, this is supposed to be a "Black" program you are watching. To be fair to Rae, as in Insecure, from time to time she does make a racial quip or point that may go over the heads of the teen popcorn munchers Little is geared to but may be intended for the presumable handful of adults accompanying adolescents or seeing this boring flick on their own.
Martin is OK as the younger Jordan. But when Martin in the 13- or 14-year-old body of Jordan (who, to be fair, is in her mind a grown woman around 38 or so) starts trying to make out with adult Jordan's lover Trevor (Luke James), some ticket buyers may find this disturbing. Given the ongoing church molestation scandals, et al, pederasty is no laughing matter and the fact that screenwriters Tracy Oliver and Tina Gordon include this uncomfortable vignette is as inappropriate as dolt Joe Biden making fun of touching a boy at a public event.
Some of Little's other actors also seem to be recruited from the TV comedy world: Mikey Day and Rachel Dratch are SNL vets; Tracee Ellis Ross plays Martin's mom on Black-ish. One truly notable thing about the otherwise quickly forgettable Little is that in addition to co-starring and "originating" (if you can use that word for a heavily derivative idea) is that 14-year-old Marsai Martin has an executive producer credit, probably making her Hollywood's youngest ever.
Perhaps this pic made for the early teen crowd will be a hit, but adults should avoid it. However, if Martin—who is a droll, enjoyable presence on Black-ish—and her filmmaking mature and evolve as she grows up and she makes adult-oriented fare in future, we may be witnessing the birth of a new cinematic talent who emerged on the cinematic scene about a decade younger than Orson Welles was in 1940 Tinseltown when he played with "the biggest electric train set any boy [or girl!] ever had."
The trailer can be viewed here.