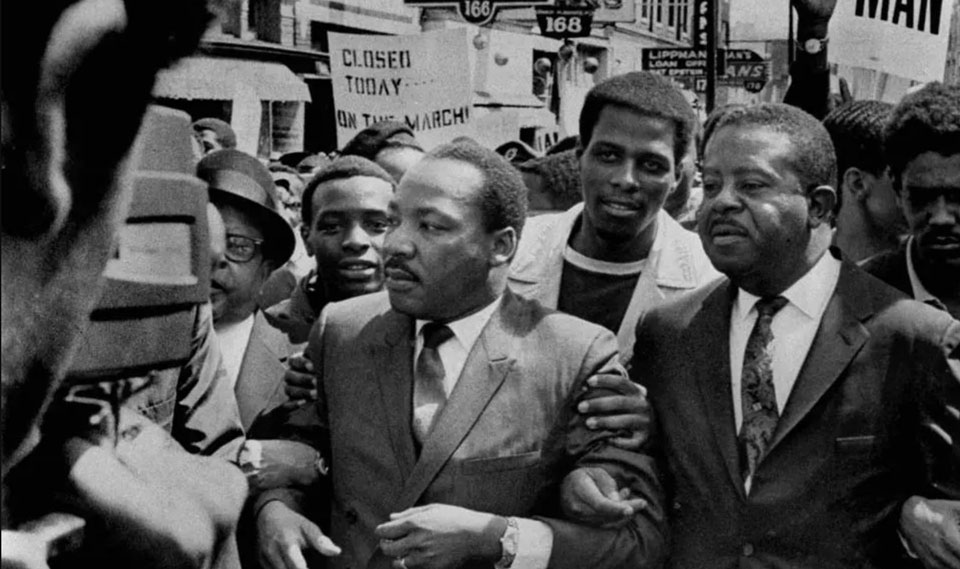 PROVIDENCE, R.I.—This year is the half century anniversary of the death of Martin Luther King, Jr., undeniably one of the most important radical democratic leaders of the past hundred years. In order to commemorate this in a meaningful way, a celebration with multiple events, spanning from the King holiday in January to April 7, will be taking place in the greater Providence area.
The stretch of events is being sponsored by Rhode Island Jobs with Justice. Over the past several years, the organization has become a hub for labor, minority, religious, low income, and immigrant communities from around the state to come together in a coalition focused on civil and empowerment for working class people. Mike Araujo, the group's executive director, says a major goal of the commemoration will be to highlight the socialist and radical aspects of King's message—aspects often downplayed in mainstream discussions.
"We've lost sight of probably the most important parts of Dr. King's message," says Araujo. "Over the past few years, especially with the Movement for Black Lives as an emergent political force, we see Dr. King trundled out every time there is a conflict between Black people and white society. There are those who say, 'Dr. King wouldn't approve of your behavior,' or whatever," according to Araujo. "There's a willingness to speak for him without really understanding him. And we want to put a stop to that, we want to say that Dr. King belongs to a radical, militant, aggressive working-class movement for liberation."
The vision of that more radical leader Araujo speaks about can be seen in the draft version of an article King wrote in April 1968 entitled "Showdown for Nonviolence" [the final version, as published in Look magazine]. When King wrote "Showdown," he was a very different man from the one he had been at the time of the Montgomery bus boycott. The article represented a further evolution of the message King had delivered a year earlier in his speech "Beyond Vietnam," in which he denounced the American war in Southeast Asia and definitively broke what remaining ties he had with President Lyndon Johnson and the Democratic Party.
"As I have walked among the desperate, rejected, and angry young men, I have told them that Molotov cocktails and rifles would not solve their problems. I have tried to offer them my deepest compassion while maintaining my conviction that social change comes most meaningfully through nonviolent action. But they ask—and rightly so—what about Vietnam? They ask if our own nation wasn't using massive doses of violence to solve its problems, to bring about the changes it wanted. Their questions hit home, and I knew that I could never again raise my voice against the violence of the oppressed in the ghettos without having first spoken clearly to the greatest purveyor of violence in the world today—my own government," he said that night in 1967 at the historic Riverside Church.
The day before King completed the draft version of "Showdown"—March 31, 1968—Lyndon Johnson had shocked the country by announcing he would neither seek nor accept the Democratic nomination for another term as president. The United States was in a state of division and social unrest unseen perhaps since the Civil War.
In "Showdown," King put forward the opening statement of a new campaign that would challenge economic injustice. He begins with a stern warning about the urban uprisings that would come again that summer should Congress fail to seriously and meaningfully take on structural racism and poverty.
"Today, the northern cities have taken on the conditions we faced in the South. Police, national guard, and other armed bodies are feverishly preparing for repression. They can be curbed not by unorganized resort to force by desperate Negroes but only by a massive wave of militant nonviolence. Nonviolence was never more relevant as an effective tactic than today for the North. It may also be the instrument of our national salvation."
In this argument, King is not offering the meek and mild pacifism that so many political centrists today insist was his praxis. Instead, he writes as a tactician and thinker who uses certain methods and strategies to elicit an intended reaction from an audience who he is targeting as a group—in this case, a Congress whose bureaucratic structures and contours successfully ensconced deeply racist political actors who scuttled any and all progressive policy efforts. This radical King is the one who had been abandoned by mainstream liberals and weak-kneed allies who called his recent pronunciations and behaviors disrespectful and unacceptable.
That is the King which this spring's events in Providence hope to celebrate. "There's a really kind of wonderful historical amnesia that happens with Dr. King that I think is really important to remember," Mike Araujo says. "He recognized that poverty was as violent as bombs and was as violent as bullets. That was terrifying to Northern liberals who were comfortable and thought you could have radical social change without a radical rethinking of either your political economy or your pocketbook economy."
Listen to Andrew Stewart's interview with Rhode Island Jobs with Justice executive director Mike Araujo.
King's plan was nothing more or less than a multi-month occupation of Washington, D.C.'s public spaces that would have been familiar to any participant in the Occupy Wall Street movement. He envisioned streams of working class people marching up to the capital from the South to provide testimony and witness to the degradations of the capitalist system. "We hope that the sound and sight of a growing mass of poor people walking slowly toward Washington will have a positive, dramatic effect on Congress," King wrote. To develop and build this movement of bodies, King even refers to a cadre that is in the training stages at the time of his composition.
"He was calling people out, and he paid a price for that," says Araujo.
King arrived in Memphis on March 29, 1968 to provide solidarity and support to a strike by Black sanitation workers. One can envision him typing "Showdown" inside the Lorraine Motel's room 306. On April 4, he was murdered by an assassin who, thanks to the insights we gained from Congress's Church Committee, we know had at least passive support from police forces that might have done so much more to prevent this crime.
"Showdown" appeared in print 12 days later.
King provides an insight in the article that seems prophetic in hindsight: "I am convinced that if rioting continues, it will strengthen the right wing of the country, and we'll end up with a kind of right-wing takeover in the cities and a Fascist development, which will be terribly injurious to the whole nation." His argument that the Congress must provide meaningful economic justice and relieve the pressure of the system's degradation or face a rebellion that would, in turn, activate reaction is one that remains deeply relevant in times such as those we now face.
The Rhode Island Jobs with Justice commemoration of King's radical message being organized by Araujo and others opens with an art contest and an exhibit that will travel the state. It will culminate in a rally April 7 at the State House with a speakers list that includes local housing activist Asata Tigrai, storyteller Valerie Tutson, Margry Waters, Gail Burton, union and civil rights leader Clayola Brown, Communist Party activist Dee Miles, Rev. James Baylark, and Dr. Cornel West.
Araujo hopes the multi-month celebration will remind people that, "the prophetic message of Dr. King explored socialism from a deeply human, moral, and ethical place," making "you know in your heart it's the right thing to do."