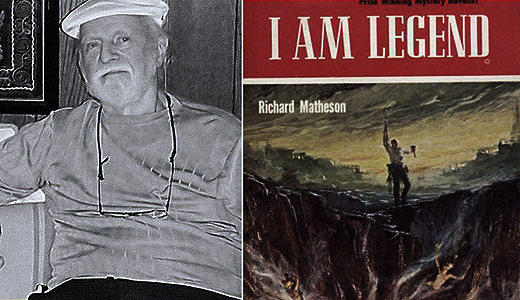 Celebrated author Richard Matheson died on June 23 at the age of 87, likely of natural causes. His novels, which ranged from fantasy and science fiction to horror and westerns, earned him great critical praise.
Born February 20, 1926 in Allendale, New Jersey, he grew up in Brooklyn, New York before joining the military, participating as an infantry soldier during World War II. Initially, he desired to pursue a career in music, but his appetite for fantasy stories was such that he decided to become a writer instead.
His excellent first story, Born of Man and Woman, was published in The Magazine of Fantasy and Science Fiction in 1950. A cross between science fiction and poignant drama, the short story detailed the unfortunate life of a child abused by his parents and chained in a basement, and his dreams to see "the outside world" and to meet his sister, who did not even know of his existence. As a twist at the end of the story, the child is revealed to be something other than human. In 1970, it was called one of the best science fiction stories ever published by the Science Fiction and Fantasy Writers of America.
Perhaps his best-known works are those that have been adapted into successful films, namely I Am Legend and What Dreams May Come. The former became a 2007 post-apocalyptic movie starring Will Smith, but the book on which it is based was more profound; it involved a global pandemic caused by a disease carried by mosquitoes. The latter became a 1998 Academy Award-winning film starring Robin Williams. Equal parts fantasy, love story, and mild horror, it involved a man who went to Heaven and, upon discovering his wife was not there, descended into Hell to find her.
He also wrote the short story Button, Button, which became the 2009 horror film The Box. He wrote episodes of The Twilight Zone including the famous "Nightmare at 20,000 Feet" and "Steel" (which became the 2011 film Real Steel). He wrote the Star Trek episode "The Enemy Within," and he authored other successful novels including The Shrinking Man, A Stir of Echoes, Passion Play, and 7 Steps to Midnight. He also wrote film adaptations for Edgar Allan Poe's The Fall of the House of Usher, The Pit and the Pendulum, and The Raven.
Matheson received the World Fantasy Award for Life Achievement in 1984; the Bram Stoker Award for Life Achievement in 1991; and two World Fantasy Awards – one in 1975, one in 1989. He was inducted into the Science Fiction Hall of Fame in 2010, and he would have been presented with the Visionary Award by the Academy of Science Fiction, Fantasy, and Horror Films on June 26 this year. That award will now be presented posthumously and the entire ceremony will be dedicated to him.
The Academy said of him on their website, "Richard Matheson has been a singular voice in fiction, whose prolific written work has been as unforgettable as the television and filmed entertainment it has inspired for more than half a century."
Matheson and his works had received praise from Roger Ebert and filmmaker George A. Romero (who credits him for inspiring the upsurge in popularity of the zombie genre with I Am Legend). His writings also inspired authors Stephen King, Ira Levin, and Anne Rice, as well as X-Files creator Chris Carter.
Ali, Matheson's daughter, said, "My father passed away at home surrounded by the people and things he loved. He was funny, brilliant, loving, generous, kind, and creative, and the most wonderful father ever."
Stephen Spielberg said in a statement, "Richard Matheson is in the same category as Ray Bradbury and Isaac Asimov. His ironic and iconic imagination created seminal science fiction stories and gave me my first break when he wrote the short story and screenplay for Duel."
In his writing, Matheson always attempted to view even the fantastical and supernatural through a lens of scientific and materialist thought, and that is perhaps why even his vampire novel came across as having elements of science fiction. In a 2007 interview with CinemaSpy, he remarked, "I think we're yearning for something beyond the everyday. And I will tell you I don't believe in the supernatural, I believe in the supernormal. To me there is nothing that goes against nature. If it seems incomprehensible, it's only because we haven't been able to understand it yet."
Matheson is survived by his wife and four children, and by the legacy he leaves behind for new generations through his writing.
Photo: Richard Matheson and one of his novels, I Am Legend. Latin Times (CC)