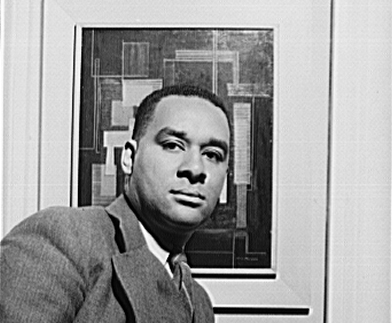 I was in college when I first read Richard Wright's Native Son. I didn't know what a "proletarian novel" was then, but I was struck by its powerful portrayal of a real world, a world I knew.
Bigger Thomas, the central character was no hero, like many of the petty criminals that I knew in my South Bronx neighborhood. And while the Communist Party USA of which Wright was a member when he wrote the novel, plays a significant role, it too is not portrayed in the "heroic" manner that postwar anti-Communists would sneer at as examples of "party-line socialist realism" (actually, virtually none of the literary works that the CPUSA actively supported reflected that crude stereotype).
Richard Wright was born near Natchez, Mississippi in 1908 and grew up in a world of poverty and degrading racism and struggled to free himself from it, to learn and grow. Even libraries in the South weren't open to him though.
In Memphis in the late 1920s, Wright had to take a library card from a white coworker and write this forged note to the librarian: "Dear Madam; will you let this "N" boy have some books by H.L. Mencken."
In Chicago, where Wright settled in 1927, an African American could at least get a library card. In 1932, Wright joined the John Reed clubs society of cultural workers led by the CPUSA.
Nurtured in this environment (he became a CPUSA member in 1933) Wright worked with the Federal Negro Theater and the National Negro Congress.
He also became chair of Chicago's South Side Writers group, which included African American woman writers Margaret Walker and Arna Bontemps.
Wright's relationship with his party was at times difficult. In 1935, he found himself at odds with the leadership over the John Reed clubs. Before he left Chicago, he was angry about a leadership decision to discontinue a journal, Left Front, of which he was an editor.
A pioneering Black journalist and writer, he came to New York and served as both a leader and contributor to left cultural journals and the Harlem editor of the Daily Worker, a forerunner of the peoplesworld.org.
He contributed articles to New Masses, the most important left cultural journal of the period and became a member of its editorial board.
He also worked for the WPA's Federal Writers Project, which produced among other things guidebooks to the U.S., many reflecting a celebration of working people's traditions and values (Wright specifically wrote the section on Harlem for the New York City book, New York City Panorama.
At a time when Communists were writing screenplays in Hollywood and struggling in New York and other cities to develop in theater, literature and independent documentary filmmaking work that would reach the mainstream and empower working-class people, Wright published a collection of stories under the title of Uncle Tom's Children (1938) which reached a larger progressive audience and won awards.
Although a well known African American communist and journalist, his gifts allowed him to reach the mainstream and enabled him to win a Guggenheim Fellowship which in turn helped him both do his political work, support himself, and work on Native Son.
Other collections followed and in 1940, Native Son was published and became the first best seller from the pen of an African-American novelist.
Native Son was a very serious work, and best sellers at the time were romances, mysteries, and adventure novels. Also, the venues for African-American artists of all kinds who challenged rather than conformed to racist stereotypes were very limited. Like Du Bois and Paul Robeson, Wright maintained a principled aesthetic as an artist and in Du Bois case, a scholar.
The success of his work, I would contend was made possible by the labor book clubs, community cultural centers, civil rights groups like the Southern Negro Youth Congress and the broad left and peoples movement in which the CPUSA played a central role.
Subsequently, Wright worked with Paul Green on a theater adaption of Native Son, directed by Orson Welles, which opened on Broadway in May, 1941.
Wright also wrote the text for Twelve Million Black Voices, A Folk History of the American Negro (1941) a remarkable collection of photographs drawn from the archive of the Farm Security Administration, which I believe deserves to placed alongside of James Agee's Now Let Us Praise Famous Men.
Richard Wright left the Communist Party in 1942. His differences concerned what he regarded as the party leadership's rigid top down approach to cultural questions. His opposition to capitalist exploitation, racist oppression and imperialism, especially as they were manifested in the United States, never weakened.
While an article explaining his differences with the CPUSA was later included in a collection of articles by former Communist writers, The God That Failed which the CIA published in many languages and used through its international "cultural freedom committees" Wright never lost his Marxist outlook. The CIA attempts to use him without his approval in the Cold War years, was clearly met with firm rebuffs.
Unwilling always to do their bidding he later faced extensive harassment.
The great novelist left the U.S. in 1946 and became a French citizen in 1947. In Paris, his work led him to friendships with Jean Paul Sartre, Albert Camus, and other prominent French intellectuals.
In Hollywood he was blacklisted and in the circles of the cold war intellectuals seen as a figure of the past.
Cold war critics were hostile to realism and to overtly political work and Wright's novels and short stories were both realist and overtly political.
Except of course for his article in the God That Failed collection and the existential The Outsider, the cold war cultural establishment sought to erase Wright work from U.S. literature. At the same time, McCarthyites and their bureaucratic servants sought to remove his work from libraries here and abroad.
While living abroad, Wright was in active in the emerging worldwide anti-imperialist movements. In 1954, he coined in his writing the phrase "Black power" which would later be picked up by African-American radicals like Kwame Toure (Stokely Carmichael)
His writings on those emerging in leadership of the new African nations, in essence new ruling groups, anticipated many of the arguments later made by Frantz Fanon in Wretched of the Earth, although Wright unlike Fanon was very critical of African cultural traditionalism.
In 1955, Wright attended the Conference of the Non-Aligned Nations in Bandung, Indonesia and wrote The Color Curtain: A Report on the Bandung Conference which viewed the anti-imperialist movements in the world with great hope. It was from this conference that the concept of a "third world" emerged.
Wright's health was failing and he was in serious financial difficulties at the time of his death in 1960. The CIA, hovering like a vulture, had offered him rich rewards to participate in one of its "cultural freedom" conferences in India but he adamantly refused.
Wright apparently feared that there were CIA plots to kill him in this period (he knew through his experiences in Africa that the agency was not above this). While these views were long called "paranoid" in establishment circles, materials released long after Wright's death under the Freedom of Information Act show a long pervasive pattern of CIA surveillance and harassment.
Richard Wright's importance to African-American, U.S. and global political culture is enormous. This article has only addressed a small part of his achievement.
Native Son, Black Boy, the collections of stories that began to reach a large audience with Uncle Tom's Children, helped to smash the dominant racist stereotypes in which African Americans had been and were being portrayed in literature, theater, vaudeville, movies and radio since the end of Reconstruction.
His journalism, began at the Daily Worker, reached high standards of excellence and with his international reporting at Bandung, and his famous Pagan Spain, an international audience.
He was a figure of great political principle and retained close ties and relationships with his friends and party activists in the U.S. During the 1950s he headed a Franco/American committee to free his fellow Mississippian, Henry Winston, the African American Communist leader imprisoned under the Smith Act.
It is time to restore him to his place fully as a major people's artist and ground breaking journalist of the 20th century.
photo: Public Domain