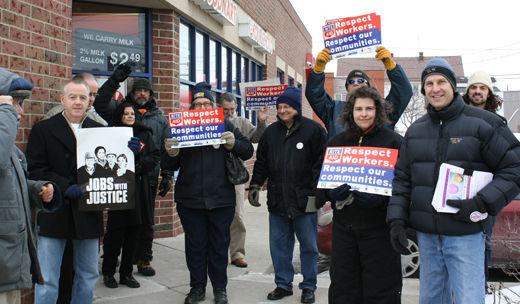 The weather was freezing but spirits were high as several dozen labor and community activists picketed Rite Aid at W. 117th St. and Lorain Ave. in Cleveland to protest the giant pharmacy's attempt to take away fully paid union health insurance.
While passing motorists honked in support, Councilwoman Dona Brady took a delegation inside and presented Store Manager Stacey Braddock with a letter backing efforts of United Food and Commercial Workers Local 880 to resolve the issue and sign a new contract.
"You're not being fair to your employees," she said. "Health care costs are skyrocketing. We want you to provide full coverage. Health care is not a privilege. It's a right."
Braddock would only say she would forward the letter. State Representative Nikki Antonio got the same response when she came later and confronted pharmacy district manager Tom Freda, who had been summoned to the scene.
The action Feb. 11 was part of a "National Valentine's Day of Action" and kicked off a week of protests against the company's anti-labor policies by a coalition including the UFCW, the International Longshore and Warehouse union, Jobs with Justice and United Students Against Sweatshops.
"Rite Aid Don't Break Our Hearts," read a flyer. "Show your love for workers' rights."
Mike Martino, an organizer with the UFCW, said the company was refusing to settle a contract dispute with 500 warehouse workers at Rite Aid's distribution center in Lancaster, California.
In northeastern Ohio, the UFCW represents 275 workers at 25 stores who have been working without a contract since the old agreement expired last April. Negotiations have been fruitless, Martino said, as the company has refused to back off its demand to end the union health plan and make workers pay for premiums.
"These are workers who have given up pay increases for health coverage," he said. The store clerks, who only make eight to nine dollars an hour, have twice voted overwhelmingly to authorize a strike, he added.
"A strike is imminent unless the company relents."
Other employers are watching the situation closely, said Laura Grissinger, a union steward at a local supermarket. "We are all in this together."
The union has called on supporters to make their views known to Rite Aid store managers and transfer prescriptions to other union pharmacies until the dispute is settled.
Updated Feb. 16, 2011.
Photo: Debbie Kline