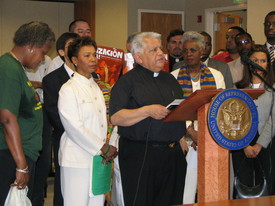 Northern California: Rivers of white-clad demonstrators flowed through the main streets of Bay Area cities and towns on May 1 — 120,000 in San Jose, 40,000 in Sacramento and in San Francisco, 25,000 in Oakland and tens of thousands more in communities around Northern California. Many media reports called the turnouts "the largest" in this year's wave of immigrant rights protests. As was true of earlier demonstrations, May 1 was a family day, with babies and toddlers in strollers, older children hand in hand with parents, and teens forming their own contingents.
"You are marching to declare you want our country to live up to its heritage of liberty and justice for all," Rep. Barbara Lee told demonstrators gathered in front of Oakland's City Hall. "My ancestors came from Africa in chains — we understand what justice is."
At a press conference featuring an interracial panel of clergy and leaders of immigrant rights, labor and other community organizations, Lee said immigrant families form the largest caseload her office serves. Noting that "pieces of legislation" now before Congress move in the direction of a fair and just immigration reform, Lee said a comprehensive approach should include a path to citizenship, family reunification, provisions for health care and education, including the Dream Act, and must not criminalize undocumented immigrants. Also, the panel cited the need to speed processing of immigration requests, and to address workers' rights issues.
Participants were united in opposing HR 4437. "This kind of bill would put us in the position of having to choose between being a Good Samaritan and being a 'good citizen,'" said the Rev. Kelvin Sauls, senior pastor at Oakland's Downs Memorial United Methodist Church. Sauls added, "If I am placed in that position, I will be a Good Samaritan."
Sauls and other panelists also pointed out the need to address special discrimination in the immigration process against people coming from Africa and the Caribbean. Panelists then gathered for a meeting convened by the congresswoman to discuss immigration policy.
In San Francisco, along with "Today we march, tomorrow we vote," demonstrators carried signs and banners proclaiming, "We fix America, we build America, we paint America, we are not criminals — we are construction workers," and "You can't spell USA without US!"
One marcher, an immigrant from Mexico, noted pointedly, "Our taxes aren't illegal, are they?"
— Marilyn Bechtel
Connecticut: In an unprecedented outpouring, at least 10,000 in Stamford, New Haven and Hartford participated in rallies for immigrant rights as part of the national day of action on May 1. Another 2,000 marched in Danbury on April 30 for legalization. The rallies were supported by unions, churches, elected officials and community organizations. Across the state some businesses closed, others gave a paid day off for immigrants who wanted to participate, and in some cities students stayed out of school for the national boycott.
On the New Haven Green, John Wilhelm, president of the hospitality division of Unite-Here, received a huge cheer when he shouted out, "The work that you do is critical to this country, and when you ask for decent wages, dignity and respect you are told you are a criminal. You are not criminals. You are the future of this country. They can never turn you back." Wilhelm and John Olsen, president of the Connecticut AFL-CIO, raised their clasped hands in solidarity on the stage.
After a day of informational workshops organized by Unidad Latina en Accion and performances that were part of the annual May Day celebration on the Green, 4,000 recent immigrants, students, elected officials and allies marched through downtown, bringing traffic to a standstill, shouting "Sí se puede."
— Joelle Fishman
Texas: The League of United Latin American Citizens led four activities in Dallas on May 1. They began with a spirited noontime rally outside the plush office building that houses Sen. John Cornyn's office. Cornyn holds the key immigration position in the Senate Judiciary Committee and is on record as favoring "enforcement only" legislation similar to HR 4437 that passed the House in December. Cornyn also held press conferences to undermine the fragile compromise that Senate leaders pinned their hopes on during the last session.
There were about 250 enthusiastic picketers representing several sectors of the Dallas population with the majority being Latinos. They joined the 3,000 American flag-waving people later that afternoon at City Hall, while high school students, who had actually sparked all the protests with big walkouts in late March, rallied in a nearby park.
The last event of the day was a religious vigil at the Kennedy Memorial downtown.
Two major Change to Win unions here, UFCW and Unite Here, distributed remarkable information. They contacted employers and told them that they intended to stand behind any member who chose to march on May 1. They leafleted their members letting them know that the union would help them if they were unfairly victimized for following their conscience on May 1.
In Houston, newspapers reported that 20,000-30,000 marched and targeted Cornyn's local office. The May 1 turnout was larger than Houston's April 10 national day of action. What's important about that is it shows the immigration raids at IFCO, which were larger in Houston than anywhere, did not deter people from coming out on May 1.
— Jim Lane
In Providence, R.I.: May Day here began with a 500-person march organized by SEIU Local 615 and Unite Here Local 217 to bolster support for the contract negotiations of downtown janitors and hotel workers, most of whom are immigrant workers.
The marchers sat down in a busy intersection and blocked morning traffic near the city's main bus terminal, before picketing both the Westin Hotel and the Providence Place Mall, which are the focus of the labor disputes. The union workers were joined by many youth (the Providence Schools reported a 46 percent absentee rate) and other community allies.
The second event of the day was a midday Mass in the Cathedral of Saints Peter and Paul, where the celebrant blessed the tools of labor — mops, brooms and buckets, and even a picket sign.
By the early afternoon, the typically quiet streets of Providence thundered with the footsteps of the jovial group that grew to a police-estimated size of nearly 20,000 people as the march weaved through the city — easily the largest march in Rhode Island since the Vietnam War.
"We want to be able to breathe the air of freedom," said Juan Garcia, the organizer of the Immigrants in Action Committee.
And quite suddenly, with millions taking to the streets around the country, it actually seems possible.
¡Sí se puede! Yes, we can!
— Rachel Wallace